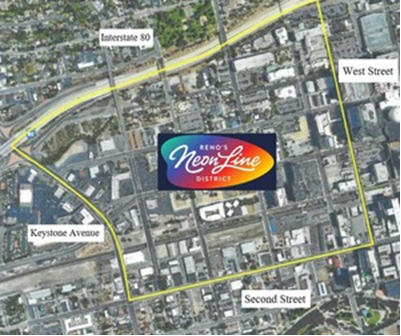 A district court judge has denied Jacobs Entertainment's motion to dismiss Scenic Nevada's lawsuit filed against the city of Reno and the developer, paving the way for a court review of the Neon Line Development Agreement.

Judge Connie Steinheimer issued her order on June 9 denying Jacobs' motion, saying essentially that it is appropriate for Scenic Nevada's lawsuit to challenge the validity of the development agreement to be reviewed in her court. Read the ruling.
In our amended petition, (click here), Scenic Nevada is asking the court to void the Neon Line Development Agreement between the City of Reno and Jacobs that was approved last October.  
What It Means
At stake is a City agreement with companies controlled by casino owner Jeff Jacobs seeking to remake west downtown Reno into an entertainment district. Jacobs owns the Sands and the Gold Dust West. His vision for the neighborhood largely would promote his "Neon Line" brand to the thousands of tourists he believes will be drawn to the area once his recently-approved festival grounds are constructed. He's also talked of installing a zipline and an amphitheater. His vision was overwhelmingly opposed by hundreds of residents at a community meeting in January.
For Scenic Nevada, the hearing means we get an opportunity to show the judge that the three bright, tacky signs contemplated by the development agreement are a violation of the people's vote banning new billboards in Reno. Scenic Nevada authored the ballot initiative which was approved by 57 percent of the voters in the 2000 election. For the next 17 years, the Reno City Council allowed new billboards until finally, the Nevada Supreme Court ruled that we were correct and the city's billboard law allowing new construction was unconstitutional.

Following that ruling, the council finally changed the city code and enacted the ban. Jacobs and the city asserted that the proposed signs are "area identification" signs which they say are okay under the code. However, they meet the definition of a billboard under city code, and Scenic Nevada contends that they were not properly approved in compliance with existing law.
 
Scenic Nevada also contends the entire development agreement is contrary to state law because it includes parcels within the project area Jacobs did not own when the agreement was approved by the council in a 6-1 vote. State law limits development agreements to land in which a developer has a legal or equitable interest.
 
The development deal covers the northwest quadrant of downtown which Jacobs is calling the Neon Line District and includes the area around west Fourth Street from West Street to Keystone Avenue. 
Court's Response to the Arguments
Using procedural arguments, Jacobs moved to dismiss on grounds that Scenic Nevada has no standing to sue "because it did not appeal a lower-body decision to the governing body." State law requires potential litigants in land use disputes to object first to the planning commission and then appeal the decision to the council before they can petition the court.

But an appeal to the city council was never possible. The council adopted an ordinance that development agreements come directly to the council, skipping a planning commission review. There was no chance for Scenic Nevada or anyone else to be heard at the planning commission and then appeal to the council.

Scenic Nevada anticipated that the city or Jacobs would ask for dismissal to keep the merits of Scenic Nevada's challenge out of court.  So Scenic Nevada included other possible remedies in its lawsuit for the court to consider, including requests for declaratory relief or for a writ of mandamus.

In a prior ruling, Judge Steinheimer sent the Petition for Judicial Review to another court and retained Scenic Nevada's requests for alternative remedies of mandamus and declaratory relief in her court.

In her June 9 ruling, the judge determined that state law doesn't allow Scenic Nevada to proceed with a Petition for Judicial Review, but added that "…this does not preclude the Court from entertaining an extraordinary writ" from Scenic Nevada.

"A Mandamus petition is only appropriate if no adequate and speedy legal remedy exists…the legislature has not provided a right to petition for judicial review for planning decisions first enacted by a City Council," she wrote in her ruling. "As such, an extraordinary writ is the only means Scenic has to seek review of the Reno City Council's decision. Scenic's extraordinary writ is the appropriate means for Scenic to seek an adequate and speedy remedy…Motion to Dismiss is denied."

Jacobs had argued that because we weren't a party to the development agreement we should not be allowed to sue. But Judge Steinheimer noted in her ruling that Scenic Nevada has the standing to sue.  Among other things, she noted, we can prove that we have a business in Reno, we represent the citizens of Reno, we lodged objections to the development agreement at both public hearings on October 13 and 27, 2021 and we filed our lawsuit timely.

In our arguments opposing Jacobs' motion, we emphasized our ongoing participation in the public process over the past 20 years and most recently objecting to the development agreement. Contrary to Jacobs' viewpoint, we do not view the development agreement as a private arrangement between the developers and the city. We believe it is a public document that affects the redevelopment of one-quarter of downtown Reno, put together with little public input and no real public planning. 
Signs Approved by the Council
Jacobs intends to build at least three LED lit signs.  Renderings showing the size, shape, height, lighting, and locations are included in the development agreement the city council approved.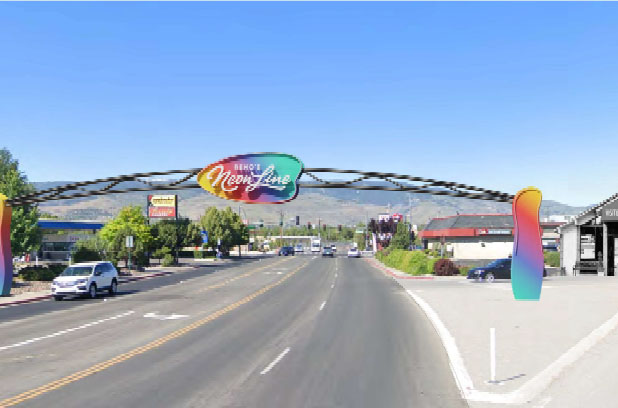 One is a 27-foot-tall archway sign that would span west Fourth Street, blocking a scenic mountain view which has one pylon located in the public right-of-way, a violation of city code. The other two would be 25 feet tall with one facing Interstate 80 advertising the Neon Line District to passing motorists and the third positioned at the entrance of the proposed district at Keystone and West Fourth street. Scenic Nevada asserts that without the development agreement, none of them would comply with Reno's city codes, and thus the validity of the development agreement is a key issue.

Further, Scenic Nevada argues that allowing the development agreement to stand would violate a 2017 Supreme Court-mandated settlement agreement between Scenic Nevada, the city, and billboard industry giant Lamar Advertising. No one can erect a billboard in Reno unless they can submit a preexisting unused billboard permit. All 24 permits in existence are owned by billboard companies and are set to expire by 2025, if they aren't used.
Next Steps
We expect the Judge will set a briefing schedule for all sides to submit written arguments. It's not known whether there will be oral arguments, too.  Also unknown is when a decision will be issued. We'll keep you posted.
Obviously, we're grateful to get a review on the merits of our case, leaping a legal hurdle that so often stymies the public from being heard. And we're thankful to all who continue to support our efforts. If you have not yet renewed your membership or if you would like to become a member, please consider donating now.