Scenic Nevada is awaiting a district court judge's decision on whether its lawsuit to void a development agreement between Jacobs Entertainment and the city will move forward or be dismissed.
Jacobs filed a motion on February 3 to have our case dismissed, trying to eliminate the chance for Scenic Nevada to present its arguments to Judge Connie Steinheimer in Department 4.
Scenic Nevada contends the development agreement is illegal under state law because it includes parcels within the project area Jacobs did not own when the agreement was approved by the council in a 6-1 vote. State law limits development agreements to land in which a developer has a legal or equitable interest.
The development deal struck last October covers the northwest quadrant of downtown which Jacobs is calling the Neon Line District and includes the area around west Fourth Street to Keystone Avenue. Proposals for three big, bright LED-lit signs are part of the package of giveaways in the development agreement. We believe the signs the city and Jacobs agreed to match the definition of a billboard and violate Reno's sign codes. The signs were part of the agreement approved by the council majority last October.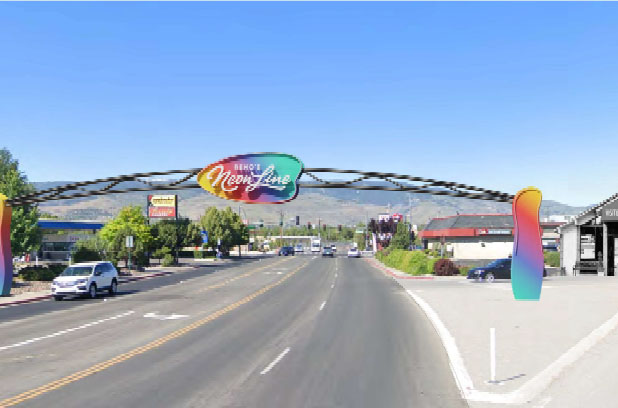 If the judge rules in Jacob's favor there will be no decision in district court on the issues we raised in our lawsuit surrounding the development agreement, including the proposed signs pictured here.
Jacobs intends to build at least three signs. They included renderings of the size, shape, height, lighting, and locations for them in the development agreement the city council approved. One is a 27-foot-tall archway sign that would span west Fourth Street, blocking a scenic mountain view which has one pylon located in the public right-of-way.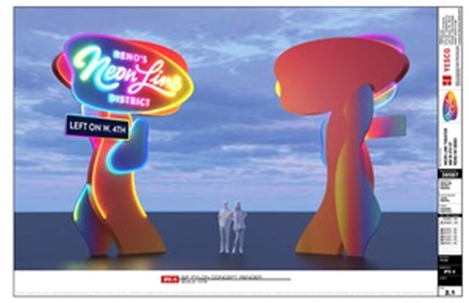 The other two would be 25 feet tall with one facing Interstate 80 advertising the Neon Line District to passing motorists and the third positioned at the entrance of the proposed district at Keystone and West Fourth street.
None of them would comply with Reno's city codes which is why they were included in the development agreement – to circumvent the code.