Development agreements are regulated in state law and city codes to allow the city to work with a developer differently than normal, providing an alternative to regular approval mechanisms in return for specified benefits to the city. In this one, we think the entire Reno sign code was waived without providing any benefits to the city.

The Neon Line pact, we believe, also violates both state and city laws governing these agreements and circumvents a court-ordered settlement on billboards between the city, Scenic Nevada and Lamar Advertising.
 
Specifically, the Neon Line agreement allows for three signs that meet the definition of a billboard in city code. Under the billboard settlement agreement, new billboards are prohibited in Reno unless the property owner has an unused billboard permit, called a "banked receipt". There are 26 of those left, all owned by billboard companies. The receipt can be exchanged to erect a new billboard.
Avoiding the Sign Code
The city and developer are calling the three LED signs "area identification" signs.  "Area identification" signs are not regulated in city code, only defined. The city is mislabeling the Neon Line signs as "area identification" signs to sidestep an entire batch of sign regulations.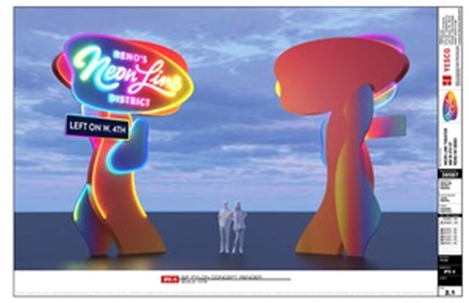 One sign is to be located along Interstate 80, advertising the Neon Line district to passing motorists, just like a billboard (left). Another is the archway sign that blocks a scenic mountain view. And the third is far taller than what code allows at the location proposed.

Each of the three signs would violate one or more of the following restrictions:
No signs within a public right-of-way
Signs can't exceed the size limit in the mixed-use zone
Signs that violate the ban on construction of new billboards
Improperly applying gaming sign regulations to the arch-way sign
Signs that violate the 2017 Settlement Agreement on banning new billboards
Also, we believe the Development Agreement violates state and city laws by including land within the Neon Line district in which the Jacobs entities do not have a legal or equitable interest. Scenic Nevada filed a lawsuit in November after the Neon Line Development Agreement was approved, asking the court to void the agreement.

We think the city council should honor our sign codes, which protect us from the excesses of developers and property owners who value perceived profits over preserving scenic beauty and community character. Our request will be to replace the sign provisions in the Development Agreement with text that says all Neon Line signs will comply with Reno sign codes.