Across the country, there are thousands of exceptional state parks and national trails for visitors to enjoy, and some of the finest examples of these places interpret the important connections they hold to the indigenous people who lived there first. Read about the 8 such sites;
Trail of Tears National Trail (TN, AL, AR, GA, IL, KY, MO, NC, OK) 
The Trail of Tears National Trail is 5,043 miles long, stretching throughout nine states. Portions of it are accessible on foot, by horse, by bicycle, or by car.  As sobering as it is beautiful, the trail commemorates the forced removal of approximately 100,000 indigenous people from their homelands. In 1830, Congress passed the Indian Removal Act, requiring Indian tribes in the southeastern United States to give up their lands in exchange for federal territory out west. From 1838 to 1839 the Cherokee, Creek, Chickasaw, Choctaw, and Seminole, among other tribes traveled by foot, horse, wagon, or steamboat to the West. This was a devastating journey with harsh conditions; more than a thousand Cherokee alone died on this trip. This historic trail is designated to preserve the story, and the routes, and to support the associated sites that commemorate their forced migration. Along the trail, visitors can find many historic sites and interpretive facilities.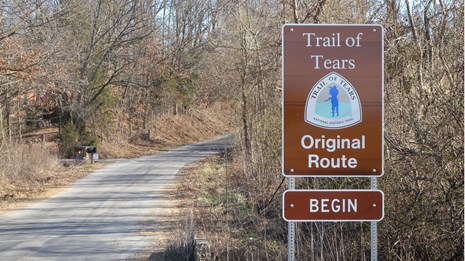 Red Clay State Historic Park (TN)
Red Clay State Historic Park is located in  Bradley County, southeastern Tennessee. This historic park encompasses 263 acres of narrow valleys formerly used as cotton and pastureland. This site was the last seat of the Cherokee national government before the 1838 enforcement of the Indian Removal Act. It is where the Cherokee nation learned they would lose their land forever. In this park, you will find a landmark called Blue Hole Spring which is a deep pool that flows into Mill Creek, a tributary of the Conasauga and Coosa River system. The spring was originally used by the Cherokee for their water supply during council meetings. There is an area of the park with an amphitheater often used for musical and theatrical performances. 
Cave Rock State Park (NV)
Located on the Nevada side of scenic Lake Tahoe, Cave Rock State Park is a popular destination for its stunning lake views and inviting sandy beach with easy access to swimming and boating. The natural cave formation for which the park was named was very important to the Washoe Tribe, whose members performed religious ceremonies inside the largest caves. Once the California gold fields and Comstock Lode called thousands of people west during the 1850s, the area surrounding Cave Rock became a lakeshore transportation obstacle. As a result, several routes were carved over, around, and through this sacred formation, without the consultation of tribal members. One of the reasons the Washoe considered Cave Rock sacred was what they called "The Lady of the Lake". The "Lady" appears in the rock formation as the profile of a woman's face gazing out toward the lake from just below the old highway foundation. Cave Rock opened as a state park in 1967.
First Peoples Buffalo Jump State Park (MT)
First Peoples Buffalo Jump State Park is an archaeological site with possibly the largest bison cliff jump in North America. Located in western Montana, the bison jump site consists of a mile-long sandstone cliff; there are remnants of drive lines on top of the cliff and there are up to 18 feet. of compacted buffalo remains below the cliff. Before Lewis and Clark passed through on their way to the Pacific Coast, Native Americans had used this site for at least a thousand years. They would use the jump by diving off of it and killing the buffalo. To honor and respect the buffalo and the people that once lived here there, the on-site Visitor Center includes cultural exhibits, a storytelling circle, a classroom, a gallery, a bookstore, and an outdoor amphitheater with breathtaking views of the Rocky Mountains. Coming to this park you can also find an interpretive trail, picnic tables, and a black-tailed prairie dog town.
Graham Cave State Park, declared a national historic landmark in 1961, is located in eastern Missouri. This cave is important as it holds great archaeological significance where researchers discovered Native American artifacts. Some of the artifacts included spear points, arrowheads, and charcoal deposits. The Natives that lived there were Paleo-Indians and research shows how they were able to adapt to the changing environment at the end of the Ice Age. While only open to the public for viewing outside, the cave is very large; the opening spans 120 feet across and 16 feet high, and it originally expanded 100  feet inside. Graham Cave State Park also features hiking trails, picnic tables, campsites, and a boat ramp on Loutre River.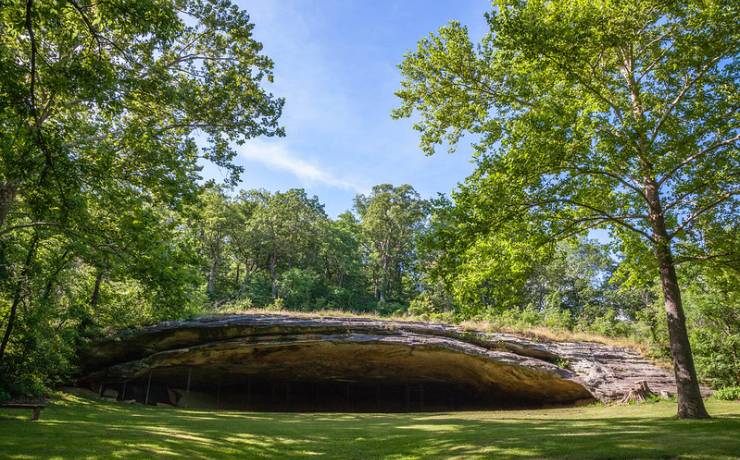 Fort Necessity National Battlefield is located 65 miles south of Pittsburgh in Fayette County, Pennsylvania. The opening action of the French and Indian War took place on this field in 1754. This war was a clash of British, French, and American Indian cultures. Fort Necessity was called the Great Meadows and was known to be George Washington's base camp. During the battle of Fort Necessity, seven different American Indian tribes fought with the French. These tribes included: the Huron, Huron of Lorette, Nipissing, Algonquin, Odawa, Shawnee, and the Abenaki.  There are many places within Fort Necessity for visitors to enjoy including an education center, a reconstructed version of Fort Necessity, a museum, and more. 
Natchez Trace Parkway (TN, MS, AL)
The Natchez Trace Parkway is a 444-mile national scenic byway traversing three states, Tennessee, Alabama, and Mississippi. The drive starts in Nashville, Tennessee, and goes to Natchez, Mississippi, linking the Cumberland, Tennessee, and Mississippi rivers. This drive represents a historic travel corridor used by American Indians, "Kaintucks" (boatmen), European settlers, slave traders, soldiers, and future presidents. Along with a scenic drive, you can go hiking, biking, horseback riding, and camping along the parkway. 
Annadel State Park (CA)
Located 60 miles north of San Francisco, Annadel State Park was prized by Southern Pomo and Southern Wappo Indians as long as 8,000 years ago for all of the obsidian found around the area. They used the obsidian to shape arrowheads, spears, and knives. When the Spanish came to California human use of this area changed drastically. The Indians' land was replaced by cattle ranching and farming. Designated a state park in 1971, Annadel is now enjoyed by hikers, horsemen, photographers, anglers, and joggers who enjoy exploring its 35 miles of trail and nearly 5,000 acres of rolling hills, streams, and meadows. Annadel's trails are home to a wide variety of plant communities with various habitats that host a fascinating range of birds and other wildlife. Along with hiking and exploring, fishing enthusiasts flock to Lake Ilsanjo to catch black bass and bluegill.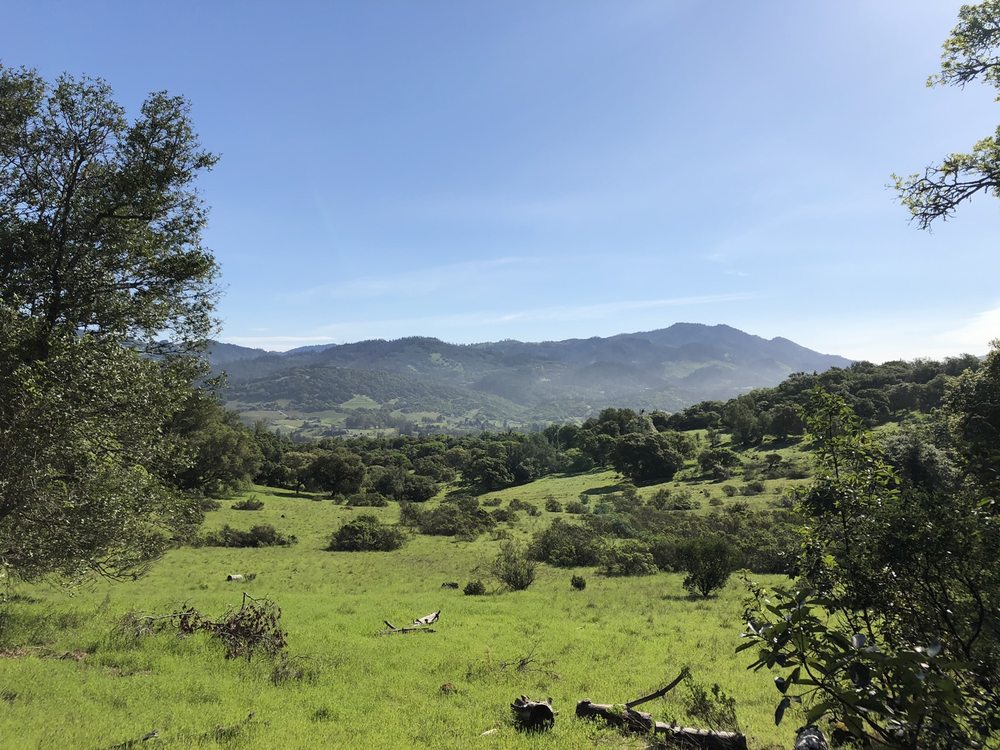 Mound Key Archaeological State Park (FL) 
Mound Key Archaeological State Park is an island in south Florida that was settled over 2,000 years ago by the Calusa Indians. Mound Key was believed to have been the cultural center for the Calusa, known as Calos. In 1556, Spain's first Governor of Florida was appointed at the site. Sadly, with the Spaniards came diseases that the Calusa people could not fight off, ultimately contributing to their demise around 1750, when the island was taken over by pirates and fishermen. Today most of the island is preserved as a state archaeological site, accessible to visitors by boat from Koreshan State Park or Lovers Key State Park. Most people come here to hike across its 125 acres and go through the scenic one-mile trail while learning about thousands of years of history.