"The Southern Part of Heaven," Chapel Hill Appeals to History Buffs, Sports Fans, and Nature Enthusiasts Alike
Nicknamed "The Southern Part of Heaven," Chapel Hill, North Carolina, was established in 1793, a few years after the university for which it's best known. With a population of 61,912, it's a trendsetting playground full of sights, sounds, and tastes that make it the kind of place that authors, musicians, and artists like to call home and an excellent example of placemaking at its finest.

Named after the New Hope Chapel, which stood upon a hill at the crossing of two roads, Chapel Hill is best known as the home of the University of North Carolina-Chapel Hill, the oldest public university in the nation, established in 1789. Living in Chapel Hill means you are almost definitely a Tar Heel fan—and with good reason. UNC-Chapel Hill's athletic teams have won 42 NCAA Division I-A national championships—six of them in men's basketball alone. As a member of the Atlantic Coast Conference (ACC), UNC's teams also dominate in women's soccer, men's lacrosse, and women's field hockey. Notable alumni of the athletic program include Michael Jordan and Mia Hamm.
Not surprisingly, UNC-Chapel Hill and its health care facilities are linchpins in the town's economy. As part of the Research Triangle, Chapel Hill is also home to an impressive number of businesses and residents focused on science, technology, and related fields. UNC is working strategically to attract even more innovation-oriented companies to the area to bolster its reputation in this area even further.
Embracing excellent placemaking practices, Chapel Hill nurtures also small and locally owned businesses. For example, when a local resident, Scott Maitland, read that TGI Fridays was planning to lease a property in the middle of Franklin Street, one of downtown Chapel Hill's most historic roads, he dropped out of school to raise money and establish one of North Carolina's first microbreweries, Top of the Hill.

Beyond the university, the town itself boasts a rich history, from its colonial heritage to its role in the civil rights movement, and city officials are always looking for ways to boost the town's economy while staying true to its historic roots. Even with an influx of modern commercial and residential spaces, Chapel Hill has thoughtfully kept its old town feel. The town has principles and standards to guide the construction in historic areas to keep the character of the buildings and statues.

Away from the university and downtown core, Chapel Hill's natural beauty is one of its greatest assets. In the springtime, woodland wildflowers can be found along the gardens overflowing with multicolored azaleas. Greenways and deep-rooted trees line the sidewalks, changing colors with each season. To preserve and protect its natural beauty and scenic character, Chapel Hill embraces sustainability and conservation and encourages residents and visitors to enjoy those assets for themselves by exploring its 17.6 miles of urban greenways and trails.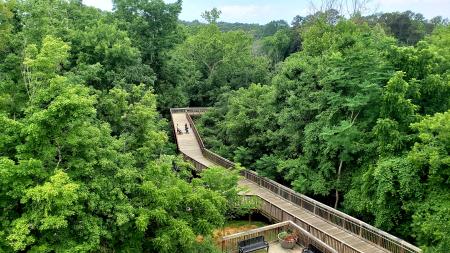 With the university's diverse student body, faculty, and supporting positions making up a large part of the town's population, both UNC and Chapel Hill are committed to diversity, equity, and inclusion. Honoring its history, Chapel Hill highlights its role in the civil rights movement with a historic marker honoring the Chapel Hill Nine– a group of nine young Black men that sat in a booth in the Colonial Drug store and sought the same service as White customers. Public bus stops throughout downtown also display imagery that interprets this aspect of the town's history.
The university has also taken significant steps to acknowledge the indigenous peoples who lived on this land, including the Occaneechi, Shakori, Eno, and Sissipahaw peoples. On campus, the UNC American Indian Center educated students, residents, and visitors about indigenous cultures.

Part college town, part modern city, and part historic charmer, Chapel Hill is a welcoming and diverse place with a great sense of community and endless professional, cultural, and outdoor recreational opportunities, making it a perfect placemaking spotlight.

Read more about Chapel Hill here.