This coastal capital with blue-collar roots has its sights set on a green future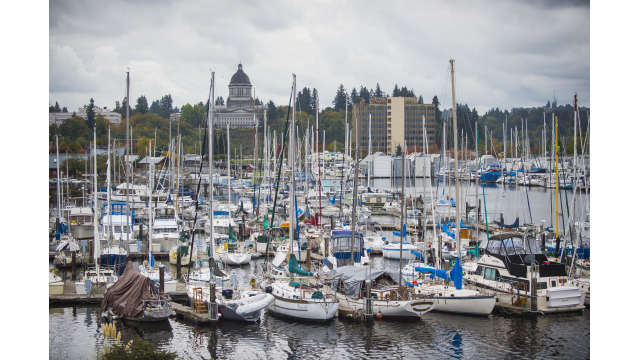 The southernmost city on the Puget Sound, Olympia is best known nationally as the capital of Washington State. For the people who call Olympia home, however, the gleaming dome and legislative hub take a backseat to the town's other distinguishing qualities, such as its scenic natural setting, compact, vibrantly revitalized downtown core, and its proactive approach to environmental concerns—all of which combine to make Olympia a prime example of placemaking excellence.
Olympia's coastal setting has always played a part in its history, culture, and economy. First permanently settled in 1846, the town served as the capital of the Washington territory. When Washington became a state in 1889, Olympia continued as its capital. In its early days, even beyond its distinction as a seat of government, Olympia thrived as an industrial center and port town, thanks to its coal and lumber industries and export business. Its downtown evolved in the early twentieth century with the arrival of a streetcar system, railroads, and other infrastructure. Through a significant dredging project in 1909, 29 blocks were added to its downtown area, allowing for more growth and development.
Nature's influences on Olympia were not all positive, however. A significant earthquake struck Olympia in 1949, significantly damaging the Capitol and other state buildings. The city's economy fluctuated and changed in the 1960s as three lumber mills closed to make room for the Evergreen State College campus. After a few decades of faltering, Olympia's downtown enjoyed a resurgence beginning in the 1990s, fueled by an increased interest in historic preservation.
Today, many of the town's 55,605 residents and more than one million annual visitors are drawn to Olympia's dining and entertainment scene, teeming with local wine, beer, and coffee growers and purveyors, farmers markets, and visual and performing arts events. While the downtown center measures just 0.5 square miles, it packs a powerful with more than 450 independently owned businesses, contributing to its unique character and well-defined sense of place.
Surrounded by mountains, rivers, forests, and the Puget Sound, Olympia's natural beauty is one of its most powerful draws for visitors and residents. The town's scenic beauty is demonstrated in the parks within its boundaries, such as Percival Landing Park, a popular place to enjoy waterfront activities on Puget Sound. Olympia also makes for an easy home base for exploring Washington's other celebrated national treasures located nearby, such as Olympic National Park and Mount Rainier National Park.
In further evidence of its focus on sense of place, Olympia city officials acknowledge the importance of protecting the town's natural beauty and scenic resources for the good of residents and for the betterment of the world. Mayor Cheryl Selby recently added Olympia's name to the United Nations' Race to Zero Initiative, which asks cities and businesses around the world to take significant steps to reduce their carbon emissions by 2030. To accomplish this, the city launched a comprehensive program that includes a host of forward-thinking initiatives: promoting public transportation, making it easier for residents to install solar panels on their homes, supporting "green" enhancements to historic buildings without compromising their character, encouraging more green jobs and green industries, to name but a few. The full regional climate mitigation plan can be viewed here.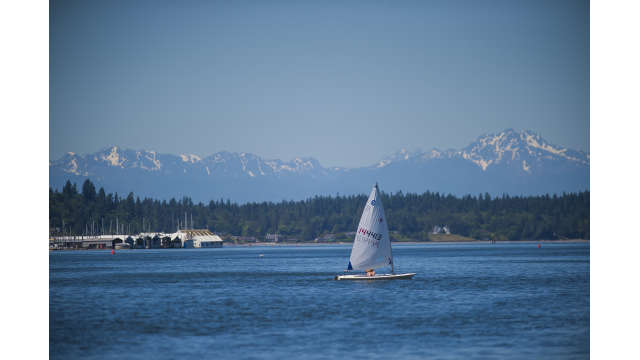 As Dr. Pamela Braff, Olympia's climate program manager, notes, "All of this work intersects. Climate strategies are community strategies. The local government can help support climate action by enabling community members to make commitments they want to make."
Olympia also has its sights set on the future, with an ambitious 20-year growth plan for the development in the downtown area. However, many residents and business owners are particularly concerned with sea level rise and the associated flooding risks—an issue that must be addressed in any future development plans. To remedy this growing concern, Olympia has developed a sea level response plan, installing tide gates to protect from high tide flooding and taking other protective measures to safeguard its scenic assets.
Preserving what's unique and special about Olympia—beyond the dome of its Capitol—is clearly on the radar of city leadership. As Dr. Braff points out, the very fact that a small town of 55,000 people has a dedicated leader addressing climate change is a powerful indicator of its commitment to a greener future. Her role as climate program manager also indicates the city's commitment to environmental responsibility.
"It's clear to me that this is a city that cares and that it prioritizes climate work. My position is in the executive office, which shows how much the city is prioritizing climate work. It is front and center," she explains.