Southern Charm and Smart Design
There's a popular saying among residents of Oxford, Mississippi: "We get to live here." It's so popular, in fact, that it has become a hashtag that the town's 25,000 residents share with pride on social media.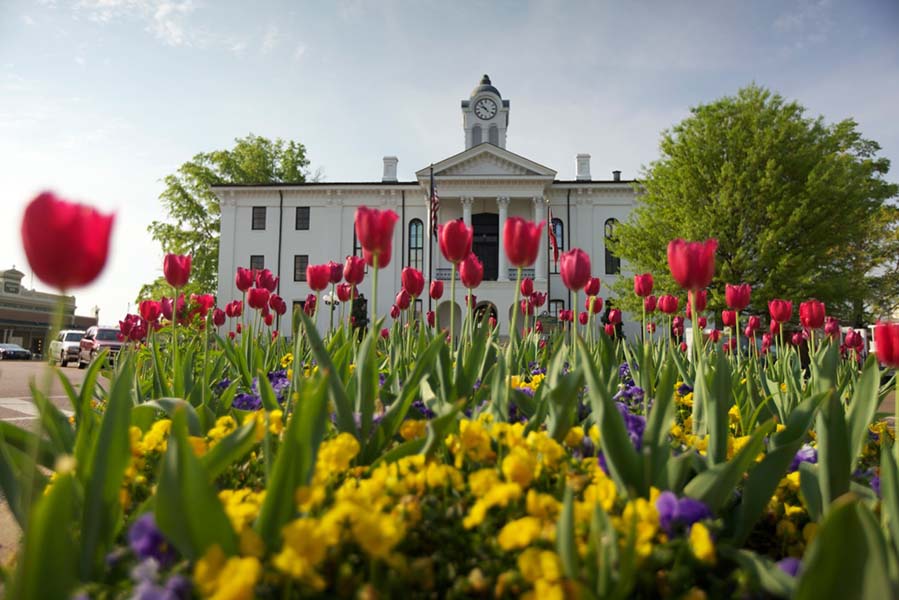 And with good reason. Named after another university town—Oxford, England—the idyllic city is often lauded as one of the loveliest places in the South, rich in culture, history, and beauty. The town narrowly avoided destruction during the Civil War then captured national attention again as a hotbed of activity during the civil rights movement in the 1960s. Bibliophiles have come to know Oxford through the works of one of its most celebrated native sons, Nobel Prize winner William Faulkner, who likewise inspired other writers like Larry Brown, Willie Morris, and John Grisham to likewise seek inspiration in this special place.
Among college sports fans, Oxford is best known as the home of the University of Mississippi, or "Ole Miss," and the relationship between the city and the university runs deep. Ole Miss gives the city an energy and vibrancy unique to college towns.
"We realize the assets that we provide for each other, and we capitalize on that," noted Ben Requet, the town's director of planning. "The university affords us to be young, and we can be taught by the students. They show us a different perspective that we might not normally see."
A transplant from the Quad Cities in western Illinois, Ben, like many Oxonians, originally arrived to study at Ole Miss. He left town after graduating then returned in 2015 to work for the City of Oxford.
"I wouldn't be the planner that I am today in any community other than Oxford because of my personal connection to this place. I want to help the town be the best it can be to protect its assets, its history, and its culture."
As Ben pointed out, Oxford indeed ebbs and flows with the hum of its hometown university, its population swelling to 150,000 or so when tens of thousands descend on the town for sports events, graduations, festivals, and other big events.
Just as the university shapes the rhythms of the town, so, too does it play a role in its planning and development. For example, when the university's enrollment reached record levels in the mid-2010s, developers and hedge fund investors seized the opportunity to convert older apartment buildings that once housed couples and families into three- and four-bedroom, multi-bath units popular with college students—an approach known as purpose-built housing.
However, the rise of so much university-centric housing put a strain on Oxford's rental market, with fewer one- and two-bedroom units available for individuals and families. To ensure more diversity in unit types, the city's department of planning enacted codes requiring a healthier mix of rental units. And, as record-high enrollment begins to subside, the Planning Department is also encouraging recently converted units to be used for other purposes, such as senior housing.
"These purpose-built apartments leave ripples in the water long after they're built," noted Ben. "As the enrollment has leveled off, there is now a greater need for family rental units, so we have to be creative to accommodate the market's demands," added Ben.
While much of the city's economic activity is centered downtown near the university, new construction has also blossomed in the outer stretches of the town. To give these pockets of development greater walkability and a stronger sense of place—consistent with Oxford's charming core—planning officials also worked to develop better design standards with ample sidewalks, purposeful landscaping, bicycle lanes, nicely designed medians, on-street parking, and other pedestrian safety and aesthetic measures.
In keeping with the town's rich history as a mecca for arts and culture, creativity and innovation also find a home there. In recent years, the planning department has been working with artists and performers to create more murals and live entertainment opportunities to activate more public spaces. Art installations are even popping up in the middle of the roundabouts that are scattered throughout the city.
This creative spirit also extends to live performing arts and special events. Although COVID has had an impact on Oxford's usually packed cultural calendar, the town has found ways to carry on despite the limitations. When the town's largest event, the Double-Decker Arts Festival, was canceled, city officials made haste to create smaller-scale programs, partnering with Visit Oxford to inviting artists throughout the region to showcase their arts in the Square.
Ben pointed to other challenges-turned-opportunities that have emerged from the pandemic. As restaurants have grappled with capacity limits and closures, the town has embraced a culture of outdoor dining, experimenting with street closures and pedestrian zones to gauge the public interest and appetite for this type of outdoor culinary experience. Such programs were funded and under development prior to the pandemic, but the new world of operating has allowed for more experimentation.
"It has given us a chance to create better outdoor dining spaces, and to see how people actually use them, and now we're looking at other areas of the square to see where else we can offer something similar."
By providing safe and inviting spaces in which to gather, Oxford residents, visitors, and students are able to bask in the hometown pride that makes it such a special place to live, work, and play.
"Even as the city grows, its small-town culture remains the same. There's a true sense of community that Oxford holds dear," added Ben. "We get to live here—and sometimes our new citizens are the loudest and proudest ones saying that."
Learn more about Oxford and visit for yourself at www.visitoxfordms.com.