By Makenna Sievertson, Scenic America intern
Ralph Becker knows the political workings of billboard companies all too well. Over nearly thirty years, first as a member of the Salt Lake City planning commission, then in the Utah legislature, and finally as Salt Lake City mayor, Becker was an outspoken opponent of billboard blight. His views drew the ire of the state's powerful billboard lobby, which would ultimately spend wildly to help secure Becker's defeat in the city's 2016 mayoral contest.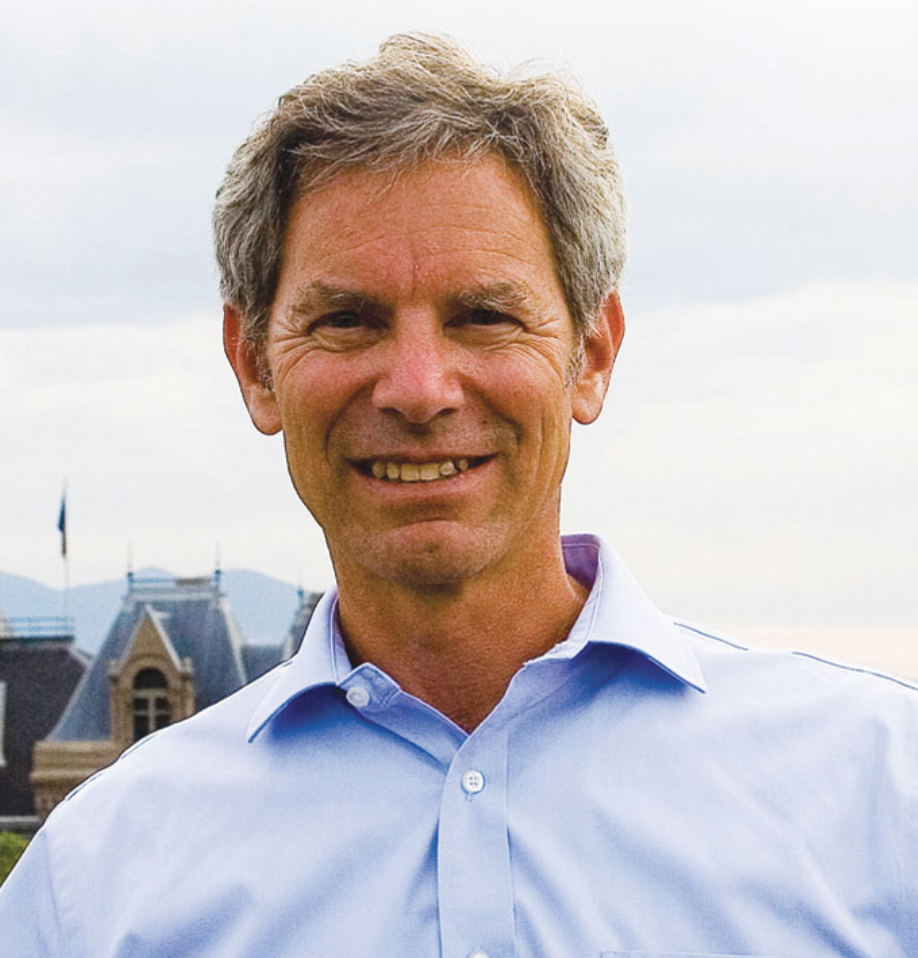 Becker was born and raised in Washington, DC. After receiving his B.A. from the University of Pennsylvania, Becker moved west to attend the University of Utah for a law degree and a master's degree in Geography and Planning.
"Even when I was young I didn't like the clutter and visual intrusion of billboards on our scenic views," he said. "That's something I've always paid attention to. It came more and more into focus as I got older and became more involved with policy issues."
Always drawn to the great outdoors, Becker worked for the National Park Service while finishing his studies. He worked in a variety of capacities including as a garbageman (euphemistically titled "sanitation engineer"), a firefighter and a park ranger. He became enamored with the jaw-dropping natural beauty of places like the Grand Canyon and decided to orient his work and education towards protecting these landscapes and their natural resources. "For me, my work with the National Park Service was a catalyst for my whole career," Becker said.
In 1974, Becker moved to Salt Lake City, and after completing schooling and a stint consulting in policy and government relations, began working under Governor Scott Matheson as State Planning Coordinator. In 1985, Becker co-started a planning, policy, and environmental consulting firm called Bear West, which he ran for 22 years. His enjoyment of public service and addressing the needs of his community led to him becoming Salt Lake City Planning Commissioner for seven years. During his tenure on the city's planning commission, he began his decades-long battle against billboard blight. A cap-and-replace billboard ordinance was developed during that time.
After serving as Salt Lake City Planning Commissioner, in 1997 Becker ran for and was elected to the Utah House of Representatives. In his first legislative session, the outdoor advertising industry ran a massive overhaul of Utah's Outdoor Advertising Code Chapter that gave unfettered control over local decision making to the Industry. That experience solidified Becker's engagement and unhappiness with the adverse impacts and crude methods of Utah's powerful billboard companies.
In 2006, Becker decided to run for mayor of Salt Lake City. As mayor, he realized he could play a significant role in helping to shape public policy and direction in the city. He won the mayoral race in 2007 and was overwhelmingly re-elected by voters four years later.
Becker and his Mayoral team were involved with updating a reform for local sign ordinances and were interested in reducing the visual blight of billboards on the city. "It's embarrassing when visitors come into [Salt Lake City] and ask how the beautiful gateways to the city and mountains became totally littered with billboards," said Becker. But he believes that many city residents have come to accept billboards as an inevitable part of the streetscape and don't take much notice of them. "You get used to things you see every day," he said.
One of Becker's goals as mayor was to reduce the impact of billboard blight on Salt Lake City's built environment and natural beauty. His tough stance on outdoor advertising earned him admiration from many citizens and drew the ire of local billboard companies.
According to Becker, the outdoor advertising industry in Utah is unsettlingly powerful, and he attributes that dynamic to the industry's relentless behind-the-scenes efforts to influence policy in the state legislature. Among the industry's tactics is producing legislation that is complicated, often claiming a proposal is an unimportant "technical correction," while in reality making significant changes to state billboard regulation. The bill will often be introduced very late in the legislative session and be greased to move quickly, often going completely unnoticed by the public before it passes.
"It will literally happen almost overnight," said Becker. "The billboard industry will get exactly what it wants," before the public even has a chance to weigh in.
Utah's billboard companies are known for their generous contributions to electoral candidates, both in cash and in free advertising, and there have been years where they are the largest corporate contributors to state campaigns. This financial largesse helps to further speed along billboard-friendly proposals in the state legislature.
"Community leaders are scared of the billboard companies here because they give out a lot of money and they're bullies," Becker said. "But this is one of those issues that I am not going to let go. I just hate to see an adverse impact on the community that goes unchecked."
In 2016, Reagan Outdoor Advertising and their allies spent more than half a million dollars supporting other candidates and greatly influencing Becker's unsuccessful re-election.
Despite the never-ending challenges that accompany going against a powerful entity like the billboard lobby, Becker is proud of the work he has done to raise the profile of issues related to visual blight. Even though Becker left elected life in 2016, his desire to work in the public interest is far from over.
Because of his longtime opposition to billboard blight, Becker had worked with and admired Scenic America for years, and when his mayoral term came to an end he was asked to join the group's Board of Directors. His involvement reignited his desire to establish a Scenic Utah affiliate, which Becker believes is sorely needed to act as a counterweight to the state's billboard industry. Becker believes that hosting the national Scenic America conference in Salt Lake City in October of this year will help to attract local attention to scenic conservation issues and help ignite interest in the Utah affiliate.
Becker sees himself as an activist by necessity, not by nature, and his passion for the outdoors continues to this day. He is also interested in protecting Utah's phenomenal night skies, moving towards undergrounding utility wires, fostering public appreciation for our nation's scenic highways and byways, and protecting public lands.
Asked what advice he would give to someone looking to get involved in the public process, he said: "If there's something you care about, go to a meeting or participate in a rally, and don't stop there. Get involved — take that giant step and just jump in."