This greenspace restoration project opened on Tuesday, June 21, 2022. The event included a ribbon-cutting ceremony featuring our executive director, Sen. Mike Dawida, and a display of historic photos and more recent ones that tell the story of the space's evolution and eventual restoration to the community, as well as tours of the space.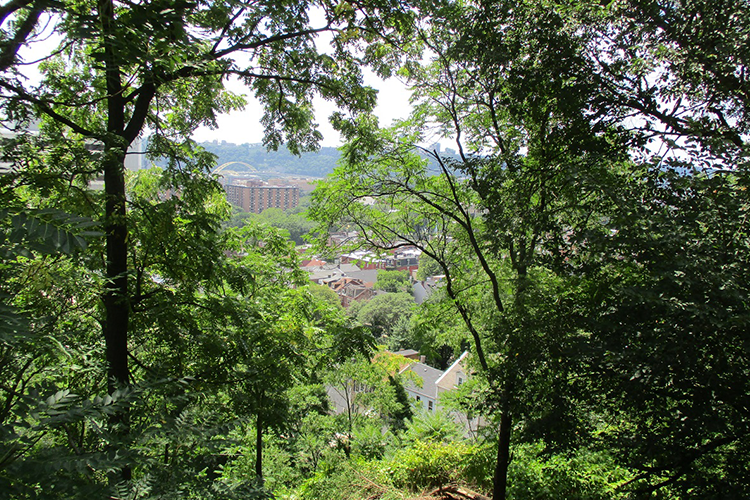 Read our press release on the Fountain Street Overlook opening.
Scenic Pittsburgh has been at work on this project, which we originally called the Fineview Greenspace, for 5 years. We renamed it in the winter of 2021 when it became clear that we would be undertaking more projects in the Fineview neighborhood.
100 Years of History: The Story of the Fountain Street Overlook
Located on the Northside of Pittsburgh directly behind Allegheny General Hospital, the Fountain Street Overlook takes advantage of an abandoned wedge of land between Fountain and Henderson streets that was once home to a block of houses. Always a steep-slope area, for decades this 2.2-acre wedge has accumulated garbage and invasive plants among crumbling stone foundations. But it was also clear to Scenic Pittsburgh staff that the space offered stunning views of the city all the way to Mount Washington, was directly adjacent to the Fineview Fitness Trail and the James Street and Graib Street stairways, and held enormous potential as an urban forest patch. We started developing a vision around how to restore this kind of land: the kind that is less suitable, because of its location, size or steep slope, for housing or business development, but that is typically larger than smaller, more limited Adopt-a-Lot projects. Land that offers something to the community, whether it's a view, a connection between neighborhoods, or mature stands of trees.
Find out more about our greenspace partnership, which includes Allegheny Cleanways, Grounded Pittsburgh, and Landforce, the unique approach we are taking to greenspace restoration in the City of Pittsburgh, and our other projects.
In 2017, Scenic Pittsburgh managed to purchase a large lot in this area from the local school district. The surrounding lots were mostly city-owned, and we set to figuring out how to work with the city to create a greenspace there, using tools like the Land Bank and the Adopt-a-Lot program but also extending beyond them. Since then, a series of grants from local foundations such as the Laurel Foundation, the Colcom Foundation and the Richard King Mellon Foundation, as well as support from Highmark Corporate giving, has allowed us to involve our partners in cleaning up and shaping the space. We've received free native shrubs from the Keystone 10 Million Trees effort (part of the Chesapeake Bay Foundation) to help restore the native plant balance. We've started needed repairs at the Fountain Street stairs and created pathways throughout. And with our partners, we've taken back a piece of urban forest that was a source of visual blight, and a liability to the surrounding community, and made it into an asset – a place where the residents of Fineview and the Northside can look at the view, take a short hike, or walk their dog.
With our partners and the surrounding community, we look forward to improving and maintaining the Fountain Street Overlook for years to come.
Find out more about our other greenspace restoration projects.