From Art History to Transportation Policy, Oldham Shapes Scenic History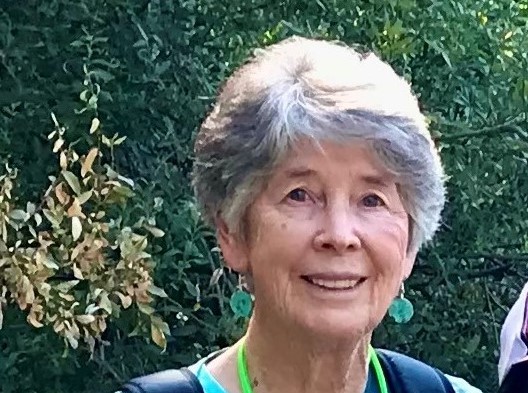 Over the course of her career, former Scenic America President Sally Oldham has worn many hats. While somewhat diverse in nature, Sally's professional accomplishments and personal interests in historic preservation, scenic conservation, and transportation planning are, in fact, knitted closely together with common threads. She is a true Scenic Hero whose contributions to Scenic America and its key issue areas—perhaps most notably, the establishment of the National Scenic Byways Program—are significant and enduring.
A native of Cleveland, Ohio, Sally could scarcely have imagined the interesting career path that awaited her. Her first brush with architecture came while working as a receptionist at an architectural firm as an art history student at Pomona College. In addition to providing a lens into the world of building design, the position also introduced Sally to Ted, her future husband (of 56 years).
As a young married couple, the Oldhams spent a year in London after Ted landed a Fulbright Grant to study housing in London and England's new towns. While overseas, they tacked on a nine-month, 30,000-mile adventure to explore Europe's most spectacular architectural sites, living largely out of the VW bus they'd outfitted for the purpose—an experience that certainly heightened Sally's interest in history while fostering a greater appreciation for modern design.
After returning from Europe, the Oldhams settled in the Washington, D.C., area. Sally completed her master's degree in art history from the George Washington University and became an adjunct professor, teaching American art and architecture through Lewis and Clark College's Washington, D.C. program. She also became a mother to two daughters.
Sally's career took a serendipitous turn in 1975 when she happened upon an advertisement pinned on a job search bulletin board at a College Art Association annual conference, indicating that the National Park Service was looking for an architectural historian.
"I had never heard of historic preservation, but I ended up getting that job," she said. "And it launched me into a field that has been the heart and soul of my vocational life."
With her knowledge of art and architecture and her passion for history, Sally thrived in this role. She ultimately served as the Acting Chief of Registration of the National Register of Historic Places, where she became an expert on tax policy as it pertains to historic preservation and rehabilitation programs.
After a brief stint managing equity syndication projects for a Boston firm, she became vice president for programs at the National Trust for Historic Preservation, where her accomplishments included developing a strategic plan to help communities to capitalize on the benefits of heritage tourism.
When Sally was offered the chance to take the helm at Scenic America in 1989, she saw an intriguing way to build on her background in preservation to guide scenic conservation policy—and she took note of an intriguing opportunity to help shape the nation's approach to transportation design and management.
"I went from work in historic preservation to scenic conservation to transportation policy," she notes. "It's a continuation of historic and scenic concerns"
At the time of Sally's arrival, Scenic America had already secured a seat at the table for pivotal legislative discussions on the nature of transportation funding and was striving to make it more community and people-focused. Although Sally initially had reservations about the amount of time and energy Scenic America was putting into this effort, she quickly came to realize the impact that such work could play on the future of the organization.
"In the end, I learned that it was a superb thing that we were involved in this advocacy group. There were benefits in collaborating with others and finding common grounds. Together we were able to achieve something greater than anything we might alone have aimed for or anticipated," she said, noting that the resulting legislation, the Intermodal Surface Transportation Act of 1991 (ISTEA) included language and significant funding addressing Scenic America's priorities of billboard removal and scenic conservation policy.
Of particular interest to Sally was the National Scenic Byways Program. Through her work at the National Register of Historic Places, Sally was keenly familiar with the ins and outs of national designation programs and was excited by the prospect of implementing a program to recognize and protect the nation's most significant roadways. Thanks to Scenic America's astute lobbying efforts and Sally's background in national designation programs, she landed a seat on the 17-member committee assigned this task.
"It was a fun endeavor. With my background with the National Register, I was comfortable with designation programs and was a pretty strong and compelling advocate for why you want to do things certain ways."
Sally also took an active role in other transportation initiatives. She helped craft scenic-focused language for the National Highway System (NHS) Designation Act of 1995, which amended policy language to encourage the preservation of scenic and historic resources while also addressing safety and performance in the newly designated NHS system. Under her leadership, Scenic America also hired a landscape architect, developed scenic conservation evaluation systems, and implemented systems to help state DOTs to develop their own scenic byways programs.
When Sally left Scenic America in 1996, she didn't stray far from the field. She took on consulting projects to help transportation officials determine how to interpret and implement scenic-friendly legislative language. She organized a large national conference which led to the development of a set of principles that would later become the context-sensitive solutions (CSS) methodology adopted by the American Association of State Highway and Transportation Officials (AASHTO).
Today, Sally makes her home in Maine– one of four states with no billboards– where she spends much of her time with family (including triplet grandchildren). However, she continues to seek out opportunities to address scenic concerns in her own community. She supported the Maine Department of Transportation's work on two bridge projects, facilitating advisory committees and urging CSS approaches, to include bike and pedestrian lanes, public art, and similar community-minded features.
While Sally acknowledges that her later work in transportation policy seems a stark departure from her starting point as an art history student, she takes pride in the fact that she has, indeed, taken a "scenic route" to connect these points in her career.
As she notes, "scenic and historic values flow through all of this."