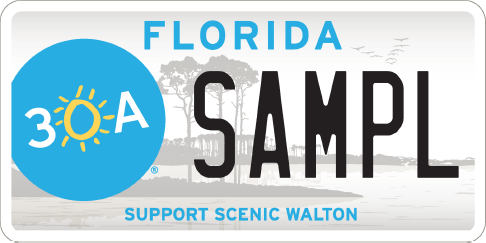 Florida drivers will soon have the chance to help preserve Walton County's scenic beauty while showing their love for the 30A lifestyle brand by purchasing a new 30A specialty license plate. Developed through an innovative partnership between 30A and Scenic Walton, the tag features 30A's famous sunshine logo set against a silhouette of Western Lake, one of Walton County's rare and beautiful coastal dune lakes. The tag is priced at $33, with all proceeds benefiting Scenic Walton and its mission to promote beautification projects throughout the county.
While the specialty plate represents a great beautification opportunity for Walton County with strong benefits to Scenic Walton, there's more work to do before the plates hit the highway. The Florida Department of Motor Vehicles requires at least 3,000 pre-orders for the plates within two years before moving them into production.
To help drive this project forward, Scenic Walton is urging its fans and followers to purchase pre-sale vouchers for all plates you register now (including plates for your trailers and RVs!) and spread the word to family, friends, local businesses, and community organizations to help hit the threshold for production. They make great gifts as well. The pre-sale vouchers are available at www.30atag.com, along with additional information about the program.