Last month, we asked our newsletter subscribers to share their favorite places to see fall foliage. Here's a list of scenic spots to check out on your next leaf-peeping adventure, many of which feature national and state scenic byways.
Fall Finds in New England
It's no surprise that a region that's nearly synonymous with fabulous fall foliage earned several recommendations.
Maine always dazzles visitors with its autumn displays. It's no wonder that three of the newest national scenic byways—Katahdin Woods and Waters, St. John Valley/Fish River, and Bold Coast—are located in this scenic state. Maine's Mount Desert Island and Acadia National Park are also crowd-pleasers
The beautiful Berkshires in western Massachusetts are easily explored by traveling the Jacob's Ladder are Mount Greylock Scenic Byways.
Foliage fans love New York, where scenic views await along the Upper Delaware Scenic Byway, Old Storm King Highway, and the Shawangunk Mountains Scenic Byway, or along the Palisades National Scenic Byway across the river in New Jersey. Mix in history with your leaf adventures along the Taconic State Parkway, devised by Franklin D. Roosevelt as a way to provide access to state parks in the region.
And of course, the unparalleled vistas of New Hampshire and Vermont's beautiful Green Mountains also garnered votes from scenic fans and followers.
The Midwest
The fall foliage displays in America's heartland also strike chords with the scenic community. In northwestern Illinois, the Mississippi Palisades State Park offers 2,500 acres of tree-lined hiking trails and fascinating Native American history near the Great River Road All-American Road. Leaf-peeping recommendations in Missouri included another All-American Road, Historic U.S. 66, between the two Meramec Bridges, in St. Louis County. Another Historic Route 66 stop also made the list: the southwestern Missouri town of Carthage, dubbed "America's Maple Leaf City" and resplendent with colorful trees.

The Mid-Atlantic
Picks from Pennsylvania included the town of State College, where the fall leaves deliver an added bonus to Penn State's energetic football fans at the height of the season, and Shippensburg, in the Cumberland Valley. West Virginia's North Bend Park in the Mid-Ohio River Valley also earned rave reviews for its autumn colors.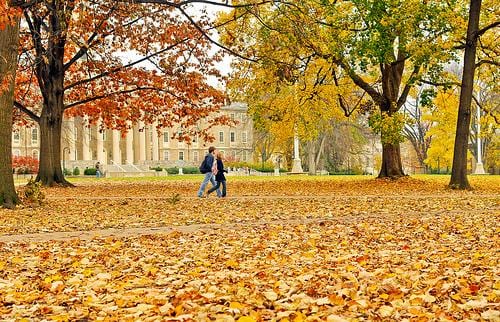 The Southeast
Tennessee's Great Smokies are a year-round crowd-pleaser—and particularly in the fall. The town of Gatlinburg is a vibrant and lively gateway to the national park itself with its own charms. Three scenic byways traverse this scenic region of eastern Tennessee. The Newfound Gap National Scenic Byway is the lowest drivable pass through the Smokies at an elevation of just over 5,000 feet. The Great Smoky Mountains Byway travels 200 tree-lined miles through the range's foothills. The East Tennessee Crossing Byway links the Cumberland Gap National Park, the Great Smoky Mountains National Park, and the Cherokee National Forest
The Mountains
Scenic fans suggested Colorado's Peak to Peak Scenic Byway and Guanella Pass Scenic Byway for spectacular fall colors at higher altitudes. In Oregon's Willamette Valley, the William L. Finley National Wildlife Refuge boasts an impressive spread of oak and maple trees that deliver a delightful seasonal showcase.
Do you have more suggestions to share, or is your favorite spot missing from our list? Email us at scenic@scenic.org.