2021 Award Recognizes Work to Secure Funding for the National Scenic Byways Program
Scenic America is proud to announce its selection as a "Power of A" Gold Award winner by the American Society of Association Executives (ASAE). The award recognizes Scenic America for its advocacy work, which delivered dedicated funding to the National Scenic Byways Program for the first time in nine years.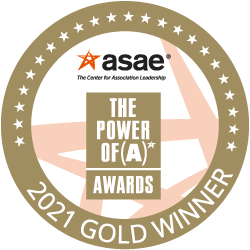 ASAE is a national organization that represents more than 46,000 association executives and 7,400 organizations. Each year, ASAE highlights exemplary work by nonprofits through its "Power of A" Awards program.

According to ASAE, the awards "recognize and celebrate the extraordinary contributions associations make to society by enriching lives, creating a competitive workforce, preparing society for the future, driving innovation, and making a better world."  Scenic America was one of only five organizations to receive a Gold Award for advocacy—its second year in a row to earn this honor.
Scenic America's 2021 Gold Award acknowledges its success in collaborating with like-minded organizations, galvanizing its audience, and nurturing relationships with its champions in Congress to secure funding for the National Scenic Byways Program, a critical economic development generator for communities in all 50 states. The Consolidated Appropriations Act of 2021 included $16 million in support for the byways program, its first dedicated funding in nine years.
This year's award also builds on the Gold Award Scenic America earned last year for its leadership in passing legislation that revived the National Scenic Byways Program. Scenic America President Mark Falzone noted the significance of this year's award and the progress that it represents—both for his organization and for the National Scenic Byways Program.
"When we led the way to work with Congress to pass the legislation that brought back the scenic byways program, Scenic America's work was just beginning. The byways program needed dedicated funding to deliver its economic benefits to places where they are sorely needed. Now that there is some funding in place, communities will feel the impact of this program, and we have set the stage for more robust and comprehensive support in the future," he said. "We have also scored another big victory in Congress, showing Scenic America's growing strength in pushing scenic priorities on the national agenda."
Falzone also acknowledged the partnerships and collaboration that contributed to Scenic America's success. "We may have been one of the leading advocates for byways, but ours was not the only voice. This accomplishment would not have been possible without the alliances we have built with like-minded organizations and without our supporters' willingness to tell Congress that byways matter to them."
Scenic America will receive its formal recognition from ASAE during an event this fall.