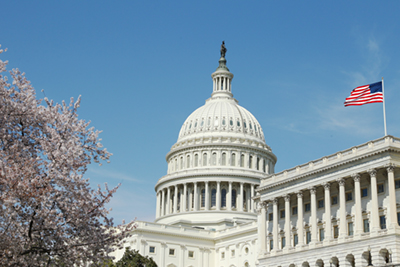 House Passes Surface Transportation Bill with Funding for Byways and Support for Undergrounding and Gateway Communities
Scenic America landed additional legislative wins this month as the surface transportation reauthorization bills moved through the House and Senate. Three out of our four strategic priorities are included in the final House bill, which passed the House of Representatives this morning, July 1, 2021. Additionally, two of the four priorities are included in the Senate's version, which was approved by the Environment & Public Works Committee on May 27, 2021, and is awaiting a full vote on the Senate floor in the coming weeks.
The House bill, H.R. 3684, the INVEST in America Act, contains $64 million in dedicated funding over four years for the National Scenic Byways Program from the Highway Trust Fund and an additional $156 million over four years in general funds, subject to appropriation. The bill also includes language that allows communities to pay for utility undergrounding with federal funds as well as another provision allowing more flexibility in funding for gateway communities that host public lands.
We are grateful to Transportation & Infrastructure Committee Chairman Peter DeFazio (D-OR) for the inclusion of the base funding for the byways program as well as for Rep. David Cicilline (D-RI), who sponsored a floor amendment to augment the funding levels for the byways program. This amendment was ultimately accepted. We further appreciate Chairman DeFazio's leadership in including provisions supporting utility undergrounding and flexible funding for gateway communities.
The Senate bill, S. 1931, The Surface Transportation Reauthorization Act of 2021, also contains language that addresses undergrounding and gateway communities, and for that, we appreciate the support of Chairman Tom Carper (D-DE) and Sen. Ben Cardin (D-MD). We are currently seeking support in the Senate for amendments addressing byways funding concerns and monitoring our other priorities as the bill advances. To that end, we thank Sen. Alex Padilla (D-CA) for his commitment to file an amendment to S. 1931 calling for full guaranteed funding for byways in the Highway Trust Fund of $325 million.
While neither version of the bill currently protects publicly owned trees from cutting by billboard companies, we have made significant progress in our fight to address this important issue. We have worked hand in glove with local supporters and allies from across the country to stress the importance of this issue to Congress. Specifically, we are extremely thankful for Reps. Chris Pappas (D-NH), Nancy Mace (R-SC), Anne Kuster (D-NH), and Kay Granger (R-TX) for filing amendments in support of this provision. We are encouraged that these members of Congress prioritized this issue and look forward to working with them as we continue to fight for tree protections.
These provisions in both the House and Senate bills addressing Scenic America's key priorities are a notable achievement and a testament to the importance of our work and the engagement of our community of supporters, partners, and friends, who took action on these issues. We are grateful for your letters of support, outreach to elected officials, and other advocacy efforts. As the House portion of the legislation wraps up, we will turn our attention back to the Senate, seeking amendments addressing these concerns and monitoring our other priorities as the bill advances.
These latest accomplishments add to Scenic America's growing effectiveness in advocacy, beginning with the 2019 passing of The Reviving America's Scenic Byways Act, made possible by bipartisan support from Rep. Cicilline, Sen. Susan Collins (R-ME), Rep. Garret Graves (R-LA), and Sen. Cardin. The byways program's first dedicated funding in nine years was secured through the leadership of Sen. Collins and Sen. Jack Reed (D-RI), who included it in the 2021 Consolidated Appropriations Act with support from Chairman David Price (D-NC) and Rep. Mario Diaz-Balart (R-FL).