The practice of tree cutting near billboards, so that the signs are more clearly visible to passing motorists, is garnering more attention from the media and more outrage from citizens around the country.
There are no shades of gray here. This is simply an effort by the billboard industry to be allowed to destroy publicly owned trees for their private gain. That's the issue in its entirety. The billboard industry tries to obscure this by calling what they do "vegetation control". However, the truth is that the "vegetation" is not out of "control". What the industry is doing is called tree cutting, in some cases clear-cutting, publicly owned trees for their own benefit.
The Challenge
There is no federal prohibition of vegetation removal or tree cutting on public rights-of-way for the purpose of enhancing the view of billboards. The result is that legislatures and state transportation departments permit outdoor advertising companies to remove or cut publicly owned trees and vegetation. While a 1990 memo from the Federal Highway Administration (FHWA) states that state DOTs should end their tree cutting agreements or programs, pressure from the billboard industry has since caused FHWA to hedge on this issue. In a 1992 memo, FHWA indicated that, while they no longer endorse tree cutting as a practice, right-of-way maintenance is a state concern. Furthermore, FHWA announced that tree removal for billboard visibility will not trigger the Highway Beautification Act's 10% penalty provision. The proposed prohibition on tree cutting does not apply if it is done to improve or maintain safety.
In recent years,  several states have greatly increased the "view zones" where trees can be cut around billboards. In North Carolina, billboard companies can remove trees up to 380 feet on either side of a billboard, and in Florida, it is 300 feet on either side. Current law (23 CFR § 1.23) states: "All real property, including air space, within the right-of-way boundaries of a project shall be devoted exclusively to public highway purposes." Allowing tree cutting for no reason other than private benefit is clearly not stipulated.
The lack of prohibition has led to the "uglification" of our publicly funded highways. We must end the removal and cutting of taxpayer-owned trees and vegetation to increase visibility of privately owned billboards.
The Highway Beautification Act
The Highway Beautification Act (HBA) was intended to protect the public investment in our nation's highways and to preserve the natural beauty of the landscapes they traversed. However, 32 states allow billboard companies to cut and remove publicly owned trees growing alongside our federal highways on publicly owned land, merely to increase the visibility of their commercial billboards. These public assets should only be removed to enhance safety and mobility and to control harmful invasive species. For example, removal of vegetation may be considered when a driver's sight distance is dangerously reduced. On high-speed roads, such as Interstate highways, trees might be removed when they are too close to the edge of the travel lanes. Also, invasive vegetation should be removed when it poses a threat to adjacent agricultural land and other green landscapes. Aside from such considerations, there is no legitimate reason to remove trees and other vegetation, which are public sector assets, particularly for billboard visibility.
Other Benefits of Trees
In addition to beauty and aesthetics, public trees protect the public roadway from soil erosion by providing runoff control. They are also valued by neighboring communities and homeowners for providing a natural noise, visual, and pollution barrier, which enhances property values. They protect neighborhoods and homeowner land values from highway noise, flooding, and visual blight, all at a fraction of the cost of manufactured barriers or flood mitigation. These benefits are immediately diminished when natural barriers are removed for the benefit of billboard owners. Trees are taxpayer protected assets and should not be destroyed simply for private gain.
A long string of court decisions makes clear that billboards have no "right to be seen"
Courts across the country have held that there is no property right for a billboard erected on private land to be visible from the public road. Those rights may only be created by statute. Some state DOTs prohibit billboards from being erected on sites where public monies have been spent on beautification, and other state DOTs, such as Texas, prohibit the trimming or cutting of public vegetation and trees. Beautification and landscaping of public land should never be limited or impaired by the presence of billboard advertising on adjoining or nearby private land. In all, 32 states allow for right-of-way vegetation to be manipulated to increase the visibility of outdoor advertising signs, while eighteen states prohibit this practice.
Allowing tree cutting may in fact violate the law regarding the use of the public highway
The Code of Federal Regulations states: "All real property, including air space, within the right-of-way boundaries of a project shall be devoted exclusively to public highway purposes."  Clearly, allowing tree cutting for no reason other than private (billboard industry) benefit is illegal.  While FHWA does not interpret the law this way, it could serve as a useful argument for you. See this Texas Department of Transportation memo for more information on state-level highway vegetation management practices.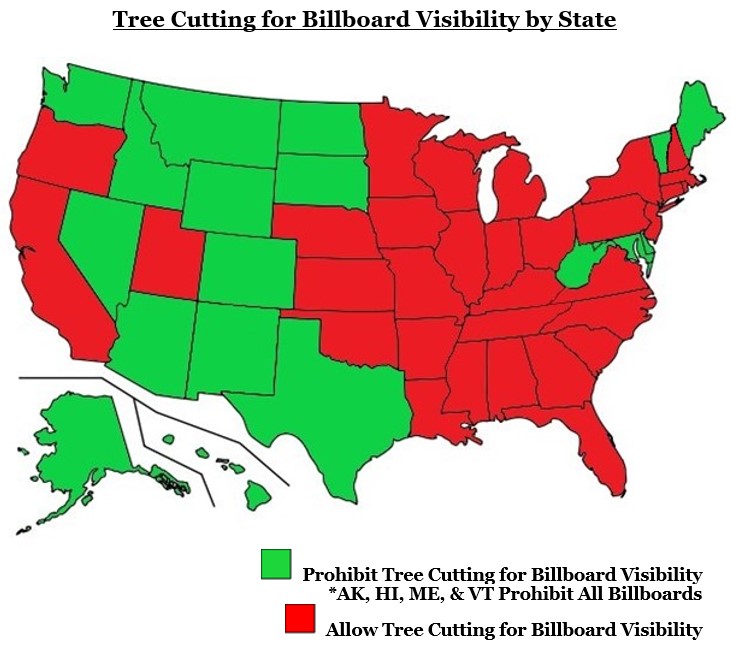 Proposed Solutions
Congress or USDOT/FHWA should prohibit tree cutting along all roads eligible for federal aid.
State legislatures should prohibit the removal or destruction of public trees and vegetation for the purpose of increasing billboard visibility. Similarly, unless prohibited by law, each state DOT should adopt rules that prohibit the removal or destruction of public trees and landscaping to better view billboard advertisements.
If tree cutting is not allowed, state DOTs should notify landowners adjacent to highways where billboards may be permitted, as well as outdoor advertising companies doing business in their state, that removing trees or vegetation for the purpose of enhancing billboard visibility is not permitted.
State DOTs should adopt programs that set aside a certain percentage of every DOT contract for the beautification of public highways, such as the Highway Beautification Program in Florida, and other alternatives, such as those described in the Rhode Island DOT "Best Practices Highway Design Guide." Plantings should be native to the community to honor and enhance local character, using the guide from the Lady Bird Johnson Wildflower Center.
In the Media
NPR Reports: In Florida, billboards trump trees
A report by David Barron on National Public Radio examines an issue

Scenic America has been working on for years: the battle between communities who want to plant and maintain trees and the billboard companies who want motorists to have unadulterated views of their signs. While the practice of billboard companies destroying the public's trees is an issue all across the country, in this story Barron focuses on a swath of trees on a highway near Orlando, Florida. The piece includes commentary from Bill Jonson, a Scenic America board member and President of Citizens for a Scenic Florida.

Click here to listen to the report.