Issues of energy production and consumption not only affect our population, but also the landscapes in which we live, work, and play. With the quest for a more sustainable energy ethic rising to the forefront of discussion, sources of alternative energy production, such as wind power, are becoming more of a reality.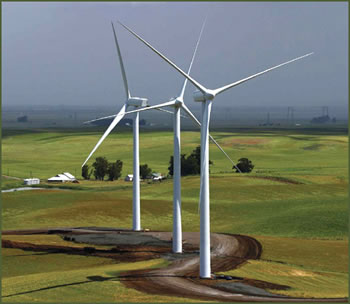 While the environmental benefits of renewable energy such as wind are clearly apparent, the projects themselves create significant visual intrusions into the landscapes in which they reside. Along with the potential for avian mortality, visual impacts remain the primary opposition voiced by communities in areas where projects are proposed. The size, number, scale, motion, and visual prominence of wind turbines makes visual mitigation nearly impossible and communities are faced with challenges in embracing green technology while protecting landscape views they value.
Scenic America is committed to working collaboratively with communities and professional groups to develop cutting-edge landscape mitigation strategies to help communities address the potential for negative visual impacts. Ours is not a position of advocating either for or against this renewable resource, but rather, helping communities address the protection and preservation of landscape characteristics they value.
Communities should be aware that there are methods to assess and evaluate the scenic conditions and potential impacts of projects and that sophisticated, proven technologies exist for viewshed analysis and visualizations of what projects would look like before they are built. These tools can have incredible effectiveness in both planning, design and mitigation of impacts.
Wind Energy Links:
Panel Presentations at the ASLA Annual Meeting, San Francisco, California – October 2007
Scenic America developed and moderated a panel presentation at the American Society of Landscape Architects' (ASLA) Annual Meeting in San Francisco, California in October 2007. The following are documents and presentations from the education session.
Moderator's Overview Presentation – by Brad Cownover, Scenic America's Director of Scenic Conservation Services
Click here to stream the presentation.
Other wind energy links:
Wind Energy – Visual Impacts and Public Perceptions – a research project by Macalester College
Presentation on Wind Energy by Kevin Fry for the National Trust for Historic Preseveration