The National Scenic Byways Program was established by Congress under the Intermodal Surface Transportation Efficiency Act (ISTEA), which was signed into law on December 18, 1991, providing $74.3 million in discretionary grants. In 1995, the Federal Highway Administration determined the six intrinsic qualities that would allow a byway to apply for a national designation: scenic, natural, recreational, archaeological, cultural, and historical.
The program was strengthened by the Transportation Equity Act for the 21st Century (TEA-21) in 1998, which provided $148 million to states so that they could also take advantage of the program. It was further bolstered by the Safe, Accountable, Flexible, and Efficient Transportation Equity Act – A Legacy for Users (SAFETEA-LU) in 2005, which provided $175 million to states and Indian tribes.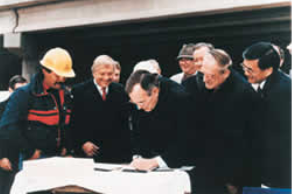 The first designations were announced in September 1996. These included:
the Selma to Montgomery March Byway in Alabama
the Big Sur Coast Highway in California
the Grand Mesa Scenic and Historic Byway and the San Juan Skyway in Colorado
the Connecticut State Route 169 and the Merritt Parkway in Connecticut
the Creole Nature Trail in Louisiana
the Edge of the Wilderness Byway in Minnesota
the Lake Tahoe – Eastshore Drive and the Pyramid Lake Scenic Byway in Nevada
the Kancamagus Scenic Byway in New Hampshire
the Great Lakes Seaway Trail in New York
the Blue Ridge Parkway in North Carolina
the Peter Norbeck Scenic Byway in South Dakota
the Cherohala Skyway in Tennessee
the Highland Scenic Highway in West Virginia
the Natchez Trace Parkway in Alabama, Mississippi, and Tennessee
Designations continued for the next 13 years until the last designations were made in October 2009.
Funding was cut for the program in 2012.
In 2019, Scenic America led an advocacy effort to revitalize the program, which culminated in the passage of the Reviving America's Scenic Byways Act of 2019. In December 2020, the President signed a stimulus bill authorizing $16 million in funding for the program, its first dedicated funding since 2012. The FY 22 Appropriations Act included an additional $6 million for the program, and more funding is expected in the FY 23 Appropriations Act. Scenic America continues to advocate for the program's long-term funding.
The most recent scenic byways designations were announced on February 16, 2021. Now, there are 184 National Scenic Byways in 48 states.
Learn more: