Packed with some of America's most stunning scenery, Utah serves as a shining example of a state that truly celebrates its scenic byways. While some of these scenic roads connect Utah's most popular national parks, others provide serve as gateways to lesser-known, and equally stunning, natural scenes.
About the Utah State Scenic Byways Program
The program is administered by the Utah Department of Transportation, under the leadership of Executive Director Carlos P. Braceras, who also serves as an unofficial "Byways Ambassador" for Scenic America, helping to call attention to the importance of the byways program nationwide.
Utah's scenic byways are also enthusiastically supported by the Utah Office of Tourism, which recognizes the power of beautiful roadways to enhance visitors' experiences and deliver even more economic benefits to communities statewide.
The Utah State Scenic Byway Program can trace its origins to 1985. The program was officially designated in the state code in 1990.
The Utah Travel Council (now the Utah Office of Tourism) played a primary role in establishing the scenic byway program with the support of the Utah Department of Tourism.
When the program was officially created in 1990, 27 scenic byways were designated. Since then, only one other byway has been designated—Morgan-Parleys Scenic Byway.
The first national scenic byways were the Flaming Gorge-Uintas NSB and Nebo Loop Scenic Byway, designated in June 1998.
---
Behind the Byways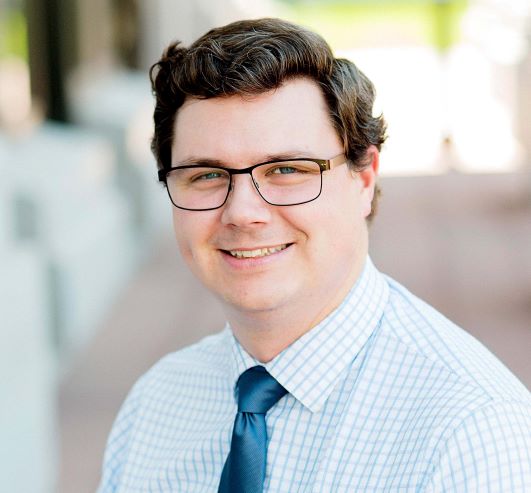 Flint Timmins, Destination Development Lead for the Utah Office of Tourism, shared more facts and insights about Utah's scenic byways. A native of Colorado's San Luis Valley, Timmins earned a bachelor's degree in history and a master's degree in public administration from Brigham Young University.
When did you first get involved with the Utah scenic byways program?
I first got involved with in 2018 when I was assigned to be the State Scenic Byway Coordinator for the State of Utah as part of my duties in the Utah Office of Tourism.
What is your most memorable moment working with Utah's byways?
Driving All-American Road Highway 12 for the first time.
Do you have a favorite Utah byway?
They're all great!
What tips do you have for visitors who want to explore Utah's byways?
Plan ahead and research your trip regarding travel conditions and current restrictions.

Consider visiting in the off-season or choosing lesser-known destinations for smaller crowns

Services are often limited along Utah's byways. Be prepared with items such as drinking water, adequate fuel, and off-line maps.

Always leave no trace. Protect Utah's culture and environment.

Support local communities.
---
Views of Utah's Byways
---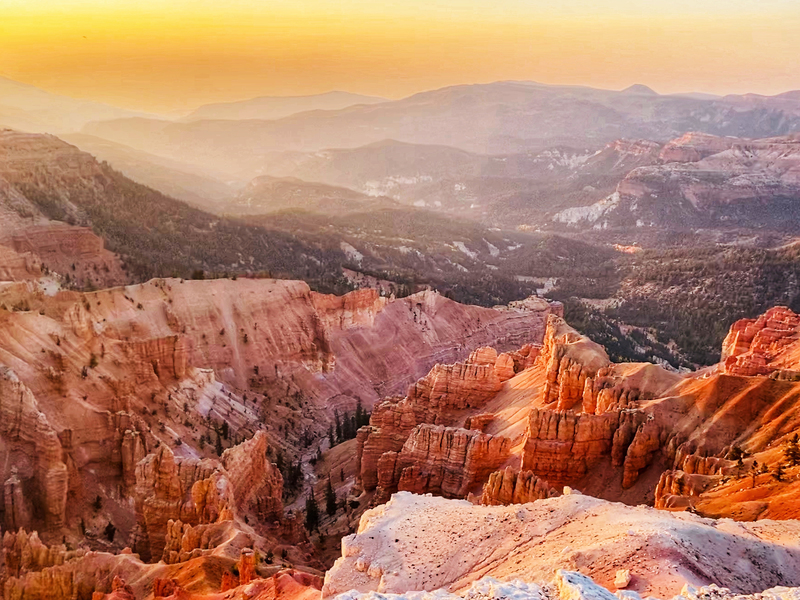 Byways Fun Fact
Did You Know? The Patchwork Parkway was named after an incident that happened during the early days of Utah's settlement by Mormon pioneers. Faced with harsh travel conditions, the settlers laid their quilts on top of the deep snow in order to cross to the west. Today drivers enjoy the patchwork of colors, cultures, and climates along this 51-mile scenic byway, S.R. 143, which passes through the vibrant Cedar Breaks National Monument, pictured here.

---
List of Utah's Byways
All-American Road
Scenic Byway 12
National Scenic Byways
Dinosaur Diamond Prehistoric Highway
The Energy Loop: Huntington/Eccles Canyons Scenic Byway
Flaming Gorge-Uintas National Scenic Byway
Logan Canyon Scenic Byway
Nebo Loop Scenic Byway
Zion Scenic Byway
Scenic Byway 143- Utah's Patchwork Parkway
Trail of the Ancients
State Scenic Byways
Bear Lake Scenic Byway
Ogden River Scenic Byway
Great Salt Lake Legacy Parkway Scenic Byway
Mirror Lake Scenic Byway
Big Cottonwood Canyon Scenic Byway
Little Cottonwood Canyon Scenic Byway
Provo Canyon Scenic Byway
Dead Horse Mesa Scenic Byway
Potash-Lower Colorado River Scenic Byway
Beaver Canyon Scenic Byway
Fish Lake Scenic Byway
Capitol Reef Country Scenic Byway
Cedar Breaks Scenic Byway
Markagunt High Plateau Scenic Byway
Mount Carmel Scenic Byway
Bicentennial Highway Scenic Byway
Indian Creek Corridor Scenic Byway
Kolob Fingers Scenic Byway
Federal Agency Byways
Bull Creek Pass National Backcountry Byway
Kolob Reservoir National Park Road
Pony Express Trail National Backcountry Byway
Silver Island Mountain National Backcountry Byway
Smithsonian Butte National Backcountry Byway
Transcontinental Railroad Backcountry Byway
View a downloadable PDF highlighting Utah's national and federal agency scenic byways here. More information about Utah state scenic byways can be found here.