The National Scenic Byways Program is a voluntary, community-based program administered through the Federal Highway Administration (FHWA) to recognize, protect, and promote America's most outstanding roads. Through their state departments of transportation, communities can apply for designation as a State or National Scenic Byway.
About the National Scenic Byways Program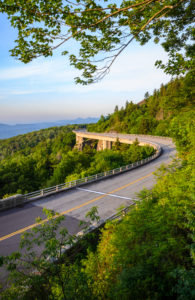 In 1991, Congress established the program under the Intermodal Surface Transportation Efficiency Act (ISTEA) and strengthened it further with the passage of the Transportation Equity Act for the 21st Century (TEA-21) in 1998 and subsequently with the passage of the Safe, Accountable, Flexible, and Efficient Transportation Equity Act – A Legacy for Users (SAFETEA-LU), in 2005.
Unlike some earlier state scenic roads programs that focused solely on the promotion of roads, this program helps communities balance economic development and resource conservation.
The program has two principal components: designation and funding.
Designation
National scenic byways designations recognize those roads across the country that exhibit one of more six core intrinsic qualities— scenic, natural, historic, recreational, archaeological, or cultural– contributing towards a unique travel experience. As of 2021, there are 184 roads in 48 states that are designated as either national scenic byways or All – American Roads.
To be considered for designation as a national scenic byway, a road must possess characteristics of regional significance within at least one of the intrinsic quality categories. In addition, the byway must demonstrate strong community support and develop a corridor management plan that describes in detail the preservation, marketing, and improvement strategies for the byway.
All-American Roads are the very best of the national scenic byways. An All-American Road must meet the same criteria as a national scenic byway, but possess multiple intrinsic qualities that are of national significance and the byway must be considered a destination and reason for travel unto itself.
Funding
Although program funding lapsed in 2012, the passage of the Reviving America's Scenic Byways Act in 2019 paved the way for funding to be included in future budgets. The Consolidate Appropriations Acts of FY 21 and FY 22 included $16 million and $6 million, with more expected in the FY 23 bill. The Federal Highway Administration (FHWA) will award these, and future funds, competitively each year in the form of merit-based grants covering 80 percent of the project cost and with the requirement that the remaining 20 percent be matched by local, state, other federal or in-kind means. Scenic America continues to advocate for the program's long-term funding.
For more information about the National Scenic Byways program, visit the Federal Highway Administration's website. To view maps of each state's scenic byways, click here.
Learn More: