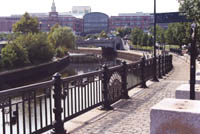 The distinctive appearance of business and residential neighborhoods is important in determining how we feel about our community. Many people identify with the places they live and take great pride in their neighborhoods. However haphazard development, or sprawl, can easily alter the unique character of a community. Preserving the aesthetic continuity of the built environment helps communities maintain their spirit and appeal.
Design guidelines and design review, as well as a variety of non-regulatory measures, can help local communities, homeowners, landowners, and developers choose the right design options. Design guidelines are aesthetic regulations based on the issues, needs, and desires of the community.
Design review is a more rigorous procedure that examines pro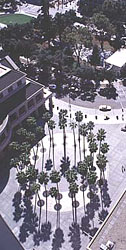 posed development and determines if a project meets community regulations and standards. Smart growth strategies that promote good design policies allow communities to maintain or enhance the aesthetics of building design, ensure efficient land use, and protect natural resources.
A key component of smart growth is limiting the impact of sprawling development by promoting good design. Using the following strategies, your community can build a better place to live.
Community Education
A community design workshop is a great way to introduce local residents, business owners, developers, and officials to the benefits of good design. Invite town planners, landscape architects, historic preservationists, developers, and architects to deliver presentations on how your community can adopt good design principles to protect, enhance, and maintain its character. Other activities include creating exhibits highlighting contrasts between good and bad design, writing letters to local newspapers, and encouraging local artists to create murals celebrating community design heritage.
Voluntary Measures
One of the best ways to encourage good design is to establish an awards program that honors an outstanding restoration project, an innovative design, or a model development project. The Heritage Conservancy in Bucks County, PA for example has honored the owners of distinctive buildings since 1975. This favorable attention has helped preserve over 650 buildings in Bucks County.* Other voluntary measures include organizing painting, cleaning, or restoration efforts, thereby encouraging people to maintain the beauty of their community.
Incentives
Incentives can provide significant motivation for developers to adopt design guidelines for new construction or to adapt older buildings to new uses. Grants for restoration, maintenance, or landscaping can make a big difference in community appearance. Other incentives include offering local business and home owners matching funds for building rehabilitation, and giving tax breaks to businesses that agree to occupy restored buildings.
Regulatory Measures
Adopt clear design guidelines. Establishing guidelines for how a development project looks and fits into an area can help preserve a community's "feel." Regulatory guidelines address issues such as building design, commercial signage, site layout, and landscaping. For example, guidelines in Albemarle County, VA require commercial franchises and chain stores to develop designs that are consistent with community character, preserving a sense of place and creating a more attractive space for customers than typical "big box" designs set in the middle of a sea of asphalt.
Your community can also adopt regulations protecting special or sensitive areas from inappropriate development. The most common designation is an historic or neighborhood conservation district operating under strict design guidelines that help design review boards maintain the unique character and integrity of the district.
Create a design review board: A design review board made up of local citizens, business owners, and officials is a good way to involve the community in the design process and give people a say in how their community looks. The governing body should enact clear review standards that follow established design guidelines including, but not limited to, the height, size, architectural style, color, materials, siting, and landscaping of a proposed project. For example, Santa Fe, NM has preserved its Native American character by permitting only buildings that have flat roofs, stuccoed exteriors, and a limited amount of glass or other reflective materials.
Historic and Neighborhood Conservation Districts
Historic districts are areas where the built environment has remained predominantly intact for at least 50 years or more and represents the unique history, culture, character, or architectural tradition of a community. Development and design is tightly regulated in historic districts to preserve the area's integrity.
Neighborhood conservation districts are designed to preserve the general character of an area, not its historic fabric. The flexibility of neighborhood conservation districts allows them to accommodate a wider variety of building styles and time periods than an historic district. Neighborhood conservation districts are an effective way of preserving unique residential character, emphasizing a neighborhood's cultural attributes, or buffering historic districts as part of new development. Dallas, TX, Philadelphia, PA, and Cambridge, MA have all used conservation districts to preserve their neighborhoods' distinct character.