Lady Bird Johnson, of course, was a special hero to Scenic America and the entire scenic conservation movement. She was our spiritual godmother and the inspiration for our work. We serve proudly as the guardian of her legacy.
Lady Bird taught us that beauty is not a luxury, and that the landscape has an intrinsic value that cannot and should not be ignored or debased. She wanted America the Beautiful to be more than just a song title; it should be a description of our way of life and an expression of our most cherished values.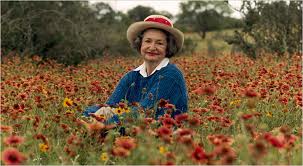 Her true legacy is not just the landmark Highway Beautification Act, the
Wildflower Center
, or the countless acts of conservation undertaken in her name, it is the movement she inspired. She leaves behind not just millions of acres of natural beauty, but millions of people, spurred to action by her example and courage, who share her commitment and passion for protecting our precious scenic heritage.
Lady Bird's passing is an opportunity to reflect on her astonishing achievements and to rededicate ourselves to ensuring that her work continues. We must redouble efforts to complete the job she began over four decades ago.
Every time we see a field of wildflowers bloom or a billboard fall, we will think of her and remember the debt our nation owes to this remarkable woman, one of the most beautiful spirits America has ever known.
Scenic America promises to continue to do the vital work she said we all must do to save the American land.