In recent years three seperate states (California, Florida and Pennsylvania) have floated the idea of turning over their official highway message signs to the outdoor advertising industry.  The billboard companies would pay the state for the right to show advertising on the signs in between official messages.
Gov. Arnold Schwarzenegger has resurrected an idea to convert California's overhead freeway displays into electronic advertising billboards.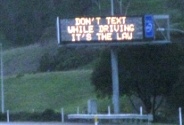 His administration first floated the idea in 2008, but the proposal faced significant opposition from leaders in Congress, including Sen. Dianne Feinstein. The proposal would need approval by the U.S. Department of Transportation before it could be implemented.
In Scenic America's view, this proposal is completely illegal and violates the law in several ways. There are also enormous inherent traffic safety issues with digital signs directly on the right of way.

Click here to download Scenic America's position paper on this proposal.