Digital billboards, electronic billboards, changeable variable message centers – whatever you call them they are the same thing: huge roadside distractions and aesthetic catastrophes.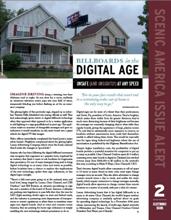 For Scenic America's comprehensive overview of the digital billboard issue, Unsafe (and Unsightly) at Any Speed: Billboards in the Digital Age, click here.
For more details on the relationship of digital signs to the Highway Beautification Act, including relevant language in the law and regulations, click here.
Scenic America's response to the FHWA memorandum of Sept. 2007 that opened the floodgates to digital billboard construction:
Ignoring the clear language of the Highway Beautification Act and its regulations, requirements for federal rulemaking, and its own promises to conduct highway safety research, the Federal Highway Administration (FHWA) of the U.S. Department of Transportation issued a "guidance memorandum" on Sept. 25 that will permit the construction of thousands of digital billboards along Interstate and federal-aid highways.
Click here for a copy of the Sept. 25 FHWA memorandum.