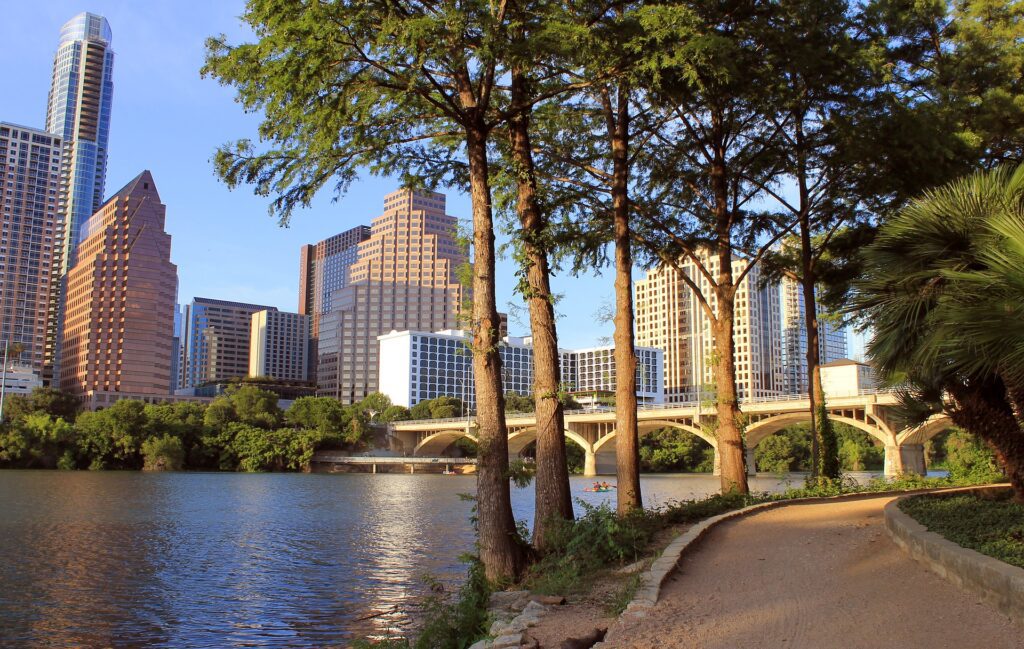 The Amici Brief filed by an unprecedented bipartisan coalition of developers, chambers of commerce, and scenic organizations makes a unique argument that bans on billboards protect property rights, with significant implications for communities across the country.
Key points in this brief include:
Billboard laws do not unreasonably infringe freedom of speech, nor do they implicate the First Amendment at all.
Billboards are not ideas. They are permanent structures that dominate the views of entire communities. They are a form of visual blight that damages property values and raises public safety concerns.
The First Amendment does not require that a citizen be held captive on his own property, forced to hear or view intrusive messages.
The Supreme Court has affirmed the constitutionality of billboard restrictions on ten occasions.
If billboard bans are struck down, communities, landowners, and developers would face significant costs.
More than 1,500 cities and states have billboard restrictions. Four states (Maine, Alaska, Hawaii, and Vermont) have outright bans on billboards. Almost every city would have start from scratch to rewrite its sign codes.
Property values in the vicinity of billboards would immediately drop. There is simply no market for homes or businesses facing digital billboards.
There would be greater public safety concerns, with more digital billboards contributing to distracted driving and traffic accidents.

No one has asked for such an upheaval. Even the billboard industry opposes it.
An unprecedented coalition of chambers of commerce, developers, sign industry groups, and states leaning right and left, have filed briefs in support of keeping local billboard laws in place.
Off-premise restrictions work.
---
Detailed overview of the Amici Brief
Summary of the Argument (as presented in the brief)
"The lower court gave zero weight to property rights. While land-use restrictions can be burdensome and violate due process, striking down off-premise restrictions would impose enormous costs on landowners and developers. Off-premise restrictions work."
Argument
The lower court erred by treating billboards simply as a form of speech, whereas, billboards are property that create "a unique set of problems for land-use planning and development." Metromedia, Inc. v. City of San Diego, 453 U.S. 490, 502 (1981). The City of Austin's sign ordinance addresses the distinction between off-premise and on-premise signs. As with other development regulations, the City regulates signs through permits, and in the present case, the Respondent sign companies both certified in advance that all of their signs were off-premise, and provided their locations, ownership, and structural drawings of blank signs in their permit applications. Thus, sign content was not a part of the permitting process.
The Third Circuit got it right when it decided the billboard case of Rappa v. New Castle County, 18 F.3d 1043, 1066 (3d Cir. 1994), where the court upheld the Delaware Highway Beautification Act. Rappa's approach has been used successfully to resolve several difficult sign cases for the last twenty-five years. The approach in Rappa is consistent with the First Amendment. The First Amendment does not require that a citizen be held captive on his own property and forced to hear or view intrusive messages. See Members of City Council v. Taxpayers for Vincent, 466 U.S. 789, 805 (1984) (notwithstanding the First Amendment, cities may ban "unwanted exposure to certain methods of expression which may legitimately be deemed a public nuisance").
As early as the 1920s, the Supreme Court has tacitly acknowledged that off-premise signs were subject to reasonable limits like other land uses; indeed, the Court affirmed a zoning ordinance that restricted billboards and allowed on-premise "accessory" signs based on location. Village of Euclid v. Ambler Realty Co., 272 U.S. 365, 380 (1926). The zoning ordinance was based on location: "a right thing in the wrong place,–like a pig in the parlor instead of the barnyard." Id. at 388. Thereafter, the Court has recognized the inherent property interest in on-premise signage. Linmark Associates, Inc. v. Willingboro, 431 U.S. 85 (1977); Metromedia, 453 U.S. 490; City of Ladue v. Gilleo, 512 U.S. 43 (1994). Further, on ten occasions listed in the brief, the Court has affirmed the constitutionality of off-premise restrictions.
Should the Court affirm the Fifth Circuit decision, enormous costs would be imposed on property owners and developers. More than 1,500 cities and states have enacted billboard restrictions with the same on-premise language, consistent with model sign laws and the Highway Beautification Act of 1965, 23 U.S. Code sec. 131(b)(3). The impact on national land values would be astronomical if the lower court decision were to be affirmed (citing Jonathan Snyder, "Beyond Aesthetics: How Billboards Affect Economic Prosperity," (University of Pennsylvania, 2011). Almost every city in the country would have to rewrite sign codes.
Even the billboard industry is opposed to striking down the on-premise/off-premise distinction. See Outdoor Advertising Association of America (OAAA) Brief in Schroer v. Thomas, 937 F.3d 721 (6th Cir. 2019) (Case No. 1638), cert denied, 141 S.Ct. 194 (July 9, 2020) (arguing, in part, "If allowed to stand, the district court's decision [striking on/off-premise exceptions] would have breathtaking doctrinal and practical implications. […] The district court's sweeping interpretation of Reed would also have striking practical consequences by calling into question the continued validity of an enormous swath of regulations across the country. That includes the [Highway Beautification Act], which makes on-premises/off-premises distinctions"). The OAAA has continually supported the core provisions of the Highway Beautification Act since 1965.
Conclusion
"Off-premise restrictions are based on billboards' impact on neighboring property. They are embedded in thousands of sign codes. Affirming would cause severe disruption and costs for property owners and developers."