When a billboard must be removed (or simply moved) for a highway project, its owner often seeks compensation far in excess of the worth of the billboard structure itself, costing significant public dollars.
Do billboard companies own the land on which they're sited?
Billboard companies usually lease the land where billboards are erected from third-party landlords. In almost all states, billboard structures are considered trade fixtures permanently affixed to the land unless otherwise characterized in the lease agreement between the landowner and the sign company. The value of such signs is derived directly from public use of the roadways.
What is amortization? How are billboard companies compensated for sign removal?
Amortization is a police power tool generally implemented through zoning regulations for removing billboards, in which public authorities can require that a sign be removed but can remain in place for a period of time. When Congress passed the Highway Beautification Act (HBA) in 1965, amortization was recognized as an available method of providing billboard companies with just compensation for billboard removal, and it continues to be a federally constitutional method of compensation today. It is also legal under most state constitutions.
However, in 1978, under pressure from the billboard industry, Congress amended the HBA to mandate cash payments for billboard removal along HBA-regulated highways. Many state legislatures then extended this cash payment requirement to non-HBA-regulated roads.
Under current compensation laws, states pay billboard companies fees to recover the use and enjoyment of their own publicly owned roads when a billboard is removed. Plus, when billboards must be removed for highway projects, depending on the states' eminent domain and evidentiary laws, owners often seek and receive compensation for lost future revenues far beyond the cost of the sign structure itself.
How do communities handle compensation issues for digital billboards?
Compensation issues are particularly challenging with digital billboards, which carry higher relocation costs, and, in the eyes of the billboard companies, higher potential revenue streams.
In one egregious example, in September 2013 the Minnesota Department of Transportation agreed to spend over $4.3 million in public funds for the removal of a digital billboard as part of a bridge reconstruction project, setting a worrisome precedent for other states and cities.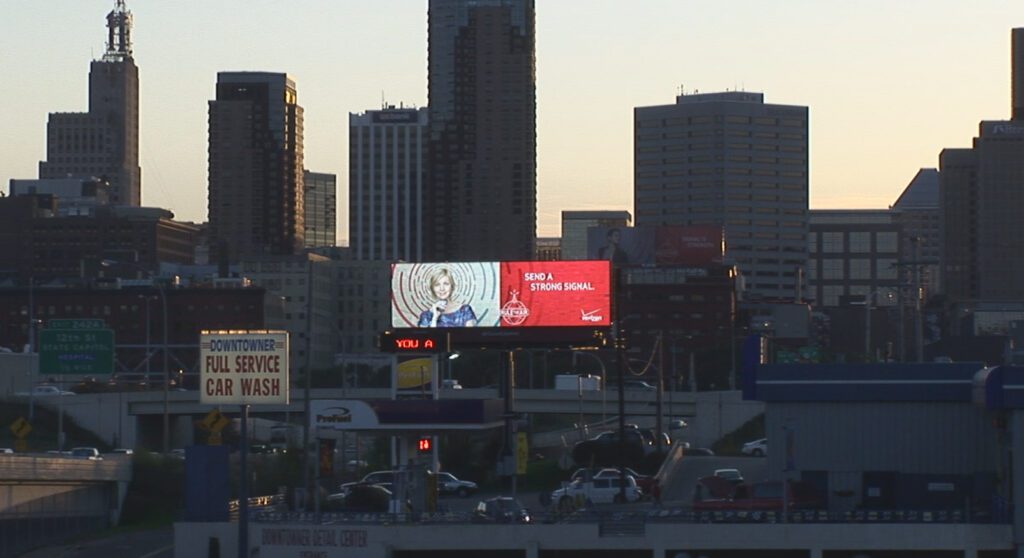 Other communities have also been burdened by billboard compensation schemes:
As part of the proceedings of a sign ordinance amendment in Washington, Clear Channel Outdoor claimed that removing nonconforming billboards could cost the City of Tacoma $60 million in compensation.
In 2002, Clear Channel Outdoor tried to sue the Los Angeles Metropolitan Transportation Authority for $15 million as compensation for eight sign structures that were moved due to a road improvement project.
In 2014, Reagan Outdoor Advertising sued Salt Lake City for $350,000 in compensation for a billboard removal. The lawsuit was dismissed with prejudice after six years of legal battles.
A Reno, Nevada, street widening project required the Regional Transportation Commission to pay billboard companies nearly $300,000 to compensate for moved signs and lost advertising revenue.
What is "Just Compensation?"
Ultimately, the dollar amount of "just compensation" for a removed sign is a matter of state law, and lawmakers have the power and responsibility to ensure that "just compensation" remains fair and equitable, not only to the landowner and sign company involved, but also to the taxpayers who foot the bill.
What can you do to fight this practice?
Contact your local Scenic America chapter or our national office if you seek help on a billboard issue in your community, and sign up for our newsletter to learn when you can take action on signage issues and other scenic matters impacting your community.
---
More on the Takings and Amortization Issue
White Paper: The Takings Issue in Billboard Control
In this white paper, Charles Floyd examines how communities can work to reduce signage clutter by banning the construction of new billboards, even as some are removed for development or other reasons.
White Paper: Billboard Legislation and the Takings Issue
Attorney William D. Brinton discusses how efforts by the billboard industry to influence state legislation have created adverse consequences to public welfare.