Summary
Scenic Pittsburgh, along with our core current partners—Grounded, Allegheny Cleanways, Landforce and the Fineview/Perry Hilltop Citizens Council—are proposing a partnership approach to creating and maintaining greenspaces in the Northside neighborhood of Pittsburgh. This partnership should help to address some of the structural problems around those processes while offering a more streamlined and holistic approach to community engagement and planning. This proposal covers the first phase of community engagement, planning, and basic development for 3-4 sites as well as initial provisions for longer-term maintenance of those sites. Scenic Pittsburgh is requesting funds (see Budget) for the development of this partnership and the work on the sites described; however, the intent of this project is to lay the foundation for an ongoing, adaptable partnership structure and project approach that can provide better and more coordinated execution of the Buhl Foundation's and Northside communities' strategic goals.
Sections:
Need for Partnership
Projected Impact
How the Partnership will work
Prospective Sites and Timeline
Budget and Notes on Future Direction
Need for Partnership
Those engaged in the project of greenspace restoration and development in the City of Pittsburgh are familiar with challenges that hamper success according to several measures, including amount of viable greenspace preserved, restored, created and maintained for the benefit of Northside neighborhoods. Some of those challenges:
The City does not have the capacity to adequately maintain the vacant land (often potential greenspace) they own and control
The City has had difficulty funding the maintenance of its current designated city parks and are therefore not seeking to create new greenspaces
Northside nonprofits and foundations have worked to create greenspaces and even take over portions of maintenance for city parks, but this effort, while it has had fairly good results, is not always coordinated for efficiency across neighborhoods, is often focused on short-term priorities, and is subject to the boom/bust funding cycle
As the City grows and Northside neighborhoods experience increasing development, it will be crucial to have a strategic and high-level approach to greenspace that:

Protects neighborhood greenspace, especially in those neighborhoods with a higher number of disadvantaged residents and less immediate access to greenspace

Can offer a coordinated, longer-term vision of how greenspace should be preserved, developed and maintained across Northside neighborhoods in order to meet changing needs, and that this vision engages with community-level and city-level strategic goals

Continues to focus on neighborhood connections and trail systems; building and maintaining a litter-free, green environment; and complementing affordable housing projects in Northside communities
The Scenic Pittsburgh partnership would offer some key differences in the way greenspace preservation, development and maintenance is handled that would address these challenges:
Greenspace development becomes a long-term, rolling process that ensures ongoing maintenance measures and "smooths out" funding ups and downs by emphasizing an integrated process over standalone projects. Also, by focusing on the process, forward momentum towards larger, long-term goals is maintained.

Greenspace development becomes a function of a broad partnership effort across different levels, with core partners performing on-the-ground and project management work, while government, local businesses, neighborhood and other focus groups (art, environment, watershed, education, etc.) rotate in and out of the partnership roster depending on area and project characteristics. This ensures that there is no need to "reinvent the wheel" for each project – the partnership structure allows the project to benefit from institutional knowledge such as previous strategic plans, neighborhood priorities, and the history of the space; it allows partners to contribute input, as well as offering them the opportunity to help gather and prioritize goals; and it also offers opportunities to create relationships with community leaders, businesses and foundations who can help to support the partnership's projects through direct and in-kind funding. The partnership structure also offsets the risks of changing organizational leadership and staffing, ensuring a larger "institutional memory" that can allow for the long-term evolution of greenspaces and ensure they continue to serve the needs of the people around them.

As the partnership grows and does work over a longer term, greenspace work will become more efficient, translating into lower costs. As the partnership evolves, we feel confident that we can harness some economies of scale in terms of both services and materials. If there are materials left over from one project, they could be used on another, future project. If a project costs less than expected, it would provide some flexibility for a project that is taking longer than predicted. Most important, after the partnership has functioned for a while, having preexisting relationships with the people and groups involved will translate into lower project management costs and shorter plan development time.
Projected Impact
Both the Buhl Foundation and Scenic Pittsburgh can agree that accessible greenspace is key to quality of life for Northside residents. Much of the Northside has an abundance of raw greenspace, whether that is in the form of vacant lots, steep-slope land, or forest patches. According to Grounded's 2014 vacant lot assessment, the Northside had 5,405 vacant lots, with 37.7% unimproved lots and 38.8% wooded lots. At that time only 3% of vacant Northside parcels were being utilized as public green spaces. While those numbers have improved since 2014, there is still a great deal of unused space. At the same time, many Northside neighborhoods are targeted for increased affordable and market-rate housing development as city housing prices continue to rise. There is an opportunity now to preserve some of this greenspace as well as to provide accessible greenspace to serve these communities as they grow.
Two examples experiencing or about to experience population growth and increasing development are California-Kirkbride and the Charles Street Valley. In California-Kirkbride, the most recent census shows that the census tract most closely conforming to the neighborhood records more than 600 people living there, with a median income less than half of that of Pittsburgh. Almost 30% of the population are children, so around 180 kids. But there are currently no playgrounds, and only a few parklets or flower gardens. Almost 39% of the land is unimproved lots. Much of this is slated to become affordable housing over the next few years, but not all. There are 62 wooded lots. There are several sets of hillside staircases that are in disrepair. And because of the busy streets that surround this neighborhood, there are barriers to venturing into adjoining neighborhoods. A greenspace project would be especially valuable to this community.
In the Charles Street Valley, where we have proposed a paper street reclamation project, there are several hundred people, despite many having been moved because of the rowhouse development undertaken by Mistick Construction. However, the neighborhood is on the edge of a boom as soon as that work is completed and other developments come on line. Like California-Kirkbride, the population trends younger and the average income is less than half the Pittsburgh average. There is a playground, but much of area remains city-owned wooded lots, paper streets, and vacant parcels. There are several sets of steps in disrepair. Again, due to the presence of busy roads through the community, it is difficult to access parks in surrounding neighborhoods and there are few places to even take a walk. Developing a network of greenspaces around paper streets in this area would allow for both connections to other neighborhoods as well as welcome greenspace.
How the Partnership will work
Core Partners
We began discussions of this partnership with core partners: Grounded, Allegheny Cleanways, Landforce and the Fineview/Perry Hilltop Citizens Council. Depending on the neighborhood in which our projects occur, we would include the community development or citizens group that was applicable, but we expect the first three to remain our core partners going forward for most projects. It's possible we will add to this group as project needs emerge; for example, the Pittsburgh chapter of the Student Conservation Society could fall under this heading, and it might be effective to add more core partners as the partnership evolves. With Scenic Pittsburgh as the organizational partner or project manager, core partners would likely be part of most, if not all, future projects, and would continue to collaborate on funding proposals and weigh in on how the partnership functions.
Rotating Coalition of Organizations
The next level of partnership below the group of core partners would be a layer of organizations and some individuals whose engagement in the partnership would be voluntary and dependent upon the neighborhood and type of project being undertaken, and who would rotate in and out of contributing roles. These organizations would contribute to project/site selection, planning, and connections to local artisans, service providers, and financial supporters. This list would include community development organizations operating in the Northside, but would also at times include environmental organizations, arts organizations, cultural organizations, employment organizations, youth groups, school groups, and relevant business leaders and community leaders.
Engaging these organizations would accomplish some important goals:
Broad engagement would help to effectively leverage the existing network of community organizations, volunteers and financial supporters on behalf of our projects and build new and existing links among them, laying the foundations for further collaboration beyond this partnership's projects and leveraging the catalytic potential of local connections
Reaching out to and connecting to these organizations ensures engagement from more representatives of the neighborhood as well as from perspectives outside those directly engaged in greenspace work
Connecting to local organizations helps to ensure that partnership projects are rooted in the priorities of the surrounding communities and are taking into account preexisting planning processes and resources, producing a more holistic and efficient approach to projects
We have already reached out to both Bob Mistick of Mistick Construction to ask him to support the partnership, as well as to several community organizations that we anticipate working with, including the Charles Street Area Council, the Allegheny Land Trust, the Northside Leadership Conference, and the Pittsburgh Parks Conservancy. The Allegheny Land Trust has submitted a letter of support for our Unity Corner Project and larger partnership here. In addition, former Pittsburgh Mayor Tom Murphy has offered his support and volunteered to act as an advisor to the project.

The City of Pittsburgh's Role
The partnership would need to work closely with the city in order to succeed, specifically with the Department of City Planning, but also occasionally with the Department of Public Works and Citiparks, when applicable. The most important part of this work would be site access and leasing arrangements for city-owned and URA-owned lots, but it would also be important to have the support of the city in the partnership's efforts overall, and whenever possible, to align our work with pre-existing City Open Space and Greenways plans and any emerging plans that impact greenspace development. Fortunately, all core members of the partnership have significant experience in this area and already have relationships with city officials. We anticipate strengthening those relationships and forming new ones as the new administration comes into power.
Neighborhood Development Organizations in the Northside:
Allegheny City Society
Allegheny West
Brighton Heights Citizens Federation
Brightwood Civic Group
California-Kirkbride Neighbors
Central Northside Neighborhood Council
Charles Street Area Council
Fineview Citizens Council
Historic Deutschtown
Manchester Citizens Corporation
Mexican War Streets Society
Northside Leadership Conference
Observatory Hill, Inc.
Perry Hilltop Citizens Council
Community Alliance of Spring Garden/East Deutschtown
Spring Hill Civic League
Summer Hill Citizens Committee
Troy Hill Citizens Inc.
Mexican War Streets Society

Prospective Sites, Timelines and Work Plans
We are proposing three (four, if we include the Lanark site that we described in a separate proposal) sites for projects and have included two different project timelines and two different work plans for each site. It is important to note that the pace and scope of the work undertaken by this partnership is dependent upon the level of funding received (see Budget), but we are confident that both of the options we have proposed will be sufficient to reap the longer-term benefits of the partnership structure. If we use the 24-month plan, we anticipate that period would start in the spring of 2022 and run to spring 2024; for the 36-month plan, it would run spring 2022 to spring 2025.
Our primary criterion for site selection will be the priorities of the Buhl Foundation and Northside neighborhoods, but we will continue to look for projects that would require relatively small investments to become community assets, whose long-term maintenance would not be intensive, and whose location would serve disadvantaged communities that are set to expand over the coming years and will need additional accessible greenspace. We expect to continue to focus on making these greenspaces useful to residents; i.e., pleasant and accessible, with basic amenities. Additional amenities can be folded into future phases or can become side projects that the local community handles without the larger partnership's direct involvement. In most cases, maintenance work and litter removal will be prioritized over adding amenities.
Sites:
Fineview neighborhood, between Fountain and Henderson, adjacent to three steps of steps that are part of the Fineview Fitness Trail: James Street to Fountain Street, Fountain near James to Graib Street, and Graib Street to Henderson.
This area is within a wedge-shaped viewshed comprised of 20 contiguous empty lots totaling 2.2 acres between Henderson and Fountain Street, which we have been working to restore since 2018. These lots also feature stunning views of the City of Pittsburgh and Northside neighborhoods. Scenic Pittsburgh has done a significant amount of work on the lots that lie in the middle of the wedge around the property we own, but there is an uncleared portion of several lots to the east that would serve to connect this emerging public greenspace with the steps of the Fineview Fitness Trail. The three sets of steps involved have all recently been repaired and/or restored by the city, so they are experiencing additional traffic from the surrounding communities.
Currently these lots are only accessible via two unfinished Fountain Street entrances, with an entrance at Henderson planned, but a connection with the steps would make this asset much more accessible to neighborhoods both above and below it, and expand the trail system on the northside.
The lots are partly owned by Scenic Pittsburgh, with most of the rest of the lots city-owned. They are not suitable for traditional housing or business development, as they are steep-slope greenspaces above Allegheny General Hospital near the Sandstone Quarries Apartments and Fineview Field. Scenic Pittsburgh owns one large parcel here and we have a lease from the City to manage work on the 19 city-owned properties at this location.
The focus would be on brush and invasive plant removal, garbage removal, trail creation, signage, and maintenance for litter removal. Developing this greenspace would create an important asset for northside residents, particularly those who live at the Quarries and eventually, for those at the renewed Allegheny Dwellings as well. It would be suitable for walking, trail running and dog walking.
24-month Work Plan. Spring-Summer 2022. Community outreach, meetings and discussion to create plan for the space. Site cleanup, brush clearing. Maintenance plan. Spring 2023: Site plan development and more onsite work. Fall 2023: Initial work completion. Open to the public.
36-month Work Plan. Much the same, with work completion in Summer 2024 instead.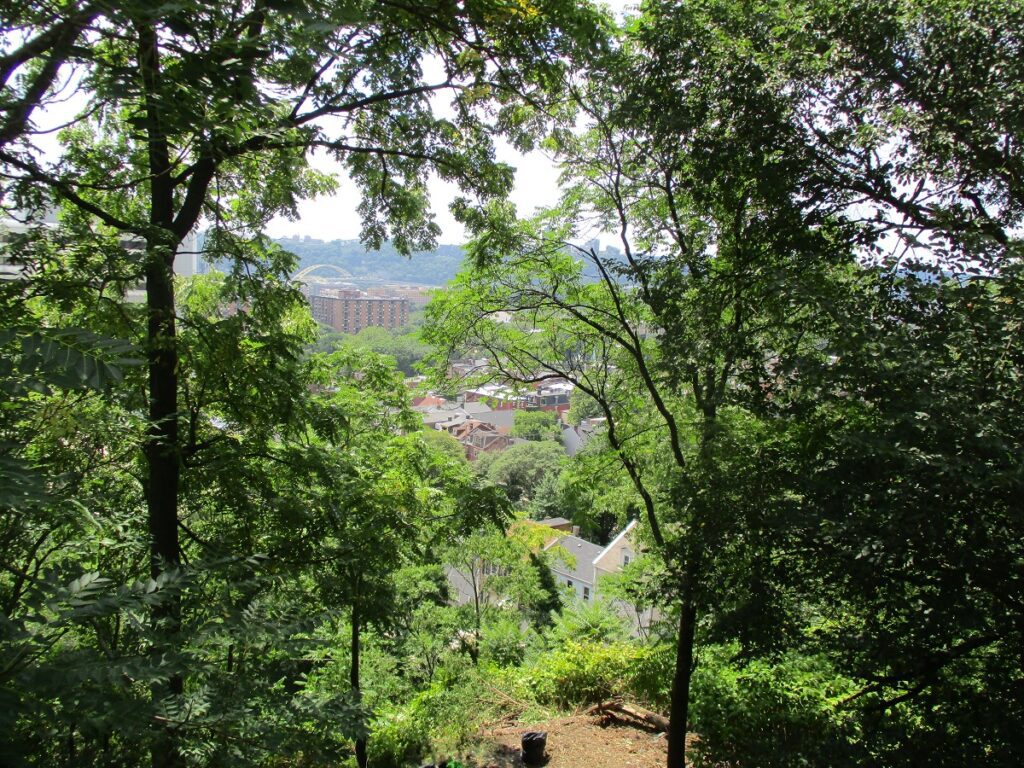 Perry Hilltop, Unity Corner Park Expansion at Perrysville Avenue and Federal Street.Installed in 2017 as an initiative of the Fineview/Perry Hilltop Citizens Council, Unity Corner Park includes a mosaic gateway sign, a perennial garden and several stone pathways. It is maintained well by volunteers, and it currently serves as a gateway to the Perry Hilltop community. However, the footprint of the parklet is surrounded by a much larger area that is currently entirely covered in Japanese knotweed. This site is directly adjacent to a housing development on Federal Street, and nearby other planned housing developments. This space could become a larger perennial or pollinator garden, a dog walking area, a playground, or an art garden. This project would take several seasons in order to completely eradicate the knotweed, but would otherwise be relatively easy to develop. The Allegheny Land Trust is currently in the process of acquiring the land from the URA and is willing to work with our partnership on the creation of the larger greenspace once they have preserved the lots and have site control. They have submitted a Letter of Support for this project and our partnership overall.
24-month Work Plan. Spring-Fall 2022: Once site access has been granted, a ground crew will cut back the knotweed and take measures to prevent seasonal growth. Working with the Fineview/Perry Hilltop Citizens Council, we will gather input on possible greenspace design elements, create a concept for the space, and gather feedback. Winter 2022: Planning continues. Spring 2023: Maintenance plan created. Work plan is created. Summer 2023: Site prep. Fall 2023: Foundation work for spring installation. Spring 2024: Garden installation, with public opening anticipated Summer 2024 depending on the site use/concept chosen by the community.
36-month Work Plan. Similar to the above, but with additional lead-in time for plan creation and site work continuing through Fall 2024. Public access anticipated in Summer 2025, depending on the site use/concept chosen by the community.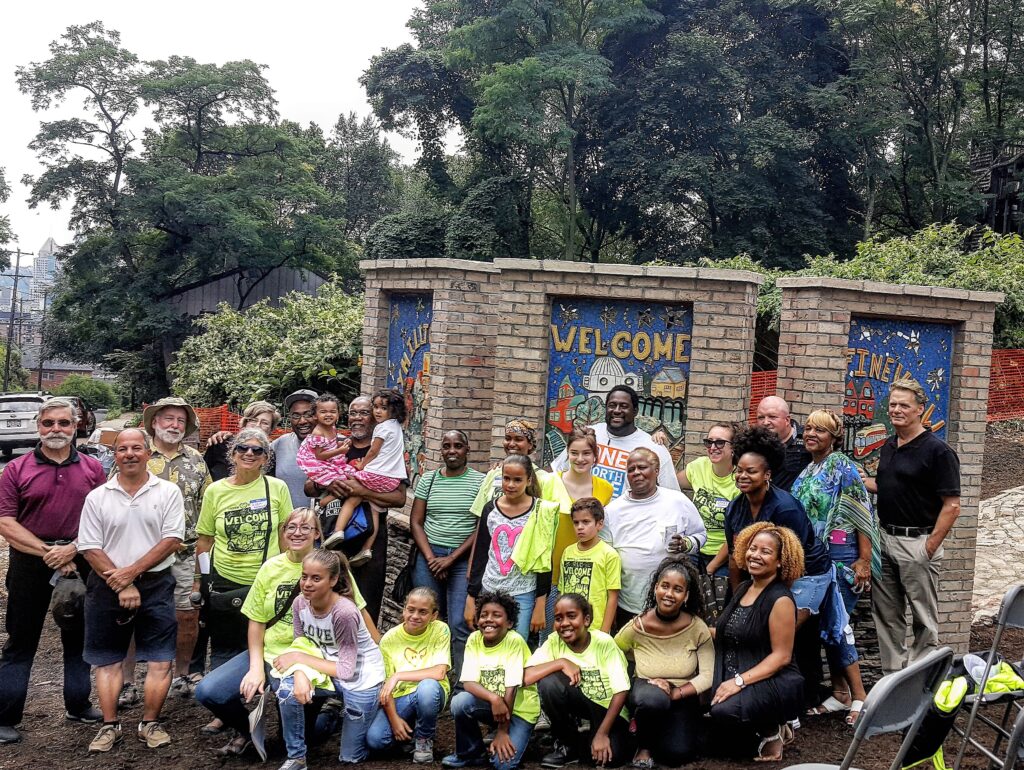 Charles Street Valley, Metcalf Street. Metcalf Street is a city-owned "paper street" that is blocked off along its entire length and has been abandoned for several decades. It lies directly adjacent a large public garden at the intersection of Strauss Street and Charles Street. The lots along it have been designated as either current or projected greenways by the city and are city-owned. The street remains a public right-of-way. However, the paved street surface is in good enough condition to be an excellent biking/walking/strolling route once cleared. Little else would be required to make this area usable for the growing Charles Street Valley community, and the lack of car traffic would act as a disincentive to unlawful activity. We anticipate future phases of development could include nearby Irwin Street, Harlan Street, the Rolla Street extension to Irwin, and the Irwin staircase from Melrose to Chautauqua streets, and would create a larger walkable urban forest, or "forest patch," centered around these closed streets and adjacent stairways. The City of Pittsburgh has already designated much of this area as "Greenways," which prohibits housing and business development on the land. The focus on Metcalf Street would be trash cleanup, clearing of vegetation, and signage. According to the Charles Street Area Council, community leaders are interested in a possible shelter for recreation purposes at some point.
The ongoing improvements to housing in this area mean the population will grow, and there are currently limited options for walking and exercise nearby because of the valley topography. In the future, repairs to the Irwin staircase would also serve to connect Perry South and Charles Street and open up these greenspaces to new neighborhoods.
During a recent meeting, Bob Mistick has expressed interest in financially supporting this project, and other greenspace work in the Charles Street Valley area.
24-month Work Plan. Spring-Winter 2022. Community outreach, meetings and discussion to create plan for the space. Process for obtaining permission to work on the land begins with the city. Spring 2023: Discussions with the city conclude; community planning continues. Site plan development begins. Maintenance plan development begins. Summer 2023: Work plan created for the site. Spring 2024: Site work begins.
36-month Work Plan. Similar, but with additional lead-in time for community engagement and plan creation and site work continuing into 2025.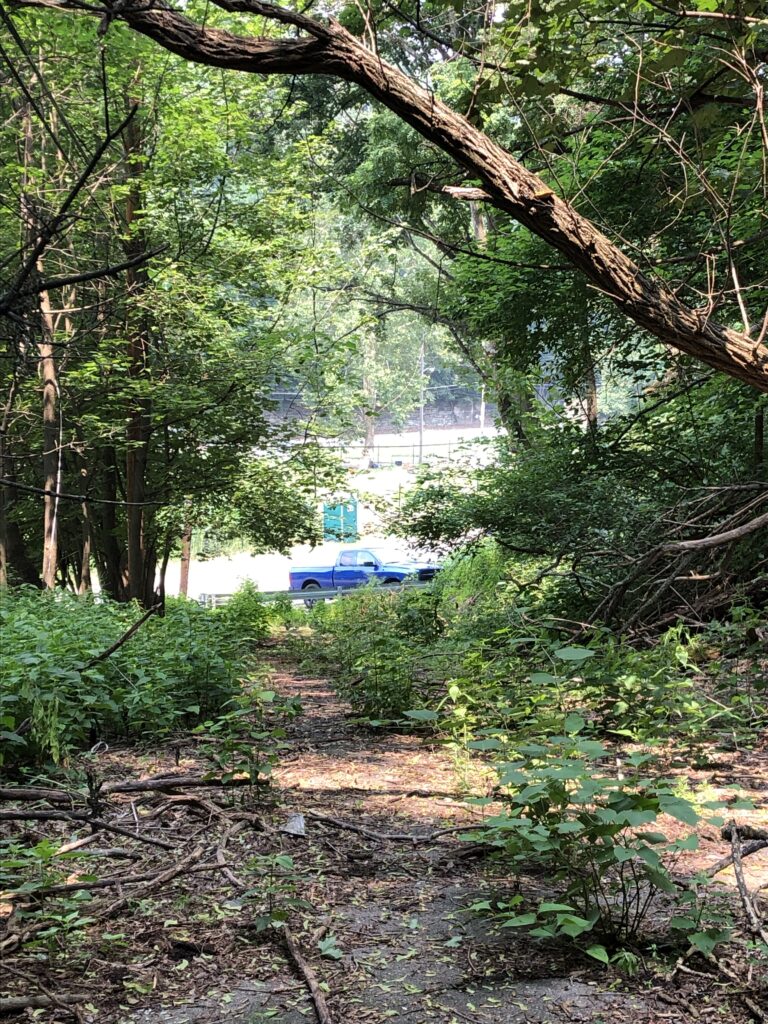 Budget and Notes
As we note above in Prospective Sites, we have included two project timelines and two work plans for each site that correspond to the two funding proposals that follow.
Again, the pace and scope of the work undertaken by this partnership will to some degree be dependent upon the level of funding received. If we are funded for the 24-month plan, we anticipate that period would start in the spring of 2022 and run to spring 2024; for the 36-month plan, it would run spring 2022 to spring 2025.
24-month Plan Total: $160,000, or $80k per year
36-month Plan Total: $150,000, or $50k per year
Funding would go towards the following costs:
Administration and management of all projects including contact and coordination with all core partners and community partners
Supplies and materials
Direct site work: cleanup, brush clearing, tree trimming, invasive plant management, creation of trails, installation of signage and amenities, etc.
Maintenance of sites
Signage and minimal amenities
Community outreach, including any required materials
Publicity
Insurance
Anticipated Funding from Other Sources
This funding proposal covers the costs listed above, but since greenspace preservation, development and maintenance tend to be expansive, in-depth undertakings, and often a community will desire additional amenities added as needs become clearer, the projects listed in this proposal will require additional funding to be considered "complete" and to provide for longer-term maintenance.
To support these additional costs, Scenic Pittsburgh intends to pursue other sources of funding for the partnership's projects as appropriate. One of the advantages of building a strong network of partners and supporters around greenspace in the Northside is that this network should make it easier to engage business leaders, community leaders, and other foundations who can help to support these projects financially. As noted above, we have already reached out to Bob Mistick, who has shaped portions of the Northside, and engaged him in discussion about supporting the Metcalf Street project and other projects in the Charles Street Valley.
As these projects proceed, we would welcome a discussion of possible matching funds from the Buhl Foundation to cover additional costs if Scenic Pittsburgh is able to raise funds from some of these other sources.