Vista, California: A Case Study in the Importance of Environmental Assessments for Digital Billboard Proposals
Faced with mounting opposition, the City of Vista, Calif. has cancelled a controversial plan to erect two double-sided digital billboards on City-owned parcels adjacent to State Route 78, a major east-west freeway in Northern San Diego County.
The project would have constituted the largest influx of digital billboard blight in San Diego County to date, and abandonment of the proposal is a major victory for those who care about traffic safety, community character and aesthetics, energy conservation and property values.
The scheme was shelved after the City received 508 pages of overwhelmingly negative comments on an environmental report identifying potential impacts of the digital billboards.  Environmental assessments are required under California law for most development projects.
In response to comments on the draft Mitigated Negative Declaration (MND), the City's outside consultant recommended preparation of a full Environmental Impact Report (EIR), which the City said would cost a prohibitive $150,000.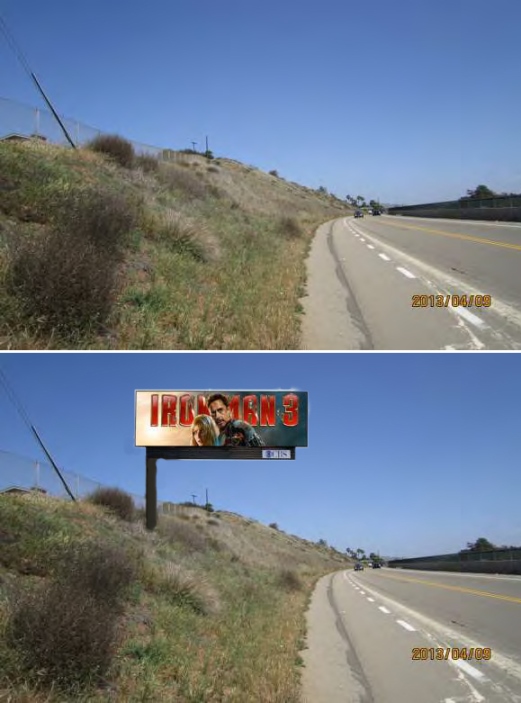 The above image is just one example of how the proposed digital billboards could have looked.
  Click to enlarge.
The City had already spent $60,000 for the MND, which opponents criticized as inadequate, incomplete and lacking independent evidentiary basis for its conclusions.
Scenic America and its local affiliate Scenic San Diego were instrumental in organizing submission of many critiques of the MND, including letters from Scenic San Diego, a traffic safety expert, the San Diego Chapter of the Sierra Club, the International Dark Skies Association and more than 100 Scenic America members.  Vista resident groups including South Vista Communities also criticized the MND as contrary to Vista's established planning documents and policies.
Several months before unveiling the digital billboard proposal, the Vista City Council amended its sign law to lift controls on signs on City property, without revealing that digital billboards could be permitted under the ordinance change.  Activists are investigating whether this surreptitious two-step strategy is being employed in other localities and whether outdoor advertisers are behind the tactic.
Cancellation of these unwanted and ill-advised commercial ad platforms is a major accomplishment in the ongoing battle to reign in proliferation of digital billboards, which outdoor advertising companies are self-servingly promoting to government agencies as revenue generators.
Earlier this year, San Diego County's Board of Supervisors abandoned a plan to amend its sign law to allow digital billboards after staff estimated it would cost $600,000 to change the law, including $400,000 for an EIR evaluating the proposal.
Rejection of both proposals demonstrates that environmental assessments are a crucial tool citizens can use to protect their communities from digital billboard blight.