Nashville, Tennessee
October 19-21, 2022
Cohosted by Scenic Tennessee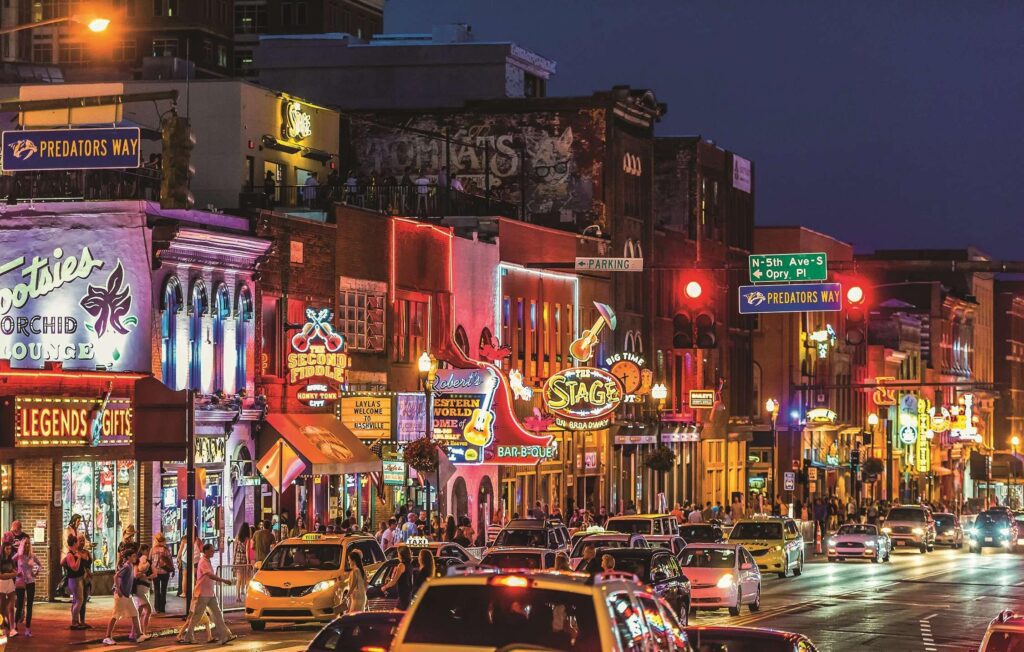 Scenic America and Scenic Tennessee invite you to Nashville this fall for the 2022 Scenic Symposium. This year's event will explore THE PERSONALITY OF PLACE—the scenic, natural, cultural and emotional qualities that give a place its identity, drive its economy, connect its people and tell its story.
---
Agenda Highlights (subject to change)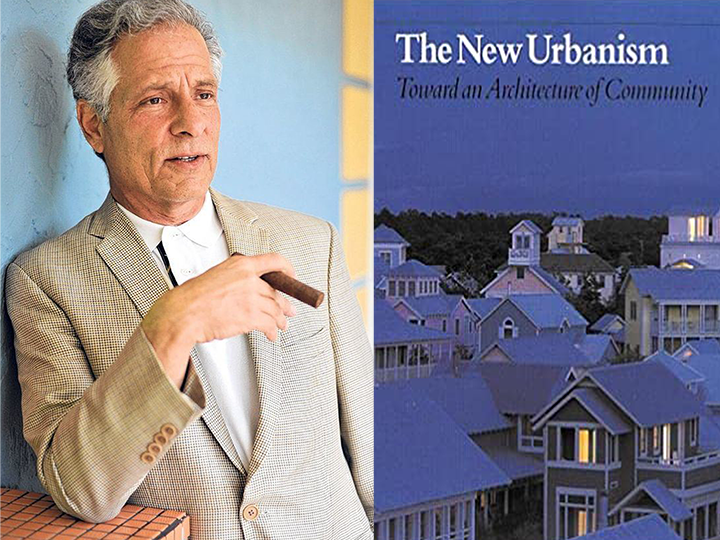 Trading Ideas: Andrés Duany and a Developer
Andrés Duany, the legendary urban designer known as the father of the New Urbanism, will share the stage with a leading Nashville real estate developer. They'll discuss their projects, their thoughts on livable cities and the challenges and opportunities of explosive growth here in Tennessee's largest city.
Revisioning Second Avenue
Led by the project management team at architectural and design firm GHP and others, this session will look at the challenges and opportunities created by the Christmas Day 2020 bombing of Nashville's defining historic district. After the presentation, we'll head downtown for an look at how the project is progressing, followed by a reception at the Nashville Civic Design Center, which escaped major damage. Photo credit: Alan Poizner for The Tennessean.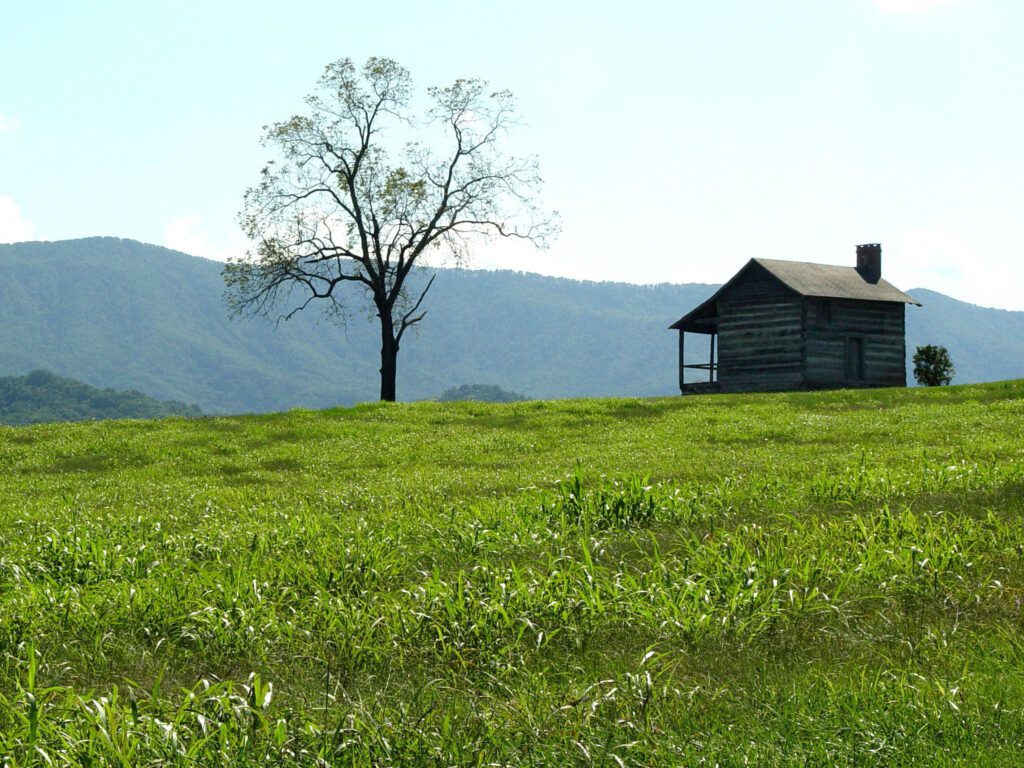 Tennessee Vistas: Tennessee's Scenic Viewshed Register
Learn about this new community-based initiative to identify, map and help preserve the views that define Tennessee and drive local economies. National authorities in visual resource stewardship will discuss recent research, GIS specialists will explain how the public can use smartphones to nominate favorite views, and a team from the pilot inventory in the Upper Cumberlands will give a report. Photo credit: Larry Anderson.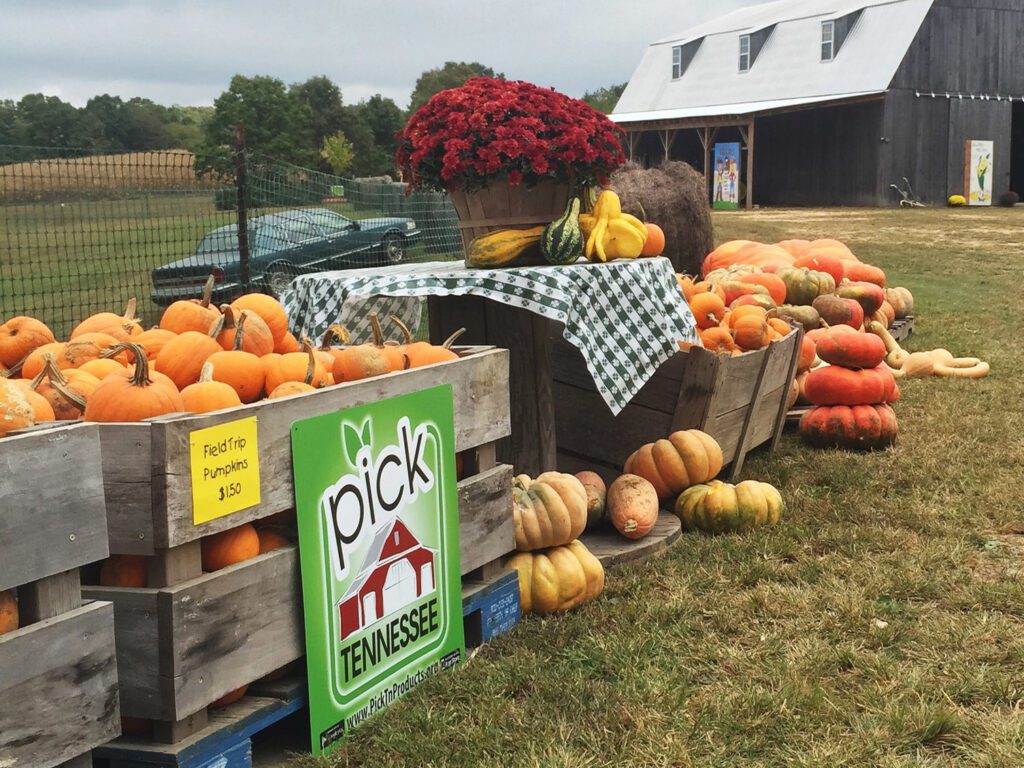 Essential Agritourism
Speakers from the Center for Profitable Agriculture, experts in climate change and land conservation, and some of the state's 800+ agritourism entrepreneurs will discuss the importance of this sector to Tennessee's economic, scenic and environmental sustainability. Afterwards, we'll head to Arrington Vineyards in Williamson County for outdoor jazz, bluegrass and Food Truck Friday. Photo credit: tn.gov/agriculture.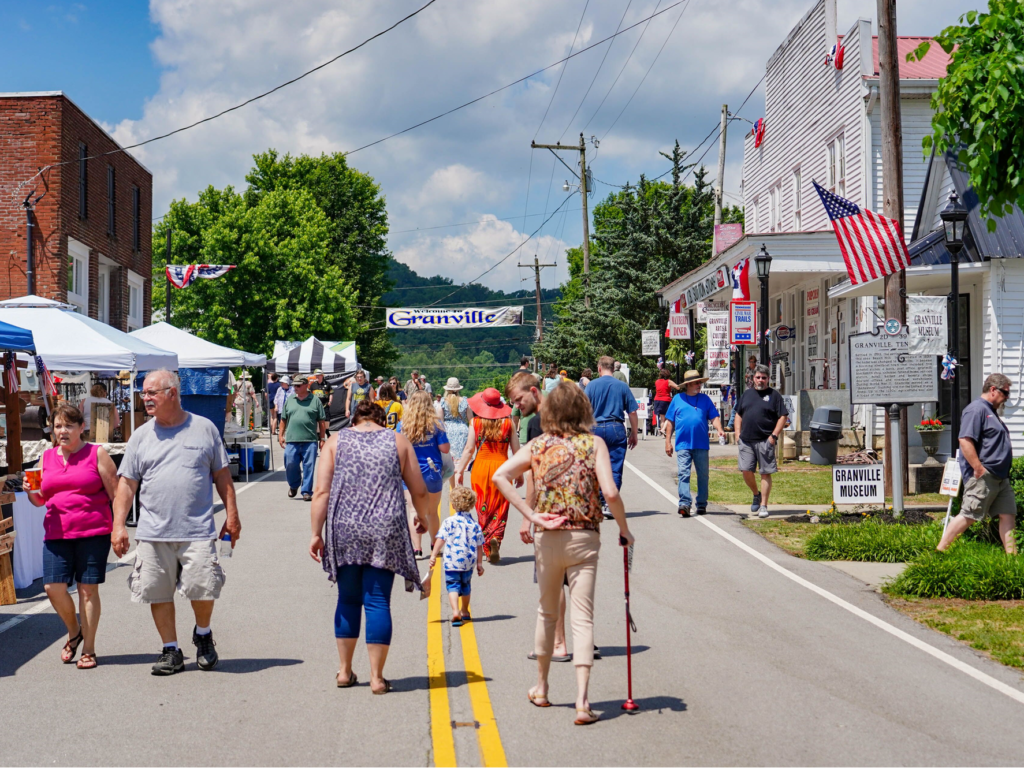 Placemaking for All
We've come to expect vibrant placemaking in big cities and affluent towns—Chattanooga's Riverwalk and Franklin's historic downtown come to mind. But what about more rural communities or poorer urban neighborhoods? This session will look at some unexpected placemaking successes and review best practices for creating more of them. Photo credit: granvilletn.com.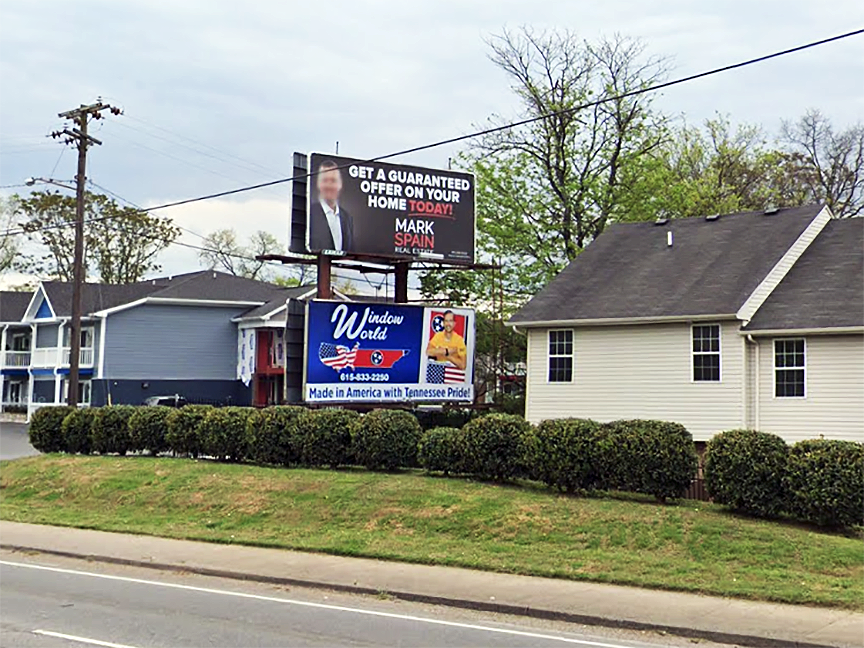 Pushing Back on Billboards
Tennessee legislators in March tabled a bill that would have preempted the right of local governments to regulate static-to-digital billboard conversions. The following month, the U.S. Supreme Court in Austin v Reagan upheld the on/off-premises distinction, a key provision in billboard control law. These were important wins, but the issues behind them are not over. We'll hear from local, state and national experts on the implications of these cases and what to expect going forward. Photo credit: Marge Davis.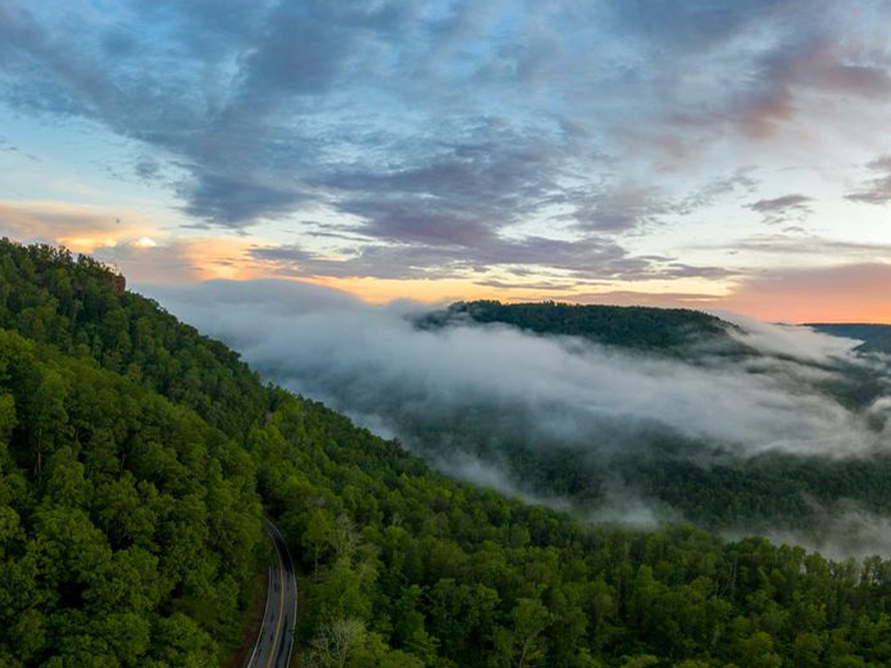 The Road Ahead for Scenic Byways
Thanks to last year's first-in-a-decade designations of 49 new national scenic roads by the Federal Highway Administration, Tennessee now has 9 national scenic byways, more than almost any other state. In this session we'll hear from byways experts and local nomination teams who will discuss the process, quantify the impacts and review new funding and prospects for additional support. Photo credit: Chuck Sutherland.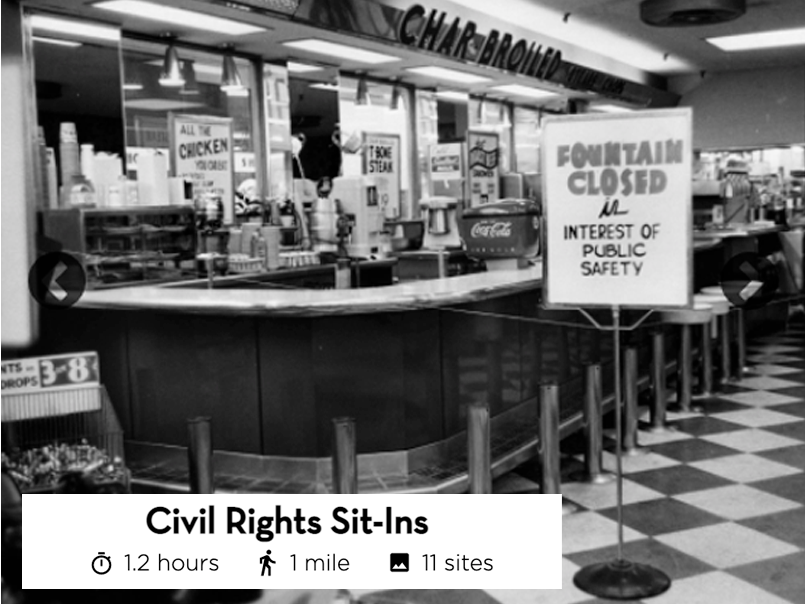 History in the Palm of Your Hand
Learn what goes into building web-based local history tours AND take a walking tour of Music Row with the team behind Nashville Sites, a series of self-guided, credibly curated online tours that tell Nashville's story, from lunch-counter sit-ins to the Nashville Sound. Photo credit: nashvillesites.org.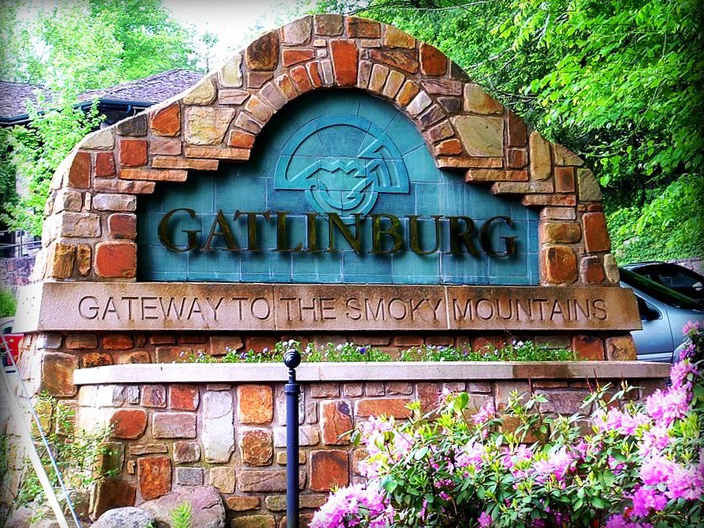 Ensuring Scenic Quality in a Gateway Town
Gateway communities are the access points to national parks and other federal lands, and they play a key role in ensuring repeat visits while providing a big boost to the local economy. The challenge is, how to accommodate millions of visitors and the businesses, services and infrastructure that support them, while also maintaining the natural, scenic and historic qualities that attract them in the first place.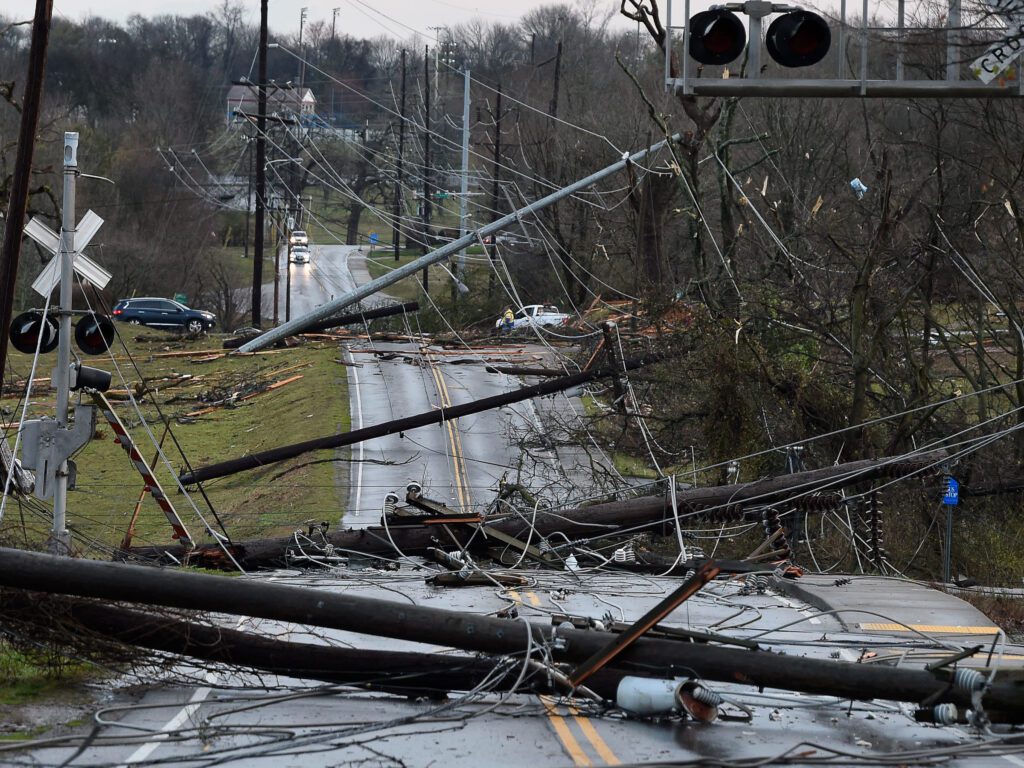 The Case for Undergrounding
Scenic values are reason enough to consider burying power lines. However, the growing frequency of severe weather events, such as the super-tornado that devastated parts of middle Tennessee in 2021, add to the urgency and further justify the costs. Photo credit: George Walker IV / Tennessean.com.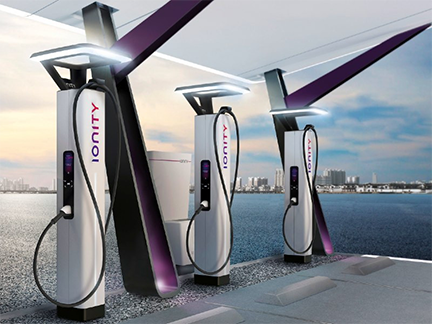 Scenic Considerations of the EV Revolution
Electric vehicles are poised to transform the landscape in a myriad of ways, from the design of EV charging stations to the air-quality benefits of reduced carbon emissions. With the giant Blue Oval City megasite breaking ground near Memphis and the launch of the Drive Electric Tennessee visioning initiative, the Volunteer State can and must play a major role in ensuring scenic considerations are part of the EV revolution. Photo credit: automotive-IQ.com.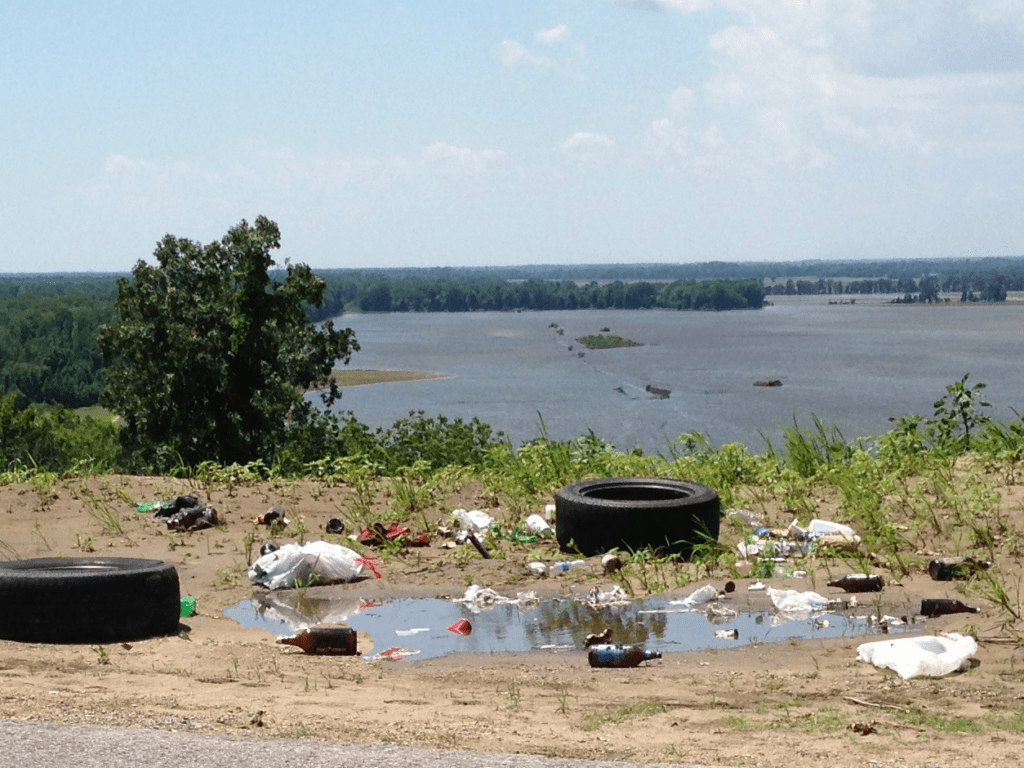 Tennessee CLEAN Act: An Update
Tennessee CLEAN (cleaner landscapes for the economy, agriculture and nature) is the most ambitious effort in decades to fix Tennessee's litter problem. You'll get an update on the proposal and what's needed to win in the 2023 legislative session. Photo credit: Marge Davis.
2022 Scenic Symposium Agenda
Date

Time (CDT)

Activity
Thursday and Friday breakfast & lunch are included in registration fee;
dinners are on your own
Weds, Oct 19
12-5 pm
Check-in for Symposium at Scarritt Bennett Center (Laskey Lobby)
3-4:30 pm
Walking tour of Music Row
5-6 pm
Reception at TennGreen Land Conservancy
Thurs, Oct 20
7:30-8:30 am
Breakfast in Susie Gray Dining Hall
7:30-9:30 am
Scenic America affiliates meeting
8-10 am
Check-in for Symposium continues
10 am
Symposium Day 1 begins
12-1 pm
Lunch in Susie Gray Dining Hall
3:30-4 pm
Make your way to Second Avenue Historic District
4-5 pm
Tour of Second Avenue Historic District rebuilding project
5-6 pm
Reception at Nashville Civic Design Center
Fri, Oct 21
7:30-8:30 am
Breakfast in Susie Gray Dining Hall
8:30 am
Symposium Day 2 begins
12-1 pm
Lunch in Susie Gray Dining Hall
4:15 pm
Symposium concludes
5-6 pm
Buses to Arrington Vineyards
6-8 pm
Live jazz & bluegrass, Food Truck Friday at Arrington Vineyards
8-9 pm
Buses return to Nashville
---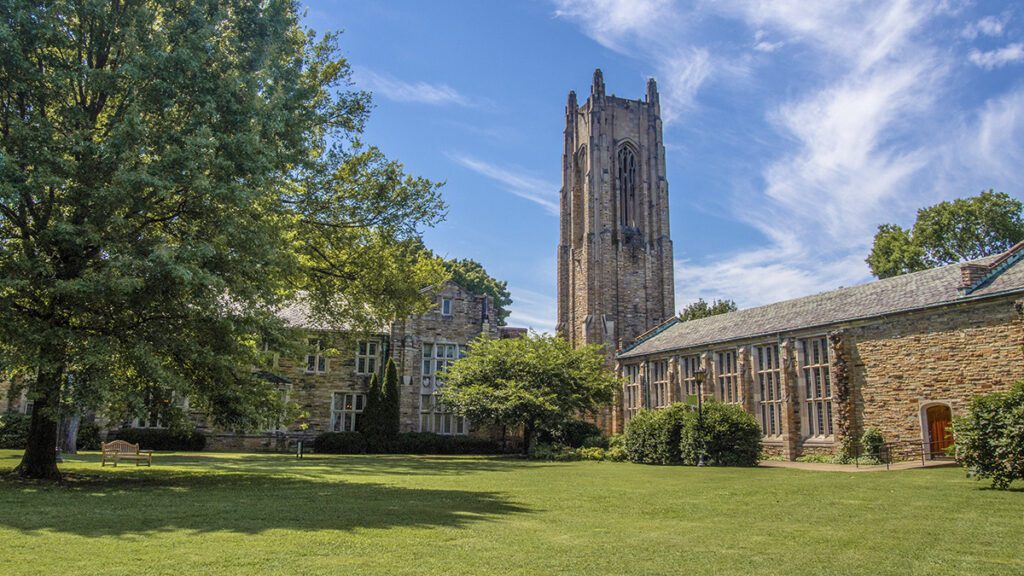 The Venue: Scarritt Bennett Center
The nonprofit Scarritt Bennett Center is Nashville's premiere urban conference and retreat center, known for its old-world meeting spaces, superb meals (always including vegetarian options), affordable dorm-style rooms, and commitment to a just and sustainable world. Located on ten peaceful acres next to Vanderbilt University and just off Music Row, the campus is an easy walk to nearby restaurants and hotels, a five-minute Lyft or Uber ride to downtown and a 15-minute drive to the airport. Its five original buildings, built of native Crab Orchard stone between 1925 and 1928, were added to the National Register of Historic Places in 1982 as the Scarritt College Historic District.
Scarritt Bennett was founded in Kansas in 1892 as a training school for women missionaries; it moved to Nashville in 1921, and in 1952 it became one of the first private schools in the state to integrate (the Rev. Dr. Martin Luther King, Jr., preached here in 1957). Scarritt College for Christian Workers operated until 1988, when the campus was purchased by the Women's Division of the United Methodist Church, renamed the Scarritt Bennett Center and given a new mission: "To create space where individuals and groups engage each other to achieve a more just world."
The official address for Scarritt Bennett Center is 1027 18th Avenue South, (615) 340-7500. Unless otherwise noted, all meetings are in the Laskey Building and meals are in the Susie Gray Dining Hall. Scroll further for lodging details, transit info and other information. Click here for campus and area maps and driving directions.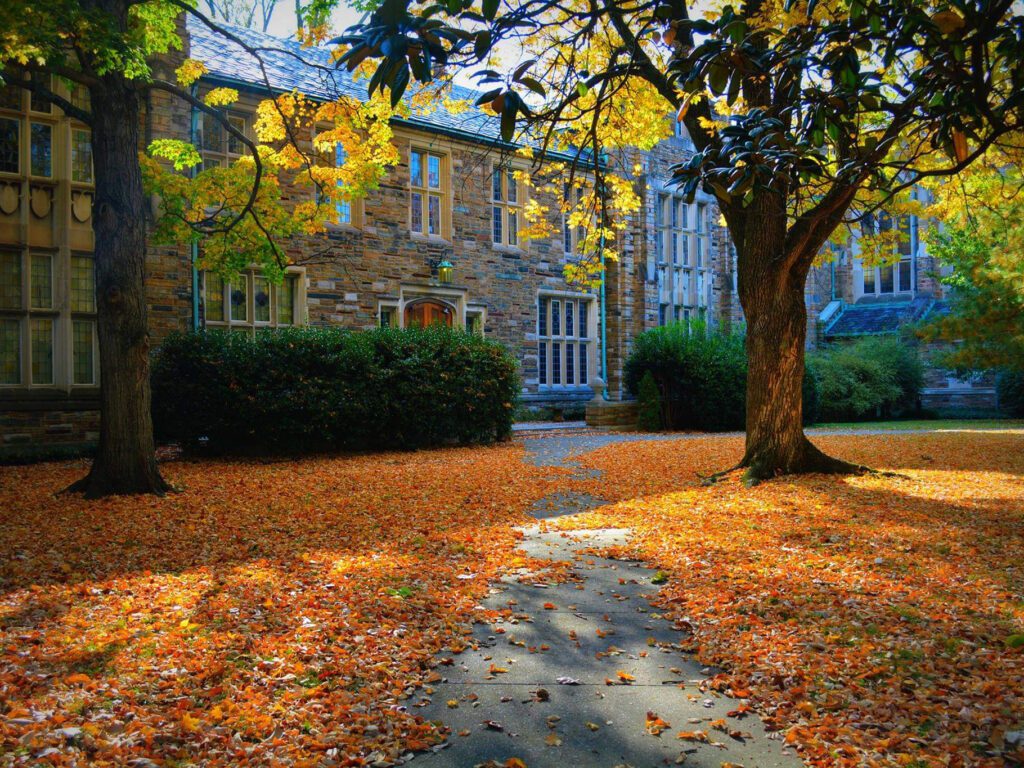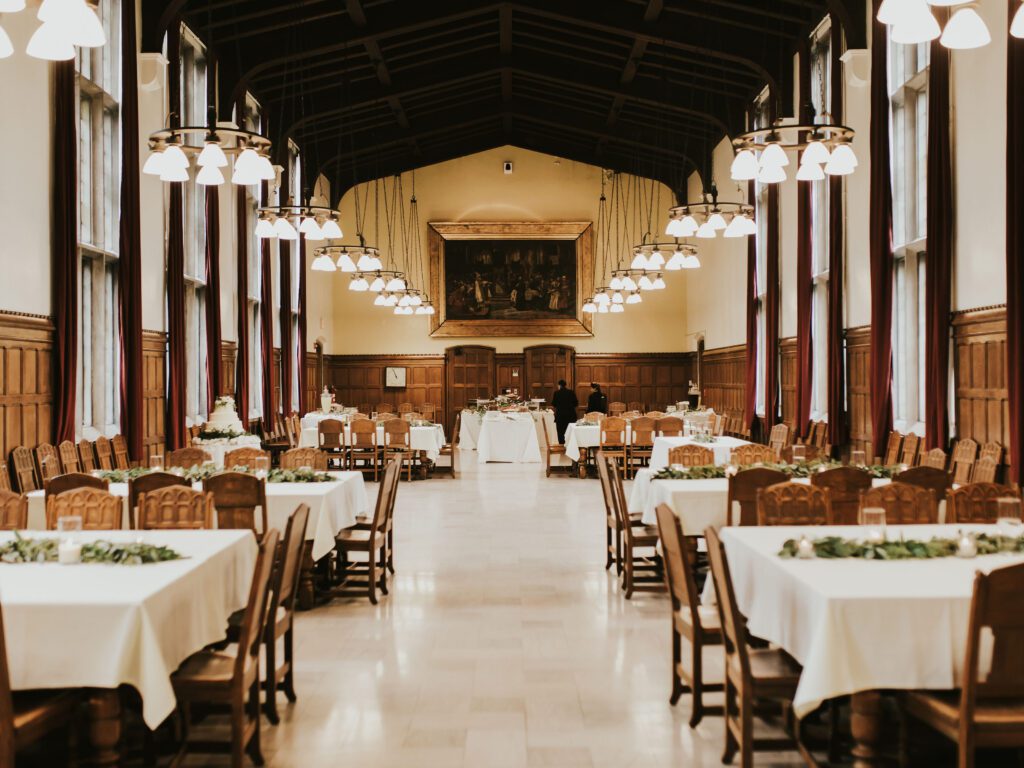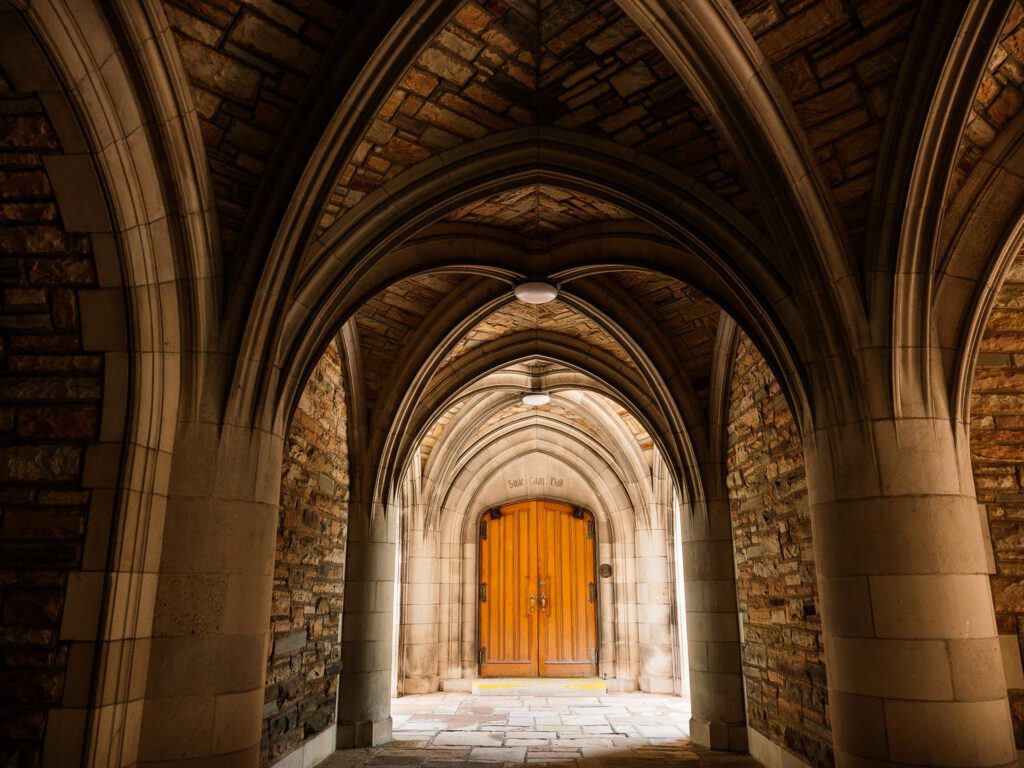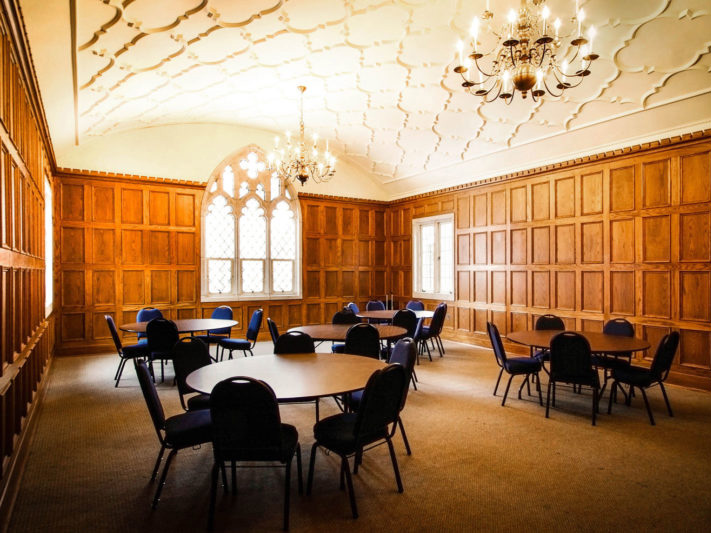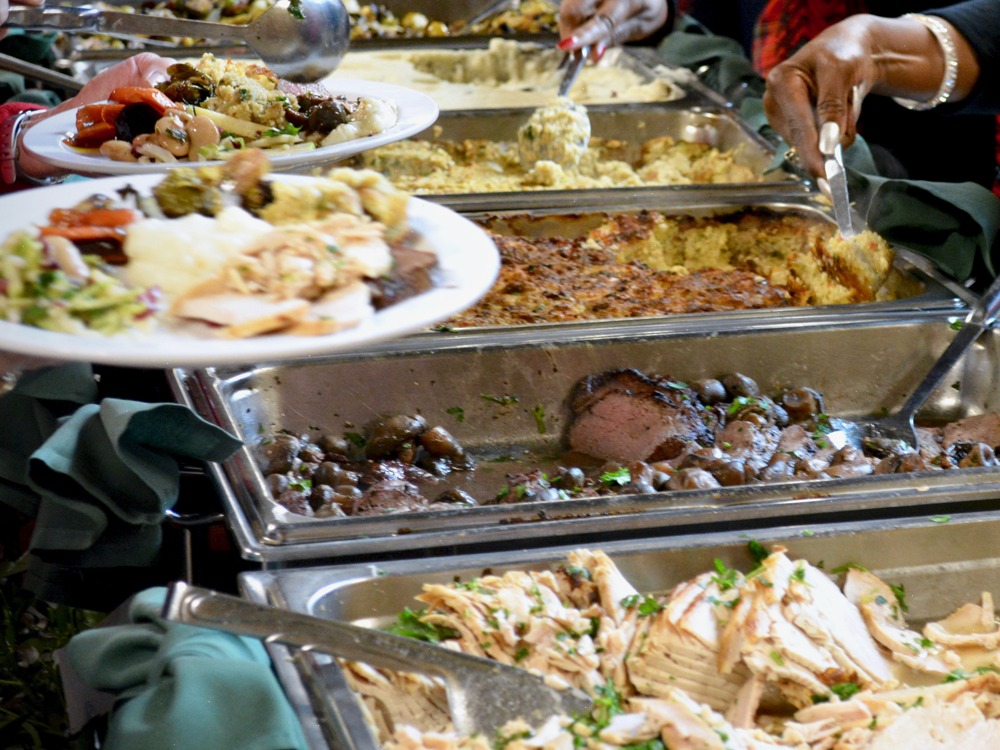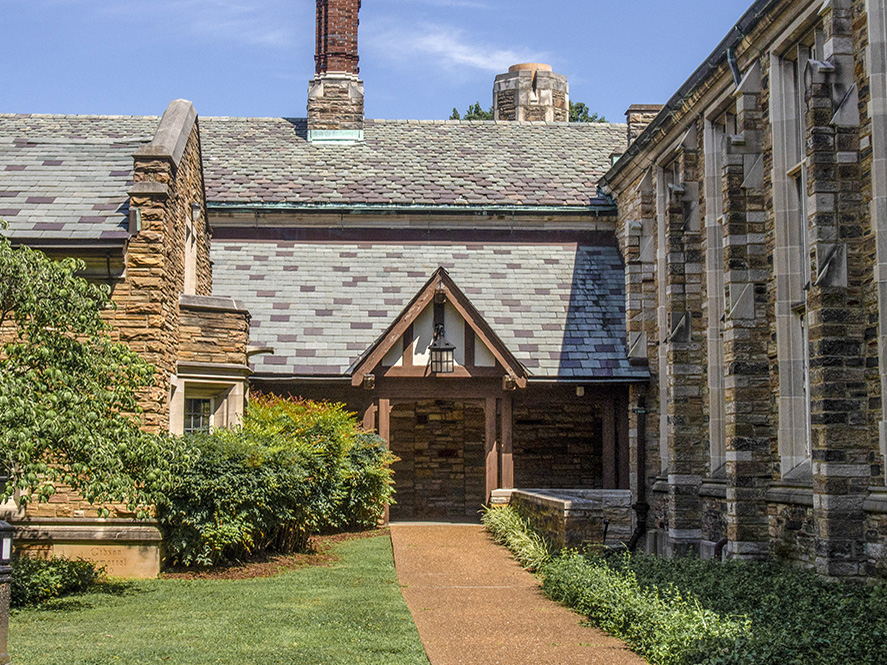 ---
Plan Your Visit
Unless otherwise noted, all events are at Scarritt Bennett Center, 1027 18th Avenue South, Nashville, TN (615) 340-7500. Click here for campus and area maps and driving directions.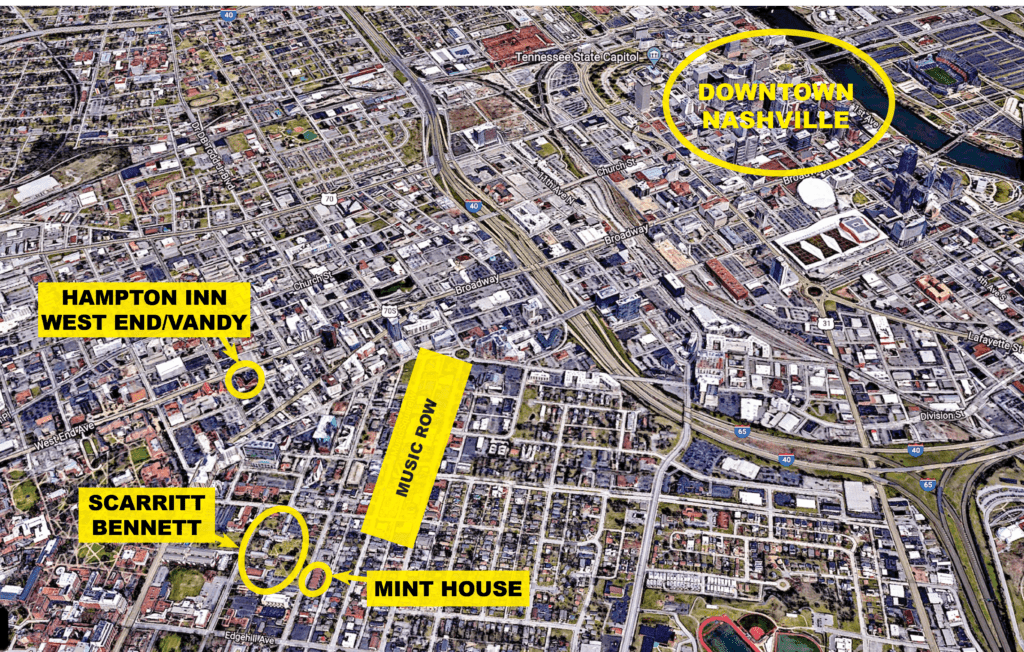 If you drive: Set your GPS for 1027 18th Avenue South, the official address of the Scarritt Bennett Center. Enter the campus from 18th Avenue via Parking Lot A; the Laskey Building, prominently marked "Welcome Center," is at the far side of the lot. Note: You can also enter Laskey from 19th Avenue South, via the entrance closest to Wightman Chapel. Also see the map and directions PDF.
Parking. Free parking is available on a first-come, first-served basis in Parking Lot A next to the Laskey Building. On-street parking may be available, but it may be metered or limited to 2 hours. Longer term and overnight parking is available in some surface lots and parking garages; try using ParkMobile or other parking app. Carpooling is strongly recommended.
If you fly. Nashville International Airport (BNA) is about 15 minutes east via I-40. Car rental counters are near baggage claim 10. For all other ground transportation (ride-share pickup, taxi/limo, bus/shuttle), make your way to the Ground Transportation Center inside Terminal Garage 2 on Level 1. The airport website has a helpful wayfinder video that should keep you from getting lost once you exit the main terminal.
Uber/Lyft. There are lots of rideshare drivers in Nashville. From the airport to Scarritt Bennett should cost around $20-25, not including tip. Uber/Lyft between Scarritt Bennett and downtown is about $8.
WeGo Bus. Nashville's public transit system, formerly known as MTA, is now called WeGo, and fares must be paid through QuickTicket. You can order and pre-load a physical QuickTicket card before you arrive, but you can also download the QuickTicket app to your phone, create a virtual card and load it with enough funds for your time in Nashville. A 2-hour pass is $2, all-day is $4 ($1 and $2 for seniors). Transfers are said to be free and automatic, though we've not tried using them. You'll need to transfer once if you are going to or from the airport.
WeGo bus from BNA airport to Scarritt Bennett Center. Make your way to the Ground Transportation Center at BNA and look for the purple WeGo Bus #18. (The bus driver will scan your QuickTicket app to collect your fare.) The #18 bus runs every 45 minutes, and the whole trip, including transfer, should take just under an hour. At Wharf Station (where Lafayette crosses Wharf Ave/Charles E Davis Blvd), you'll exit the bus, walk across Charles E Davis Blvd, and wait at the blue bus stop sign for Bus #25. The #25 runs every 10 minutes via Wharf, Chestnut and Edgehill avenues. At Edgehill and 19th Avenue South, exit the bus and walk half a block up 19th to Scarritt Bennett's Laskey Building. It will be on your right, just past the Vanderbilt Child and Family Center, and just before Wightman Chapel.
WeGo bus from midtown (Scarritt, Vandy, etc) to downtown. Few buses go all the way to the heart of downtown, but buses #3, #5 or #7 will get you close. Check the WeGo route maps for details.
Carpooling / Park and Ride. WeGo offers free parking for carpoolers and those taking the bus. Access their Park and Ride locations here.
E-bike sharing. Download the Nashville BCycle app to rent an electric-assist bicycle at any of 23 BCycle stations across the city: the closest to Scarritt Bennett is on the edge of the Vanderbilt Law School complex, at 200 21st Avenue South, and there are several downtown. Rates start at $5 for 30 minutes; a 3-day pass (unlimited 2-hour rides over 3 days) is $25.
---
Lodging
Just a tip: October is the height of Nashville's busiest season, and rooms fill up quickly.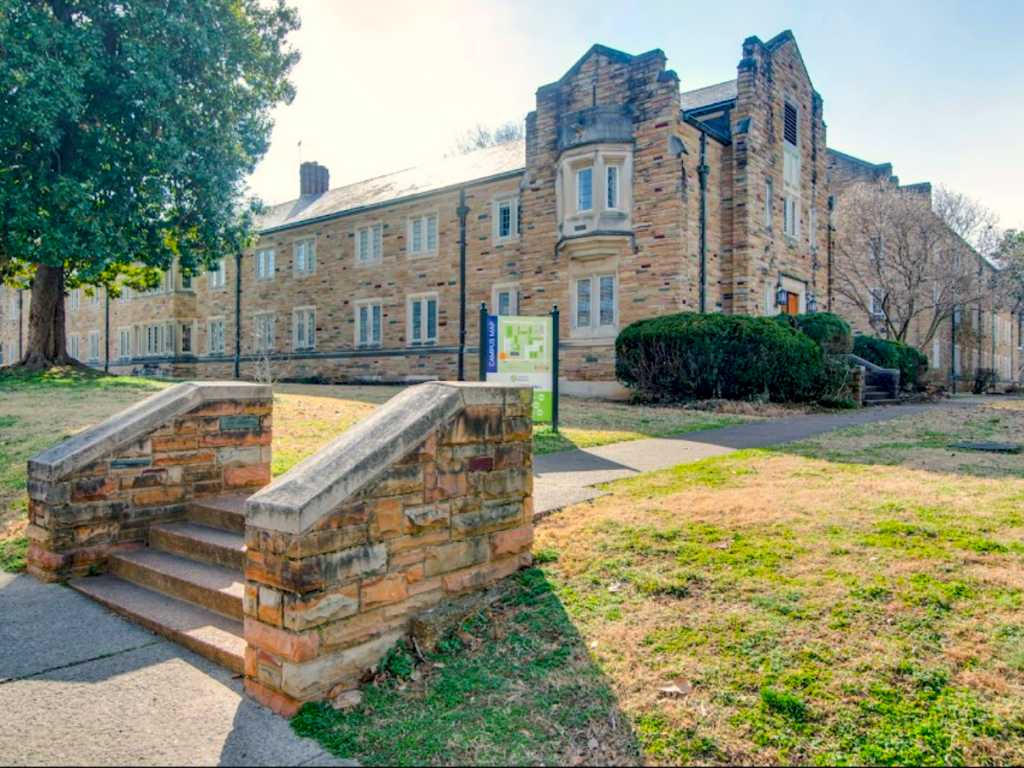 Lodging at Scarritt Bennett (managed by UrbanNashville)
(615) 669-1293
Check in: 4 pm
Check out: 10 am
Reservations: If you aren't checking out on Saturday, Oct. 22, click here to reserve online. If you wish to check out on Saturday, you must make your reservation BY PHONE. See "Important Notes" below.
All rooms at Scarritt Bennett are managed as short-term rentals by local company UrbanNashville. Lodging is in two recently refurbished residence halls: Bragg Hall, built in 1950, and Cadwallader Hall, built in 1963. While there are a few singles, most rooms are configured as suites (two bedrooms connected by a full bath). Go here to view the various configurations. The rooms are not posh, but they are clean, quiet and convenient. They are also comparatively affordable for Nashville in October, especially for those willing to share a suite.
Still, dorm-style accommodations may not be for everyone. Smoking and drinking aren't allowed anywhere on campus, including the residence halls. And like any short-term rental, there is no front desk person. For those who prefer traditional hotels, scroll down to Alternative lodging with group rates.
*** Important notes regarding Scarritt Bennett lodging***
If you plan to check out on Saturday, you MUST make your reservation by phone at (615) 669-1293. UrbanNashville does not normally allow Saturday checkout. You must call (615) 669-1293, speak directly to staff and ask for the Scenic Tennessee Saturday checkout. Note that you'll pay the weekend rate for one of your weekday nights.
If you aren't checking out on Saturday, you can click here to book online.
Room rates in October average $120-$200 night, not including fees. Fees include a one-time cleaning fee of $45, an ID verification fee of $1.90, a $2 booking fee, a room tax of $2.50 a night, a city tax of 15.25% and a credit card processing fee of 3%.
Each rental includes one TV with streaming capabilities, mini-fridge, microwave and dual drip coffee maker/Keurig. Rooms are accessed by keypad-controlled deadbolts. (Note: Some suites have just one entrance, meaning a guest may have to pass through bedroom 1 to reach bedroom 2.)
If you'd like to share a suite but have no one in mind to share it with, contact Marge Davis at Scenic Tennessee to be put on a list of willing suitemates.
Breakfast isn't included in the room rate. However, your registration fee includes breakfast in the dining hall.
Smoking and drinking aren't allowed anywhere on campus, including the residence halls.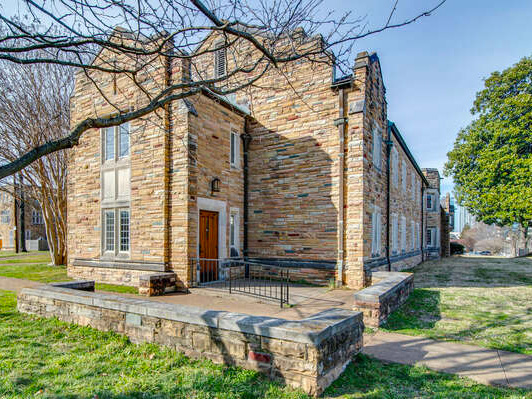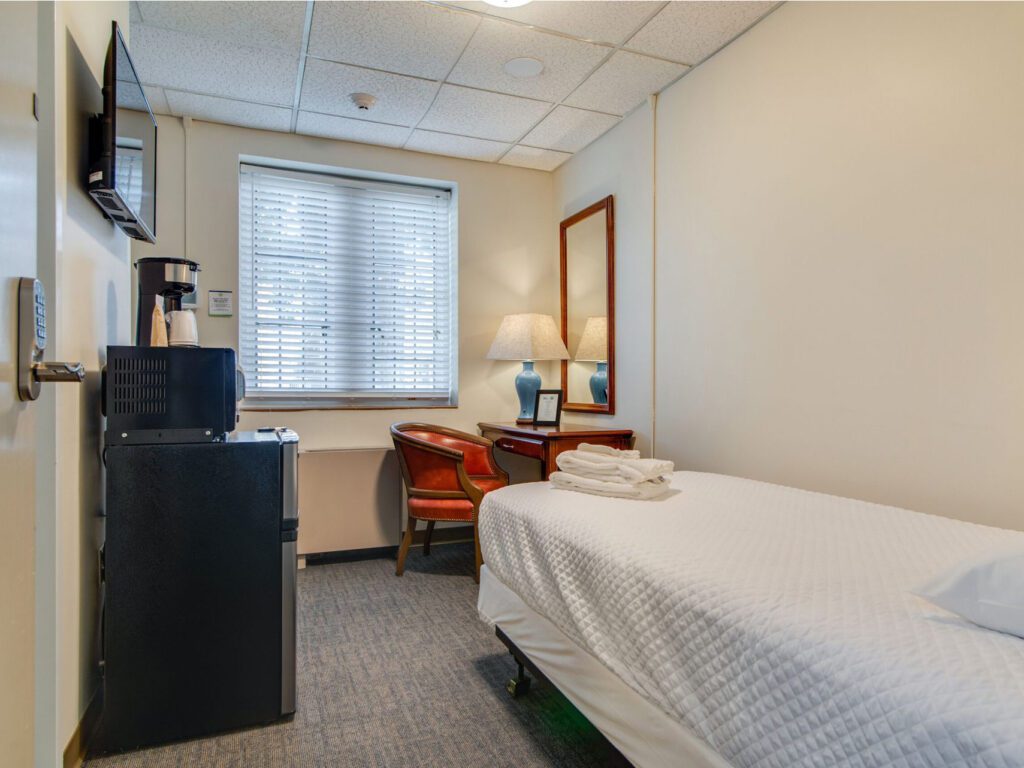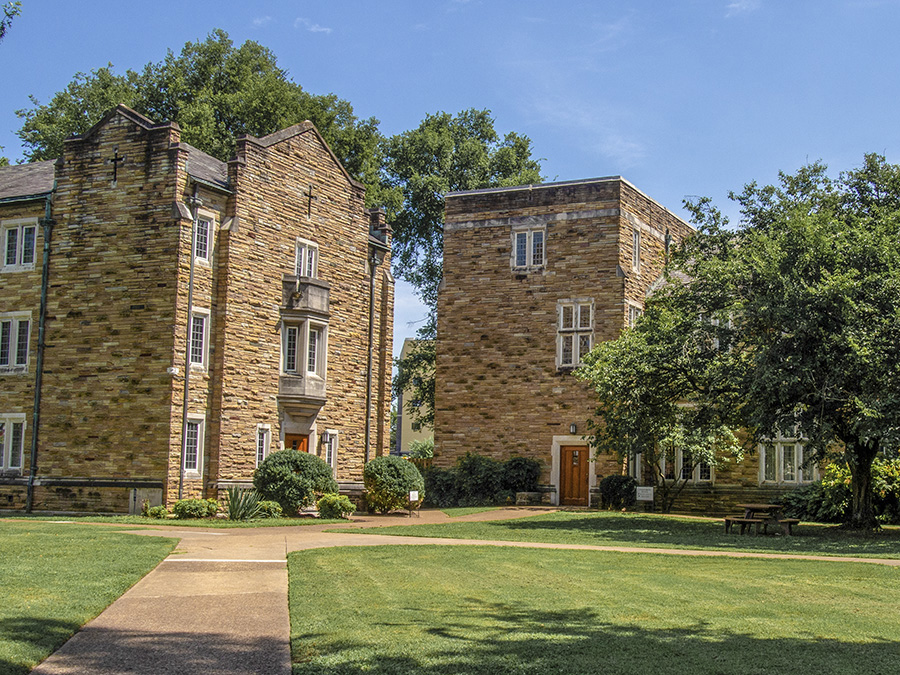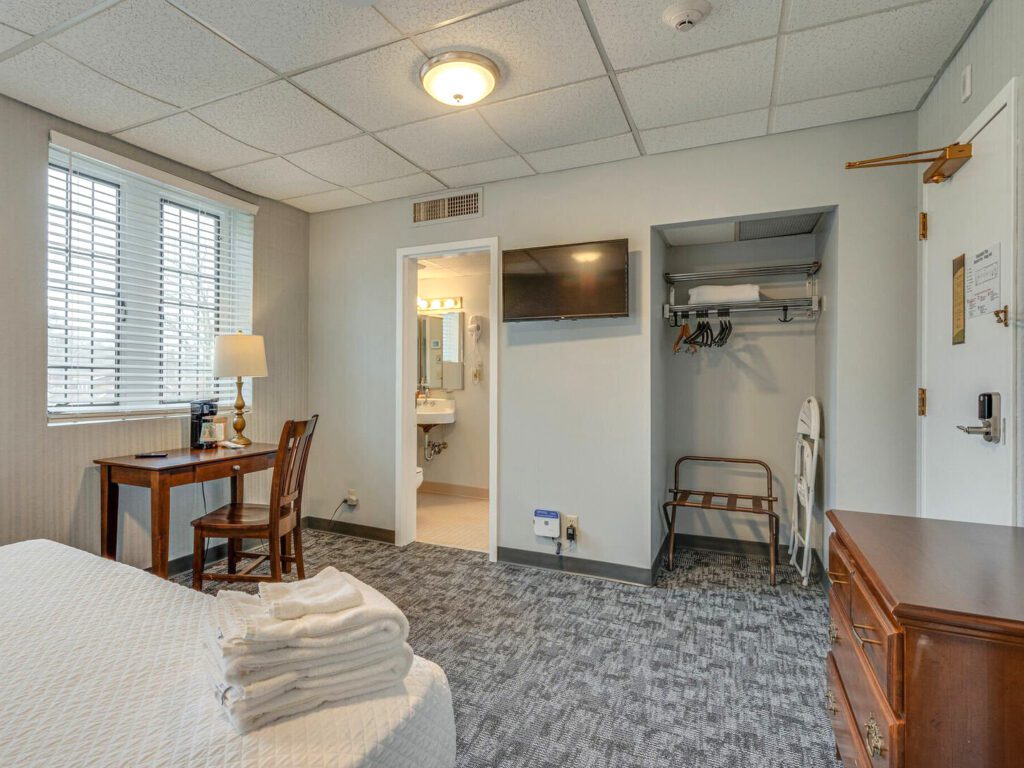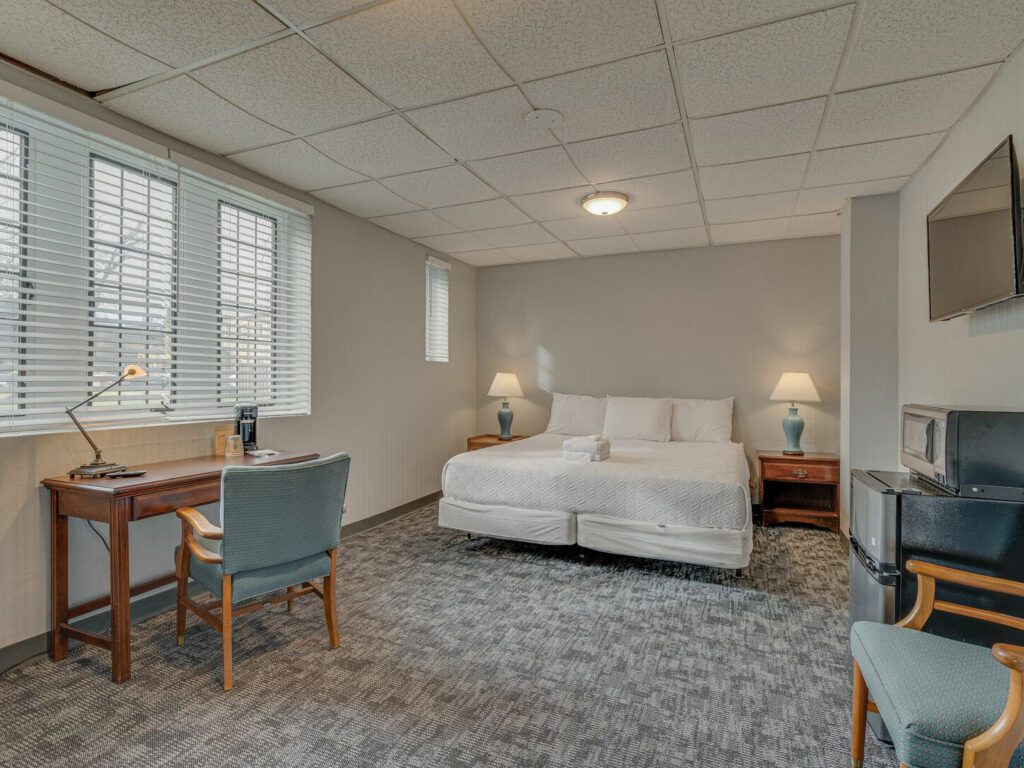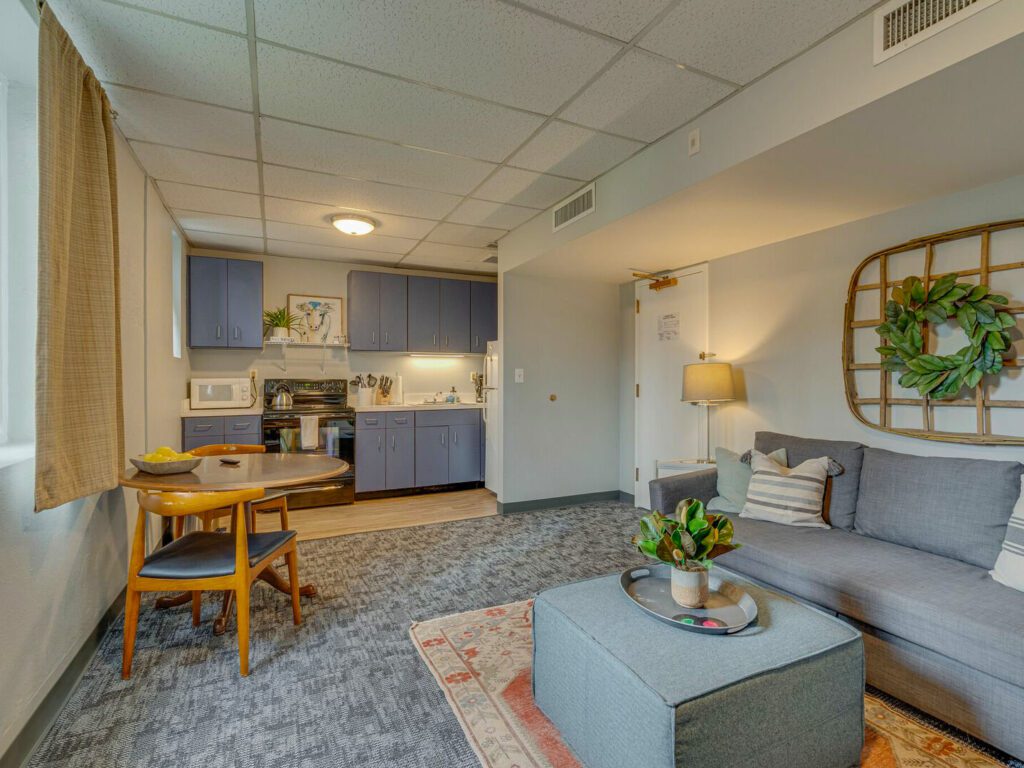 Alternative lodging with group rates
There are plenty of other lodging options less than a mile from Scarritt Bennett, including all the usual chains (Kimpton Aertson, Marriott Courtyard, Loews Vanderbilt, Hilton Garden Inn, Homewood Suites, Best Western, Comfort Inn, etc.) as well as Airbnb-style rentals. We've arranged for group rates at two of them:
Hampton Inn West End/Vanderbilt is the closest non-boutique hotel to Scarritt Bennett, so we've reserved a block of 40 rooms here at a group rate of $179 per night (plus taxes, etc.); click here to reserve at this group rate. BUT PLEASE NOTE: This discount is only guaranteed through June 16. If we haven't filled 80% of the rooms, we will cancel the group rate contract to avoid paying a hefty attrition fee. Rooms already booked will of course be guaranteed at the $179 rate.
---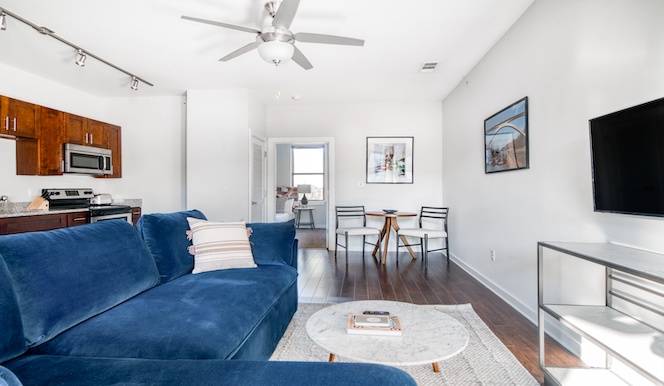 Mint House is an Airbnb-like company with three locations in Nashville, including this one across 18th Avenue South from Scarritt Bennett. Known for its emphasis on traveling professionals, Mint House properties feature fully equipped kitchens and stylish furnishings. Mint House Music Row, which offers one (small) parking space per reservation, is in a new building with 35 units. We've reserved 10 one-bedroom suites at a rate of $255 per night (plus taxes, etc.). This rate is guaranteed until Sept. 28.
Registration
Click here to register. The early-bird rate (good through September 6) is $199; regular rate is $229 September 7-October 19. Please note that registrations must be made online (no walk-in reservations allowed). Space is limited to 150 registrants, so don't delay!
If you have questions or special needs, please call or text Marge Davis at Scenic Tennessee at (615) 294-2651 or by email at margedavis@scenictennessee.org.