Scenic America's annual Affiliate meeting was held in the historic city of Salisbury, NC in October 2016.  The group's Board of Directors and Affiliate members from around the country were joined by local members, area professionals and public officials for a symposium on "Protecting Scenic Beauty and Community Character" at the historic Rowan Museum.
Click presentation titles to download PDFs of speaker presentations.  Or, click here to download all presentations at once.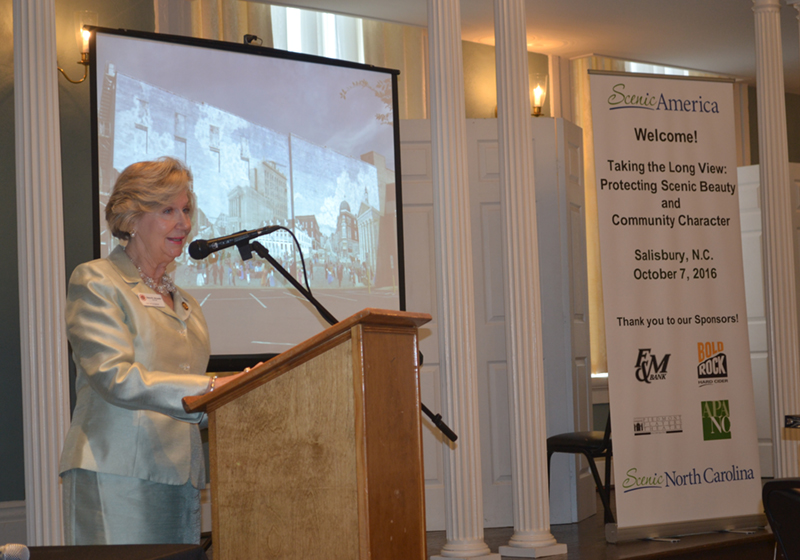 Salisbury Mayor Karen Alexander
The day began with a welcome from Scenic NC's Dale McKeel and Salisbury Mayor Karen Alexander. Rowan Museum director Aaron Kepley provided some history of the building, and former museum director Kaye Brown Hirst gave a wonderful overview of the history of the Salisbury area, from its origins as a Native American crossroads to its importance in the Revolutionary and Civil Wars and as a launching place for westward explorers.
This short film provided further background on the historic character of Salisbury and Rowan County. The film highlights the importance of tax credits as a tool to encourage historic preservation and takes a special look at the preservation of nearby Barber Farm.
Julie White, executive director of the N.C. Metropolitan Mayors Coalition, presented Purposeful Placemaking is Economic Development.  Ms. White discussed how cities are developing a unique sense of place in order to attract a mobile workforce that then attracts new business investment.  In order to achieve this sense of place local control and local authority are key, she said.
Ryke Longest presented an update on Taking the Long View, Scenic America's recently released white paper that looks at five key issue areas in scenic conservation.  Longest is Director of the Environmental Law and Policy Clinic and a Clinical Professor of Law at the Duke University School of Law and a member of Scenic America's Board of Directors.
Mayor Alexander then introduced Janet Gapen, Planning Director for the City of Salisbury, who provided an overview of Salisbury's East Innes Street, an important gateway corridor linking the historic downtown to Interstate I-85 and beyond. Tracy Newsome of the Charlotte DOT gave an update on that city's efforts to turn the important South Boulevard Corridor into an urban street that supports neighborhoods of mixed uses and multiple transportation options.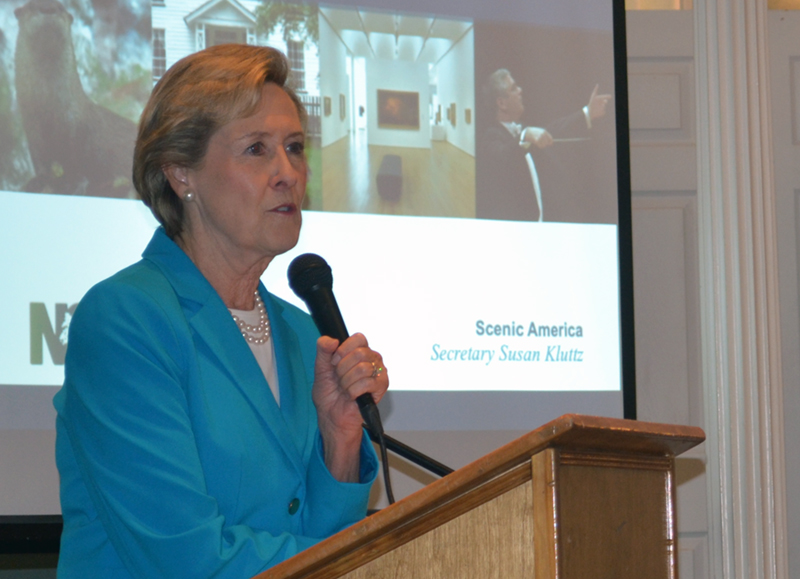 Keynote Speaker Susan Kluttz
Keynote speaker Susan Kluttz, Secretary of the North Carolina Department of Natural and Cultural Resources, delighted the audience with stories of how communities all over the state are benefiting from the preservation and promotion of their natural and cultural assets.  Secretary Kluttz was mayor of Salisbury from 1997-2011 and appointed to her current position in 2013. Her department includes 27 historic sites, seven history museums and two art museums.
A Founders Award Ceremony honored Ruth Becker, Charles Floyd and the family of Marion Fuller Brown for their roles in establishing Scenic America in the late 1970s.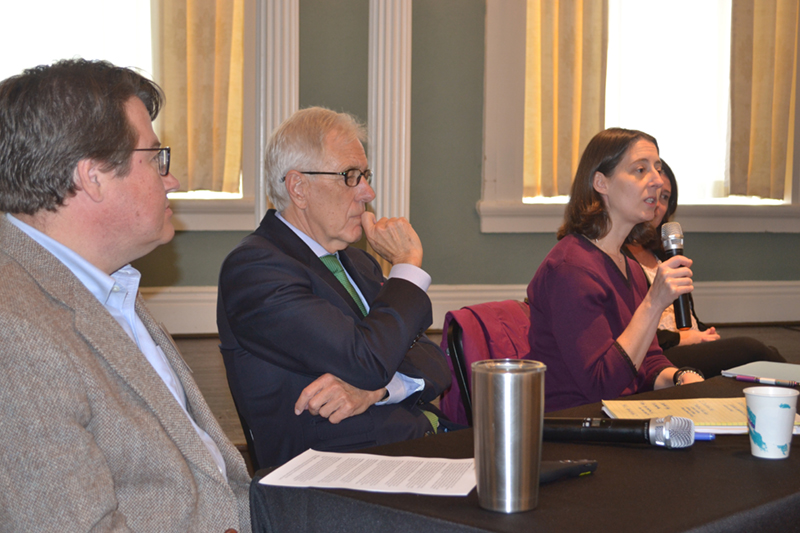 Left to Right: Ryke Longest, Tom McCormick, Lisa Glover and Rachel Thurlow
A panel of attorneys explored Challenges and Opportunities in Sign Control. Moderated by Scenic America Board member Rachel Thurlow, the panel examined the Supreme Court decision in Reed v. Town of Gilbert, which has put many municipal leaders on edge about the legality of their sign regulations.  Scenic America previously released this guidance on the ruling.  The panel included Lisa Glover, Assistant Town Attorney for the Town of Cary; Tom McCormick, City Attorney for the City of Raleigh; and Ryke Longest.
Jason Walser, former director of the Land Trust for Central NC, spoke about the importance of Scenic Conservation Partnerships and the role they've played in protecting so many historic and natural assets in Rowan County and surrounding areas.  Margaret Lloyd, Scenic America and Scenic Texas Vice-Chair, gave an update on the Texas group's Scenic Cities Program.  Established in 2010, the program recognizes and promotes municipalities that take steps to protect and improve their visual environments.
#8c8d86; float: right; padding: 0px; width: 241px;">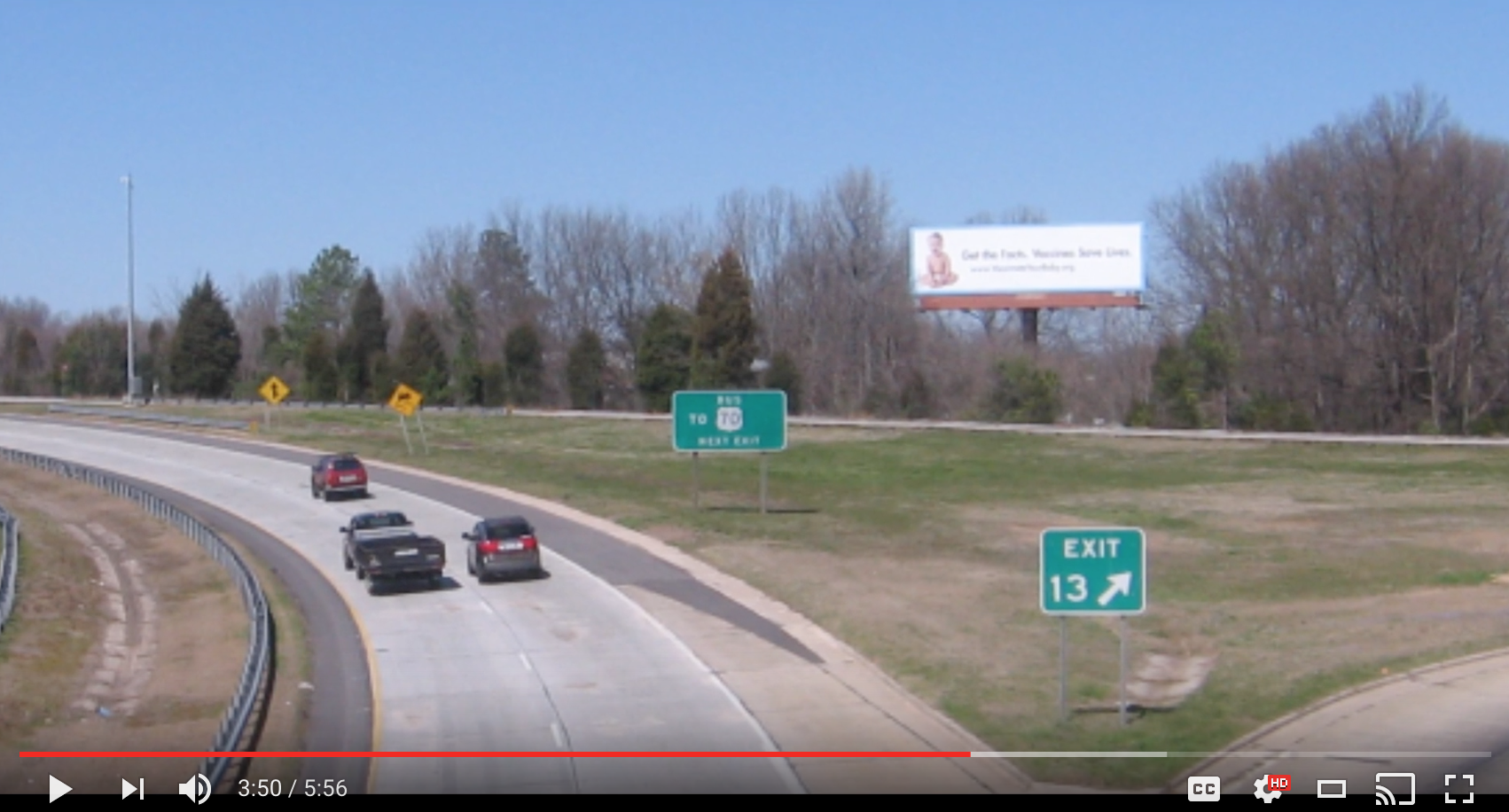 The day concluded with a short film on the Challenges and Benefits of Billboard Control. Charles Floyd wrapped up the symposium by giving his perspective on the State of the Highway Beautification Act based on his many years of advocating for a more beautiful America.
Scenic America thanks its Sponsors for their support of the Salisbury Conference:
#8d8b8b; float: left;" src="https://org.salsalabs.com/o/2436/images/FM%20Bank%20logo.jpg" alt="F&M Bank logo" width="102″ height="76″ />  
#9c9c9c;" src="https://org.salsalabs.com/o/2436/images/Bold%20Rock%20Hard%20Cider%20logo" alt="Bold Rock cider logo" width="70″ height="78″ />     
#8c9084;" src="https://org.salsalabs.com/o/2436/images/Piedmont%20Players%20Theatre%20logo.jpg" alt="Piedmont Players Theatre logo" width="79″ height="79″ />     
#9e9a9a;" src="https://org.salsalabs.com/o/2436/images/APA%20NC%20logo.png" alt="APA NC logo" width="94″ height="78″ />