Scenic advocates from around the country gathered in Houston on April 11, 2014 for Scenic America's annual conference.  The theme of the event was: How Scenic Beauty Supports Economic Development, Livability and Tourism.  We are happy to make video of the conference available to the whole world on this website.  Thank you to Hines and Scenic Houston for underwriting the video production.
Watch the Conference presentations below!  Click on a session title to bring up the video player.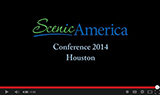 Watch a Conference Preview
This 5 minute "trailer" will give you a taste of all the presentations and whet your appetite for more!


Conference Welcome and Houston as a Scenic City in Progress

Speakers:
Ronald Lee Fleming, FAICP
Carroll Shaddock, Esq.



Why Design Matters
Speakers:
Ronald Lee Fleming, FAICP
John R. Hedrick, Esq.
Matthew Goebel, AICP

How Scenic Beauty Supports Business
Speakers:
Gerald Hines
Delia Mizwa
Scenic Visionary Award Presentations
Gerald Hines and Carroll Shaddock receive Lifetime Scenic Visionary Awards.
How Art Enriches the Public Realm
Multimedia artist Barnaby Evans shows how art in the public space can bring people together and energize economies.
Public Health Impacts of Planning & Design
Speakers:
Amy Hillier, Ph.D.
Julie Hendricks, LEED AP
Why Quality of Life Matters
Stephen Klineberg, Ph.D., discusses changing demographics and quality of life issues in Houston and around the country.
Taking the Scenic Route
Speakers:
Rob Draper
Doug Harman, Ph.D.
Carol Lewis, Ph.D.
Below are links to the slide presentations of the various speakers.  Be sure to contact the speaker before using any graphics or information from a slide for your own purposes. Presentations are in PDF format.  Right-click and 'save as' to download.
Amy Hillier, Ph.D. — Public Health Impacts of the Visual Environment
Carol Lewis, Ph.D. — Considering Visual Impact in Public Transportation
Carroll Shaddock, Esq. — Houston: A Scenic City in Progress
Doug Harman, Ph.D. — Scenic Beauty as a Tourism Draw
Gerald Hines — How Scenic Beauty Supports Development
Delia Mizwa — The Houston Uptown / Galleria example
John Hedrick, Esq. — The Role of Design Review
Julie Hendricks — Urban Design and Public Health
Matthew Goebel, AICP — Historic Preservation in Texas
Rob Draper — Importance of Scenic Byways
Ronald Lee Fleming, FAICP — A Short History of Civic Beautification