Scenic Pittsburgh, along with Fineview/Perry Hilltop Citizens Council, Allegheny Cleanways, Grounded and Landforce seek support for developing publicly accessible scenic viewsheds and urban greenspaces in the Fineview and Charles Street Valley neighborhoods on the Northside of Pittsburgh. These neighborhoods have experienced varying degrees of blight and a population decline, but have emerged as loci for both regional and foundation funding investment, including a recent Choice Neighborhood Development Grant.
How we chose the sites we are proposing.
Throughout the City of Pittsburgh many of our greenspaces and forest patches are spoiled with trash and overrun by invasive plants. In this condition these areas are not usable as a natural refuge by the surrounding communities. Many of these neglected properties are City-owned, or are simply abandoned, and the City usually does not have the resources to recover these areas. Scenic Pittsburgh recognizes that many of these abandoned/city-owned properties have significant scenic value as well as value in an historic, cultural and architectural context.
We currently partner with the city on our greenspace restoration program. Our goals are to steward these city-owned forested areas by cleaning up the dumps and litter, managing the vegetation, and creating access trails for public use as well as continued maintenance and management. We look for projects that would require relatively small investments to become community assets, whose long-term maintenance would not be intensive, and whose location would serve disadvantaged communities that are set to expand over the coming years and will need additional accessible greenspace.
We are proposing five different sites for possible support by the Buhl Foundation. All five of our proposed projects would contribute significantly to the growing urban trail system in the Northside. All have been previously identified as targets for greenspace development in one or more of the following: the One Northside Asset Inventory (2015), the Northside Vacant Lot Assessment (from the Buhl Foundation's Strengthening Northside Communities, 2016), the One Northside Neighborhood Trails Project (2017), the Fineview/Perry Hilltop Open Space Plan (2018), and the City of Pittsburgh Openspace Plan (2013). We also consulted the Fineview/Perry Hilltop Community Plan (2018).
Sites
Site 1: Fineview neighborhood, between Fountain and Henderson, adjacent to three steps of steps that are part of the Fineview Fitness Trail: James Street to Fountain Street, Fountain near James to Graib Street, and Graib Street to Henderson. This area is within a wedge-shaped viewshed comprised of 20 contiguous empty lots totaling 2.2 acres between Henderson and Fountain Street, which we have been working to restore since 2018. These lots also feature stunning views of the City of Pittsburgh and Northside neighborhoods. Scenic Pittsburgh has done a significant amount of work on the lots that lie in the middle of the wedge around the property we own, but there is an uncleared portion of several lots to the east that would serve to connect this emerging public greenspace with the steps of the Fineview Fitness Trail.
Currently these lots are only accessible via two Fountain Street entrances, with an entrance at Henderson planned, but a connection with the steps would make this asset much more accessible to neighborhoods both above and below it, and expand the trail system on the northside. This is the area for which we are asking for the Buhl Foundation's support.
The lots are partly owned by Scenic Pittsburgh, with most of the rest of the lots city-owned. The lots are not suitable for traditional housing or business development, as they are steep-slope greenspaces above Allegheny General Hospital (see maps and photos online), near the Sandstone Quarries Apartments and Fineview Field. Scenic Pittsburgh owns one large parcel here and we have a lease from the City to manage all work 19 city-owned properties at this location.
The focus would be on brush and invasive plant removal, garbage removal, trail creation, and signage. Developing this greenspace would create an important asset for northside residents, particularly those who live at the Quarries and eventually, for those at the renewed Allegheny Dwellings as well.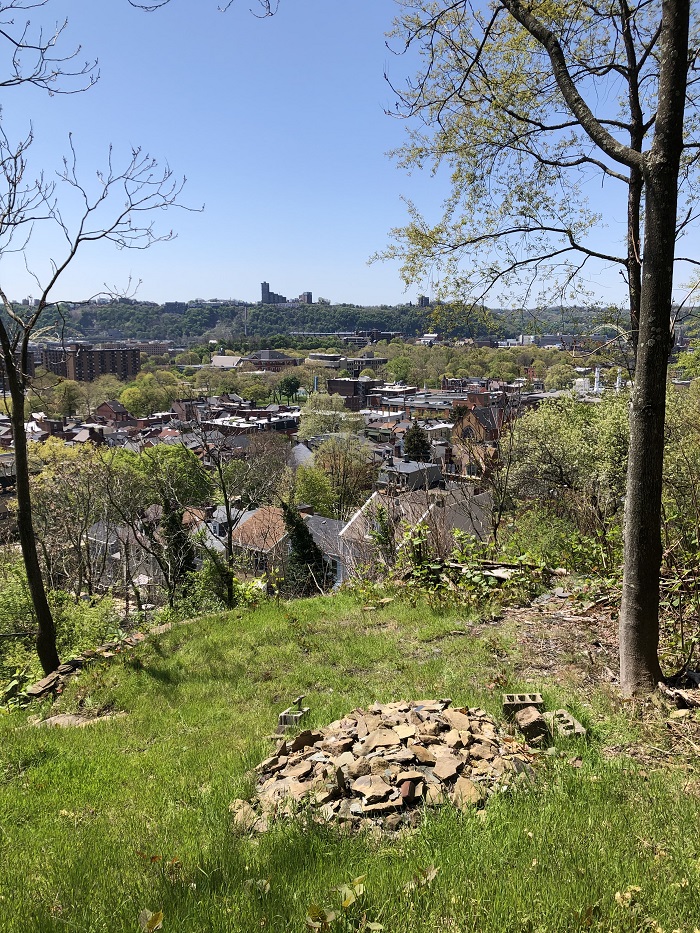 Site 2: Fineview, lots above Henderson and below Fineview Field. The second site is directly above Site 1 and is comprised of several lots of steep-slope city-owned property that would extend the Fineview Greenspace and also offer trails to connect the Fineview Ballfield and Allegheny Dwellings to it. The focus at this site would be trash cleanup, trail creation, and signage. In the photo above, this site is the wooded area above Henderson and below Fineview Field.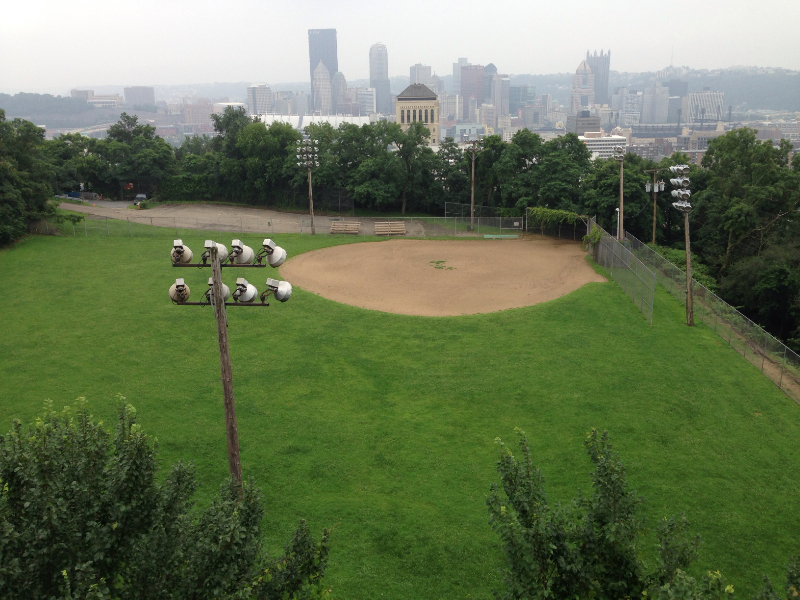 Site 3: Charles Street Valley, Irwin Street. Irwin Street is a "paper street" that is blocked off along its entire length and has been abandoned for several decades. However, the paved street surface is in good enough condition to be an excellent biking/walking/strolling route once cleared. Little else would be required to make this area usable for the growing Charles Street Valley community, and the lack of car traffic would act as a disincentive to unlawful activity. The longer-term plan for this site could include nearby Metcalf Street, Harlan Street, the Rolla Street extension to Irwin, and the Irwin staircase from Melrose to Chautauqua streets, and would create a larger walkable urban forest, or "forest patch," centered around these closed streets. The City of Pittsburgh has already designated much of this area as "Greenways," which prohibits housing and business development on the land. The focus would be trash cleanup, clearing of vegetation, and signage.
One end of Irwin Street is directly adjacent to Propel Northside, and could provide a valuable outdoor learning venue for that school. The ongoing improvements to housing in this area mean the population will grow, and there are currently limited options for walking and exercise nearby because of the valley topography. In the future, repairs to the Irwin staircase would also serve to connect Perry South and Charles Street and open up these greenspaces to new neighborhoods.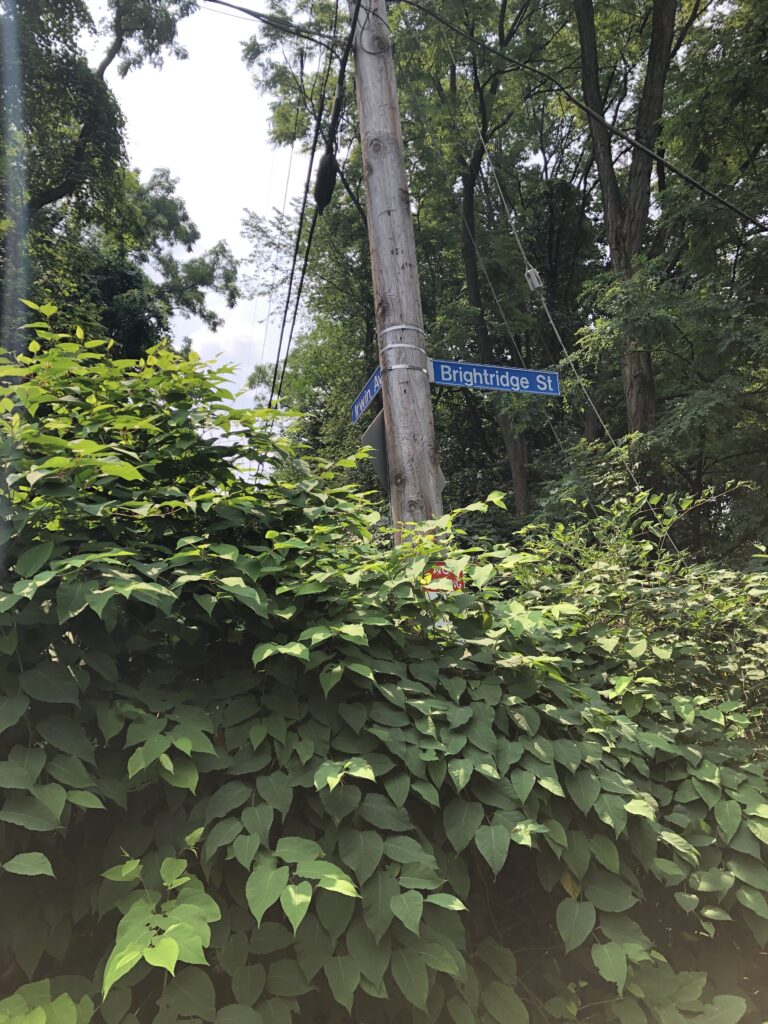 Site 4: Perry South, Ballfield Farm/Fowler Park/Goatscape Trail. These three scenic community assets are all nearby each other in an area of Perry South. Ballfield Farm and Allegheny Goatscape are in a sloped wooded patch of land bounded by Marshall, Danbury, Crispen, and Timber Streets, while Fowler Park just across Charles Street. There is an existing plan for a pathway that would connect Goatscape and the Farm, and would create a way down Crispen and Timber Lane to just across from Fowler Park. While surrounded by residential lots, this area stands out as a "forest patch" that could serve to connect these established community assets. The focus would be on creating a simple, easy-to-maintain path and signage for guidance.
Site 5: Fineview, 1715 Lanark Street. This single lot is owned by the Fineview/Perry Hilltop Citizens Council and could be developed into a pocket park and convenient trail between Lanark and Denham streets. The area is near the Catoma Overlook, and is adjacent to the Television Hill lots, which could someday be part of a larger greenspace.
Partners
All the below partners have agreed to their role(s) in this proposal.
Scenic Pittsburgh's goals in bringing together the partners below go beyond this proposal, however. We aim to lead in greenspace restoration by fostering ongoing working relationships among partners that will accelerate the process for restoring greenspace in the North Side, as well as providing a replicable model for similar projects in other Pittsburgh neighborhoods.
Fineview/Perry Hilltop Citizens Council. Role: Strategic guidance. We have worked with the Council since the inception of our Fineview project so that our goals align closely with their strategic objectives for the communities' greenspaces.
Allegheny Cleanways. Role: Major trash removal. We have worked with Allegheny Cleanways and their contribution will be key in the effort to convert these abandoned lots into scenic assets
Grounded. Role: Advisor and landscape design support. Grounded is a key partner for work in the North Side due to their deep knowledge of the area in terms of potential greenspace and community assets, as well as for their expertise in marshalling community support for long-term maintenance
Landforce. Role: Vegetation removal and trimming, path construction. Landforce has a history of greenspace restoration projects in the city, including steep-slope Emerald Park. Their season runs May through November.
Other potential partners include Allegheny Goatscape, and local and independent landscaping and stone construction firms.
We will be actively seeking other funders for these projects, both foundation and corporate.
Outcomes
Emerging neighborhoods benefit from a proven economic asset and driver of health and quality of life–publicly accessible greenspace. Fineview/Perry Hilltop and the Charles Street Valley are prime neighborhoods for future development. Over the last few years, these neighborhoods have also seen an increase in community investment through the Fineview/Perry Hilltop Citizens Council and the efforts of the Buhl Foundation's One Northside effort, and have recently received a housing and economic development grant through the Choice Neighborhoods Initiative. Studies show that communities with good access to quality greenspace have better health outcomes, higher property values, lower crime rates and generate further economic investment.
The creation of a partnership model for the development of abandoned and neglected lots into community greenspace assets with relatively low levels of investment and maintenance. We focus on spaces not suitable for other types of development that can be transformed in community assets through an initial investment into cleanup, brush removal and path construction. As ongoing maintenance is an ever-present problem for greenspace development, these sites have been chosen partly because they would require less maintenance than other types of greenspace but with a proportionately greater return on investment.
Relevant Goals from the Fineview/Perry Hilltop Citizens Council Community Plan
Recreate blighted vacant lots as valuable open space assets
Leverage natural features as an economic asset for neighborhood development
Increase access to public open spaces for all residents
Use open space to create a welcoming community environment