Scenic Tennessee's Pickin' Up Tennessee project was the first music-centered litter-awareness campaign in Tennessee since the popular "Tennessee Trash" ads of the 1970s—but with an important twist. Instead of focusing on the thing everyone hates about Tennessee—the litter—PUTN highlighted the things everyone loves: Tennessee's scenic beauty, rich musical heritage and welcoming communities.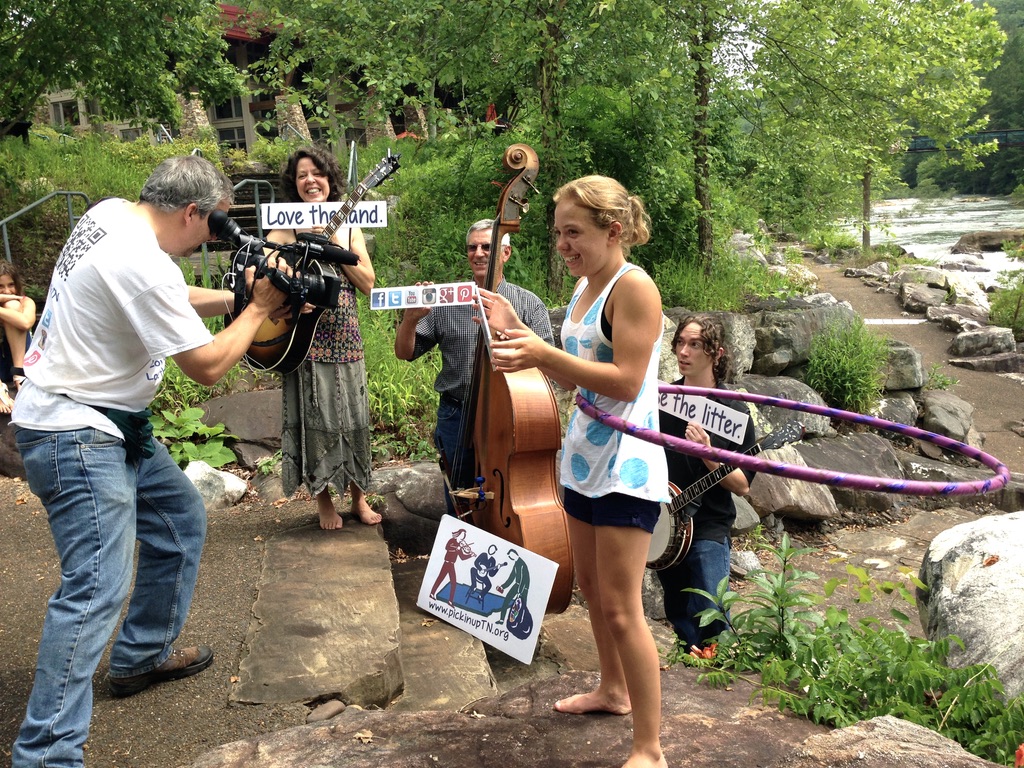 Every year, Tennessee spends millions of dollars removing millions of pounds of litter from thousands of miles of roads and waterways and public spaces. And even though Scenic Tennessee believes there are more effective and long-lasting solutions (such as a refundable deposit on beverage containers), there's a lot to be said for raising awareness. So when Tennessee's Department of Transportation offered $1 million in grants to tackle Tennessee's litter "beyond routine maintenance," we came up with Pickin' Up Tennessee.
Our project, which was awarded the maximum $100,000, featured a family of Chattanooga filmmakers who traveled the length and breadth of Tennessee for a month aboard a 32-foot motor home bearing the message: "Love the land. Lose the litter." Along the way, they filmed community litter cleanups, visited iconic beauty spots, toured off-the-beaten path scenic treasures and recorded a sound-quilt of authentic Tennessee music, from blues to bluegrass to gospel, performed by more than 120 all-volunteer musicians, singers and dancers. In the evenings, they camped at one of Tennessee's award-winning state parks, where they'd blog about the day's experiences and upload video to the PUTN YouTube page.
The tour launched, with much media encouragement, on June 1, 2013. For the next four weeks, Dave Porfiri and Linda Duvoisin, principals in Mindflow Media, and daughters Jane, 10, and Harlan, 8, served as roving ambassadors for a clean and sustainable Tennessee. Project coordinator Marge Davis tagged along with her Big Orange tent, and Mindflow Media's technical crew joined the fun at a number of stops along the way.
Some 2,800 miles, 500 volunteers, 67 videos, 38 songs, 23 cleanups and a ton of litter later, the active portion of the project came to an end. But you can still experience it: it's all packaged up in the PUTN DVD. Contact Scenic Tennessee for your copy.