Scenic Tennessee—originally known as Tennesseans for Scenic Beauty, in deference to its national model, the Coalition for Scenic Beauty—was formally chartered by the state on July 8, 1987. The organization had begun, however, a few years earlier.

Shortly before Christmas 1985, a Knoxville architect and planner named Eugene Burr, chairman of the Ad Hoc Committee for Signage for the Greater Knoxville Beautification Board, mailed a memo to conservation and beautification groups around the state, inviting them to a meeting in Nashville in January 1986 to discuss more effective billboard regulation in Tennessee.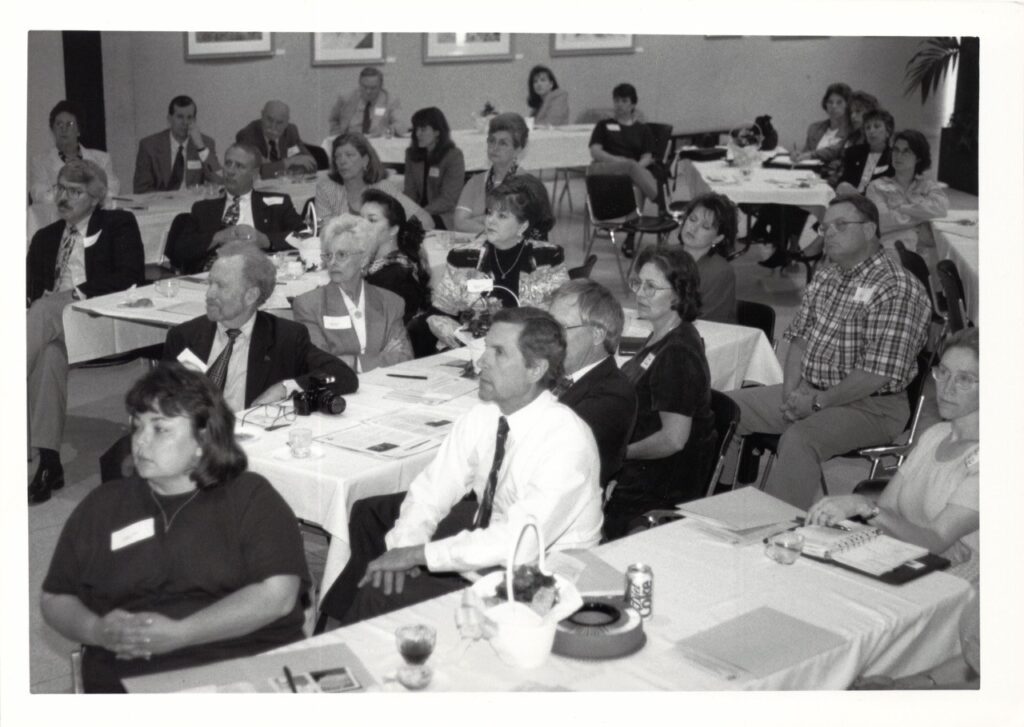 As Marge Davis wrote in her 1997 book Sportsmen United: The Story of the Tennessee Conservation League:
Billboards were an emerging conservation issue in the 1980s. At issue was so-called visual clutter, the destruction of the viewshed. By the time Lady Bird Johnson's Highway Beautification Act passed in 1965, the nation was looking more critically at roadside advertising as well as other forms of visual pollution, including litter and unscreened junkyards. A handful of states banned billboards altogether—Hawaii, Vermont and Maine among them—and a growing number of cities. Brentwood, Germantown and Farragut were among the first Tennessee towns to restrict obtrusive signs. In Sevierville, where hundreds of garish tourist signs lined Highway 441 into the Smokies, city administrators had erected a small plaque apologizing for the clutter.
As it happened, the timing of Burr's meeting coincided with a press conference January 6 by then-Governor Lamar Alexander to announce the final major initiative of his tenure: an aggressive agenda of conservation and beautification measures known collectively as Cleaner Highways. Designed to be implemented over the next ten years in advance of the state's 1996 bicentennial, Cleaner Highways was uncommonly ambitious, proposing to:
Ban all new billboards along rural interstate highways in Tennessee
Remove several thousand nonconforming billboards on those 670 miles of interstate
Prohibit tree-cutting in front of billboards on those interstates
Establish a system of uniform "logo signs" at rural interstate exchanges
Increase billboard spacing statewide, from 500 to 1,000 feet outside city limits and from 100 to 500 feet within cities
Screen and landscape the 100 worst junkyards, both rural and urban
Landscape 100 interstate exchanges
Designate 16 scenic corridors and make them off-limits to billboards and junkyards
Few administrative acts of Alexander's tenure created as much furor as Cleaner Highways, with one newspaper headline declaring "It's War!" and legislative hallways filled daily with lobbyists, sign companies and roadside advertisers. But if the measure mobilized private-sector interests, it also galvanized scenic activists, including the Tennessee Conservation League, the League of Women Voters, garden clubs, outdoor groups and a fledgling coalition of environmentalists, municipal planners, urban designers, tourism councils, neighborhood organizations, academics and a significant number of businesses that understood the economic importance of scenic landscapes. As Davis' history continues:
For three months, [these] volunteers polled voters, distributed fact sheets, met with legislators and even tied yellow ribbons around roadside trees. When Commissioner of Conservation Charles Howell began wearing a yellow tie to work, everyone in the campaign started wearing yellow. The group got free legal advice not only from the national [Coalition for Scenic Beauty] in Washington but also from the Southern Environmental Law Center in Virginia, whose sign-control experts had successfully challenged the First Amendment rights of billboards and other forms of commercial speech.
In the end, Cleaner Highways did not pass. The billboard lobby was simply too strong, Alexander's legislation no doubt too ambitious. However, the effort had given the scenic activists their first lesson in citizen lobbying.
A second lesson came the following year, when billboard lobbyists proposed a stand-alone program of logo signs. Also known as "official business directional signs," logo signs had been introduced in Maine and Vermont after banning billboards (Vermont's ban was in 1968, Maine's in 1977). Unlike those programs, however, the proposal in Tennessee said nothing about a corresponding reduction in billboards. Rather, logo signs would merely "supplement" existing signage (and they would not be used at all on urban interstates around Nashville, Knoxville, Memphis and Chattanooga). 
Tennesseans for Scenic Beauty and its allies again mounted an intensive public education campaign, but on March 24, 1988, the Senate narrowly approved the industry's bill (an earlier House version had already passed), and Gov. Ned McWherter quickly signed it. Four months later, the marketing contract for Tennessee's logo signs was awarded to a Memphis sign company headed by Felicia Carson, one of the logo bill's chief lobbyists.
It was another hard lesson in citizen advocacy, but one that stuck. In the ensuing years, Tennesseans for Scenic Beauty (renamed Scenic Tennessee in 1990, when it officially became an affiliate of Scenic America) learned its way around the legislative process and earned the respect of many in the power structure.