We have three outstanding Pennsylvania Byways in our 10-county area, but Scenic Pittsburgh is working towards designating more. To achieve this goal, we propose new scenic byways in our 10-county area and work to have them designated officially, allowing communities to access a wide range of new funding opportunities that support the preservation of and access to scenic and historic assets. The Pennsylvania State Byways Designations require a detailed process that can take time. PA Byways, and their national equivalent, Scenic Byways, are the perfect example of the many ways that scenic assets can be harnessed as economic and quality-of-life assets. Find out more about scenic byways.
Existing Southwestern Pennsylvania Byways
Mount Washington (Allegheny county, City of Pittsburgh)
What is a PA byway, and why does southwestern Pennsylvania need them?
The Pennsylvania Department of Transportation designates Pennsylvania Byways at the request of local communities seeking to highlight roadways with cultural, historical, recreational, archaeological, scenic, and natural qualities. Formally designating a state byway means that scenic and historic assets along that byway must be preserved, and that billboards and signage must be limited. Designating a byway allows the communities around them to access a wide range of regional, state and federal funding for various projects and initiatives connected to the byway and its unique qualities. State byways are also great tourist attractions, and provide opportunities to bring visitors into areas that otherwise wouldn't see them.
Other benefits of designating a PA state byway:
Support local planning efforts to achieve byway designations
Protect and enhance the visual quality of designated routes
Maintain byway resource qualities along designated routes
Educate residents and visitors about the history and culture of the Commonwealth
Promote tourism and enhance economic development potential
What state byways is Scenic Pittsburgh proposing?
We are eventually hoping to propose PA byways that run through many other counties in southwestern Pennsylvania. We are currently working on two byway proposals, the Westmoreland and Fayette County Historic Byway, and the Hill District Historic Byway.
Westmoreland and Fayette County Historic Byway
Westmoreland County has a PA state byway that is also a National Scenic Byway: Route 40, the historic National Road. But the area has so much history that we propose an additional byway that will include important sites from the French and Indian War, such as Bushy Run Battlefield and Historic Hanna's Town, as well as typical "coal patches" from the region's industrial history in coal mining. It would also include historic towns such as Latrobe, Jeannette and West Overton Village, and important sites from our industrial heritage such as the Darr Mine Disaster. We are working to finalize the route to take advantage of some of the upcoming work of the Laurel Valley Transportation Improvement Project.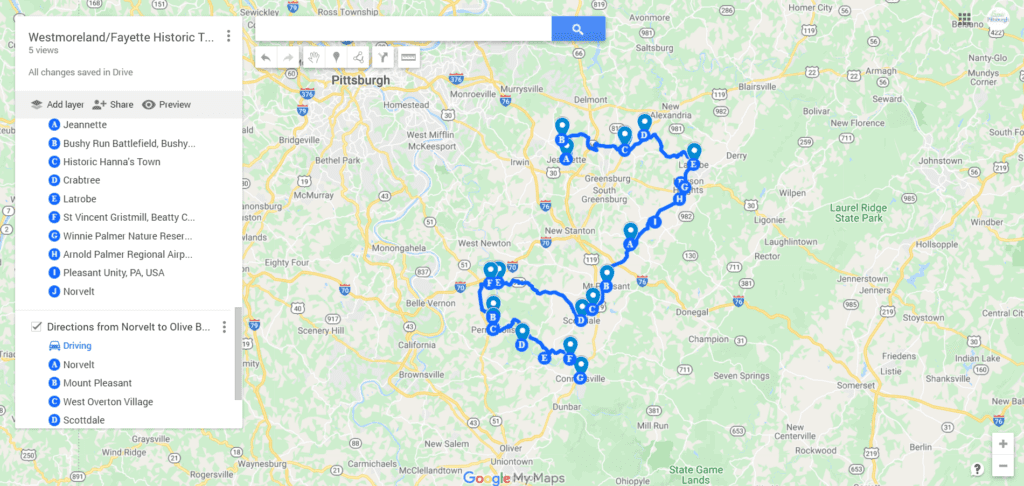 Hill District Historic Byway
After having portions decimated through urban renewal projects during the 1950s and 60s, Pittsburgh's Hill District is now seeing signs of recovery after decades of disinvestment. Perched on the bluff above downtown Pittsburgh, many parts of the Hill District have scenic views into the Golden Triangle as well as the Monongahela and Allegheny River valleys. But it is the neighborhood's central role in the story of Black Pittsburgh that make it an area especially deserving of protection. It's the birthplace of one of America's greatest dramatists, August Wilson, and the setting for his most famous plays. The neighborhood hosted some of the most famous jazz clubs in the country, and is the birthplace of noted jazz musicians. The legendary photographer Teenie Harris captured many of his most famous images here, and the neighborhood is the site of many events important to Black history nationally. We hope to draw many of these sites together as stops along a byway focused on the neighborhood's rich history.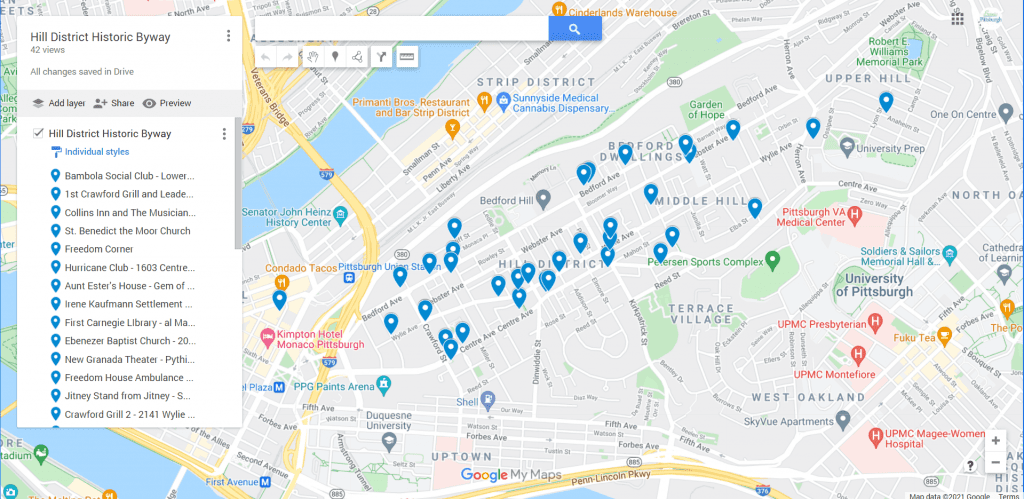 Please follow us on social media to hear about the latest updates on our PA Byway designation work!