Click one of the areas below to be taken to other program pages.
---
We target abandoned and underused potential greenspace and, with regional partners, work to restore it for community use.
We know that greenspace restoration is the cornerstone of a scenic community, and that many communities, especially neighborhoods with a history of disinvestment, lack sufficient greenspace.
Within the last few years, Scenic Pittsburgh has taken on a new role in greenspace development, using a unique approach that we hope to be able to replicate across our 10-county service area.
Pilot Project: Fineview – Opening Summer 2022
At a Glance:
Hundreds of wooded lots in Pittsburgh and in communities across southwestern PA are not maintained for public access by their surrounding communites. In Pittsburgh, many of these lots are owned by the City itself and acquiring them presents significant obstacles and red tape
Many of these lots are in communities that could benefit from more accessible greenspace, like Fineview
Scenic Pittsburgh is creating a new model for recovering this greenspace for use by the surrounding communities, by partnering with other regional organizations
The goal of the Fineview Urban Greenspace Restoration Project is a greenspace restoration plan designed to restore and enhance approximately 2 acres in the Fineview neighborhood, on the north slope of the Allegheny River Basin, overlooking the neighborhood of the Mexican War Streets and Allegheny General Hospital.
The target area for this restoration project is composed of a group of adjacent properties that were abandoned to the City of Pittsburgh decades ago and are unsuitable for residential or business development. Scenic Pittsburgh currently owns a portion of this area and is working on improving the lot we own and acquiring the other parcels from the City of Pittsburgh.
Read the Post-Gazette article "The Property Lottery" about the City of Pittsburgh's system for selling abandoned and blighted city-owned property.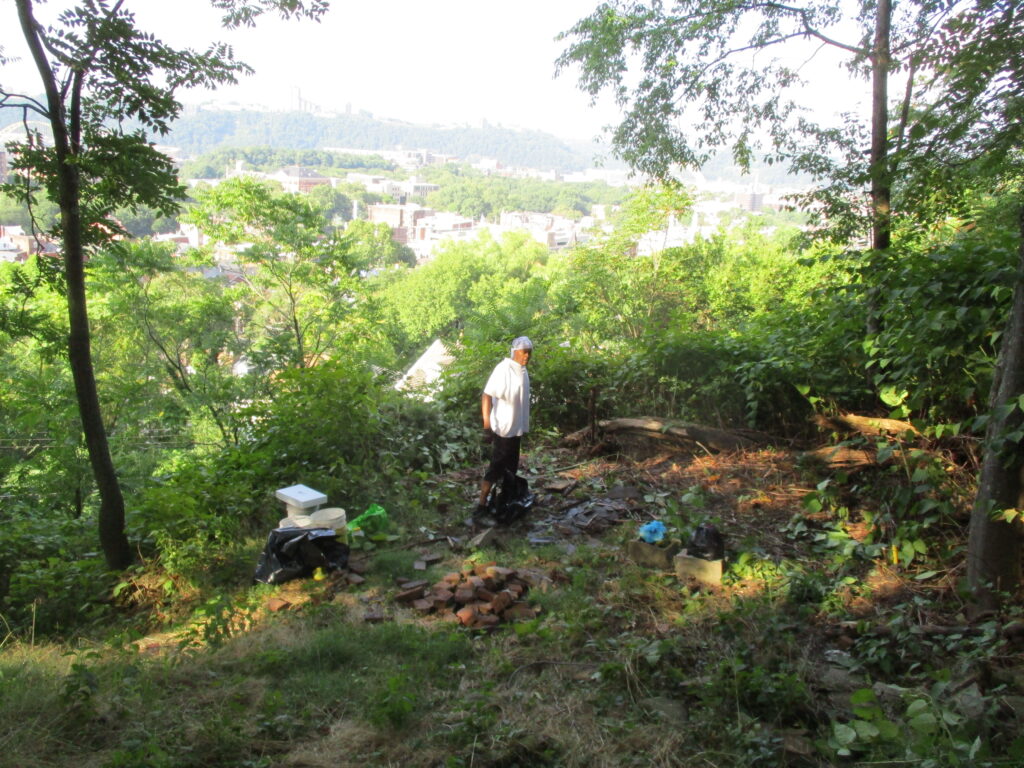 Current work on the Scenic Pittsburgh lot in Fineview. We are clearing invasive plants, creating paths, restoring stone steps and barriers, and trimming trees. We hope to open this space to the public some time in 2021.
The area is partially on a slope, features mature tree cover, is overgrown and currently has a lot of trash, but with cleanup and rehabilitation, it would provide a beautiful scenic overlook and greenspace. This space would be easily accessible from the surrounding neighborhood and is adjacent the current Fineview Fitness Trail.
This project would serve as a model for public/private greenspace development of vacant land across Pittsburgh, especially in areas that might present obstacles for the city like hillsides, and across southwestern Pennsylvania. As a pilot project, we are focusing on making this greenspace trash-free, useable and accessible quickly, with amenities to follow when funding becomes available. We are partnering with other local organizations to achieve these goals and create a plan for long-term maintenance.
Many greenspaces across our region are really nothing more than neglected areas that are not maintained, or former urban building sites that became overgrown with invasive plants. We believe that within a very short time, our proactive restoration approach could restore these greenspaces into assets that enrich their neighborhoods and promote health, help preserve the environment, and provide a boost to economic reinvestment.
Let us know about other neglected greenspaces in the City of Pittsburgh or in other locations across our 10-county area you think would make good candidates for another Greenspace Restoration Pilot Project!