Click one of the areas below to be taken to other program pages.
---
We know that greenspace restoration is the cornerstone of a scenic community, and that many communities, especially neighborhoods with a history of disinvestment, lack sufficient greenspace.
Within the last few years, Scenic Pittsburgh has seen that we can play a role in greenspace development here in the city, using a unique approach that we hope to be able to replicate elsewhere.
Pilot Project: Fineview
The goal of the Fineview Urban Greenspace Recovery Pilot Project is to develop and implement a greenspace restoration plan designed to restore and enhance approximately 2 acres in the Fineview neighborhood, on the north slope of the Allegheny River Basin. The target area for this restoration project is composed of a group of adjacent properties that were abandoned to the City of Pittsburgh decades ago and are unsuitable for residential or business development. Scenic Pittsburgh currently owns a portion of this area and is working on acquiring the other parcels.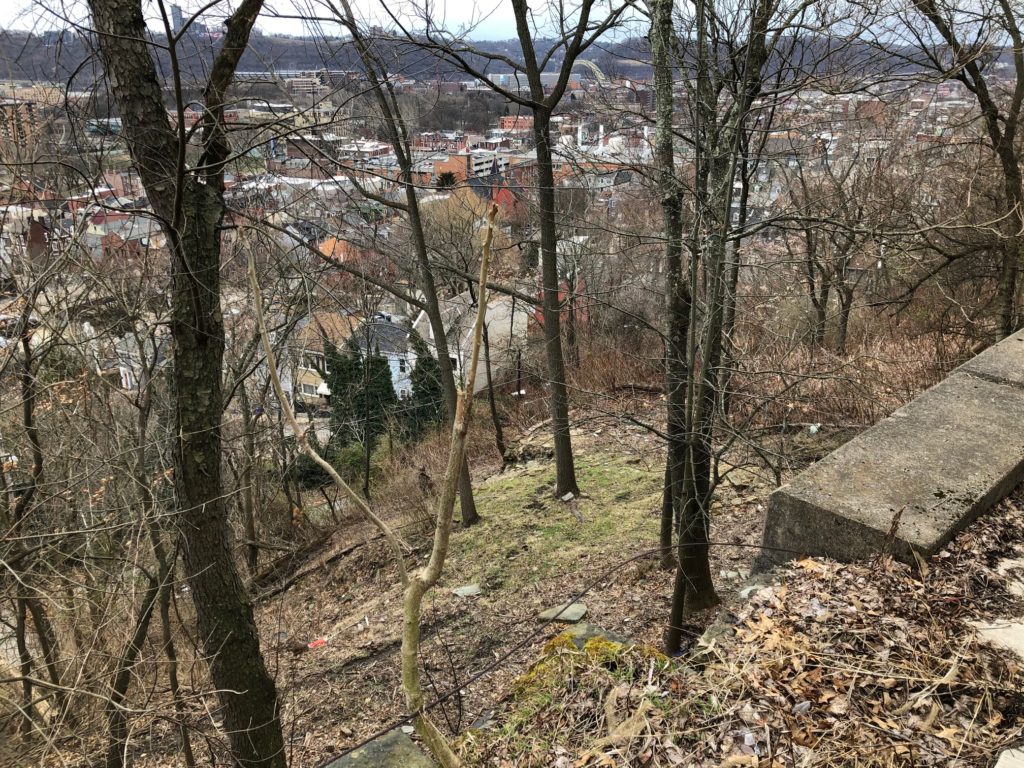 The area is partially on a slope, features mature tree cover, is overgrown and currently has a lot of trash, but with cleanup and rehabilitation, it would provide a beautiful scenic overlook and greenspace. This space would be easily accessible from the surrounding neighborhood and is adjacent the current Fineview Fitness Trail.
This project would serve as a model for public/private greenspace development of vacant land across Pittsburgh, especially in areas that might present obstacles for the city. As a pilot project, we would focus on making the greenspace trash-free, useable and accessible quickly, rather than on adding costly amenities.
Many greenspaces in our city are really nothing more than neglected areas that are not maintained, or former urban building sites that became overgrown with invasive plants. We believe that within a very short time, our proactive restoration approach could restore these greenspaces into assets that enrich their neighborhoods and promote health, help preserve the environment, and provide a boost to economic reinvestment.
Let us know about other neglected greenspaces in the City of Pittsburgh you think would make good candidates for another Greenspace Restoration Pilot Project!