Click one of the areas below to be taken to other program pages.
---
We advise and act as project managers for beautification projects.

We have found communities across Southwestern Pennsylvania are aware that scenic revitalization can both motivate and accelerate community renewal and reinvestment as part of a larger economic development or master plan. But these communities are often hamstrung by their low tax revenue and barebones official capacity. Scenic Pittsburgh offers planning, coordination and project management services for community beautification and development projects.
We are currently working on development of a beauty-centric revitalization plan for Aliquippa, Pennsylvania's historic main thoroughfare, Franklin Avenue. Development of this plan will allow Scenic Pittsburgh to partner with the City of Aliquippa and the Aliquippa Economic Development Corporation (AEDC) to pursue funding for historic signage, façade improvements, public art projects, business and decorative lighting, greenspace restoration, and informational signage to guide visitors from the Ohio River Greenway Bike Trail.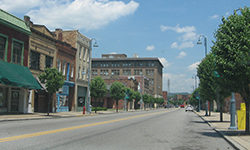 If you are interested in how Scenic Pittsburgh can help with your community redevelopment plans, contact us.