Scenic Pittsburgh, along with Fineview/Perry Hilltop Citizens Council, Allegheny Cleanways, and Grounded are working on a greenspace development project on a 20 ft x 90.8 ft lot in Fineview at 1715 Lanark Street – the Lanark Connector Project – with the support of the Buhl Foundation.
The Lanark Connector Project addresses several priorities for both the Buhl Foundation and the Fineview and Perry Hilltop Citizens Council Community Plan:
The Connector will expand the trail system for the Northside. Although only a single lot, the Lanark Connector will allow more direct access to the newly completed Fineview Park from the streets west of the Park. It will no longer be necessary for residents to detour to Catoma or Cemetery Streets to access the park by foot.
The Connector will serve Fineview residents, in particular low-income residents. The Connector will be directly adjacent the new City of Bridges Community Land Trust affordable housing development at various addresses between 5 and 25 Lanark Street, due to be completed 2022/23. The mix of new and renovated units will house several families – see diagram below
The Connector will add to the recreational assets of the Northside, offering a destination for healthy outdoor activities, and increase access to public open spaces
The Connector will recreate a blighted vacant lot as valuable open space asset
It will leverage natural features as an economic asset for neighborhood development
It will not require intensive maintenance. Twice-yearly vegetation management and periodic volunteer cleanups – for trash and fallen limbs – are all the lot will require. We also hope to install a trash receptacle onsite once a maintenance plan is in effect
This site has been identified as a target for greenspace development in one or more of the following: One Northside Asset Inventory (2015), the Northside Vacant Lot Assessment (from the Buhl Foundation's Strengthening Northside Communities, 2016), the One Northside Neighborhood Trails Project (2017), the Fineview/Perry Hilltop Open Space Plan (2018), and the City of Pittsburgh Openspace Plan (2013). We also consulted the Fineview/Perry Hilltop Community Plan (2018).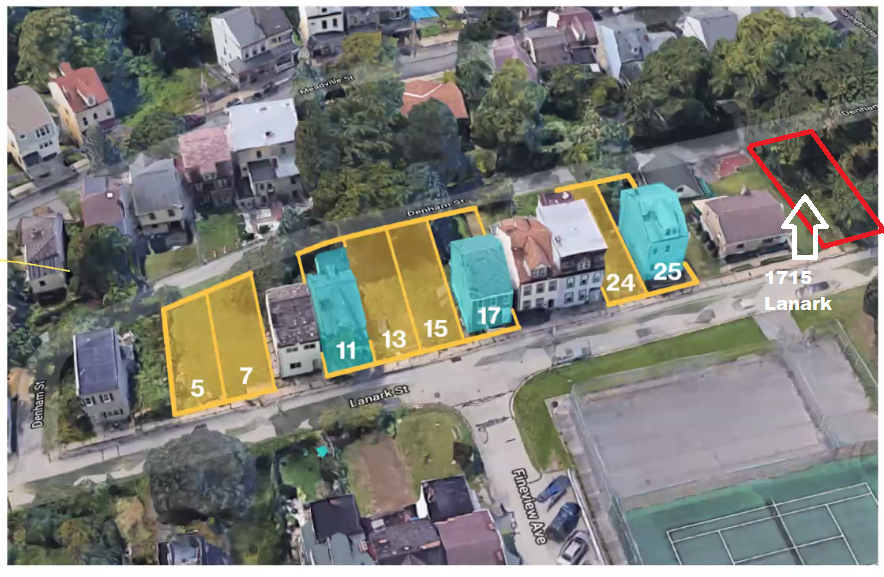 Timeline and Plan
Planning, public outreach and coordination will take place over the winter/spring of 2022, with on-the-ground work completed and the space open to the public by end of summer 2022.
January-March. Options for the space discussed with Fineview/Perry Hilltop Citizens Council members and public input gathered. After a site visit, Grounded landscape designers use input from these discussions to produce a detailed plan for the space.

April-May. Site visit with partners. Work plan generated. Public announcement and ongoing publicity planned.

Work plan to include: intensive brush clearing, with special attention to non-native and invasive plants; tree trimming where required; removal of old chain link fence at the Denham Street entrance and installation of new safety railings; reinforcement of retaining wall and steps at Denham Street; creation of entrance at Lanark Street entrance; creation of path across the length of the lot; creation of a central space with benches; creation and installation of signage; creation of a long-term maintenance plan.

May-June. Work plan implemented in stages.

June. Work plan completed; public announcement and opening.
Budget

| | |
| --- | --- |
| Planning, Management, Logistics, Outreach | $2800 |
| Dumpster Rental | $1200 |
| Vegetation removal | $2000 |
| Trash cleanup | $1000 |
| Landscaping | $2000 |
| Amenities | $1000 |
| Total | $10,000 |
Partners
Additional partners will be added as projects continue according to project need.
Fineview/Perry Hilltop Citizens Council. Role: Strategic guidance and public outreach. We have worked with the Council since the inception of our Fineview project so that our goals align closely with their strategic objectives for the communities' greenspaces.
Allegheny Cleanways. Role: Major trash removal. We have worked with Allegheny Cleanways and their contribution will be key in the effort to convert these abandoned lots into scenic assets
Grounded. Role: Advisor, outreach and landscape design support. Grounded is a key partner for work in the North Side due to their deep knowledge of the area in terms of potential greenspace and community assets, as well as for their expertise in marshalling community support for long-term maintenance
Landforce. Role: Vegetation removal and trimming, path construction. Landforce has a history of greenspace restoration projects in the city, including steep-slope Emerald Park. Their season runs May through November.