Scenic Nevada was founded in 2000, and as an all-volunteer organization, we couldn't continue our work without our members and supporters, whose financial contributions make it possible for us to preserve, protect and enhance the scenic character of Nevada.
Challenges to scenic protections continue to mount. As the need arises, board members stand up in workshops and in courtrooms, at public meetings and in legislative sessions. We partner with community organizations and leverage email campaigns and newsletters to keep policymakers, media outlets and residents apprised of important preservation issues. The highlights include:
Authoring a ballot initiative in 2000 to prohibit new billboard construction and permits within the city limits of Reno. Then we worked for the next 17 years to get the people's vote enforced. Finally, in September 2017, the Reno City Council unanimously adopted new ordinances to enforce the billboard ban and outlawed digital billboards.
Pursuing lawsuits, starting in 2012, against the city of Reno to void a new ordinance allowing digital billboards. We filed an appeal to the Nevada Supreme Court, following a ruling in Second Judicial District Court that upheld the city's digital billboard ordinance. In June 2016, the high court upheld the digital billboard ordinance but also ruled that the Reno City Council had violated the state constitution when it approved ordinances that amended the people's billboard ban. Following that ruling, the council unanimously agreed to enforce the vote and ban all new billboard construction.
Winning the support of the Washoe County Commission to continue the prohibition of new and digital billboards. A persuasive email campaign from Scenic Nevada, along with the commitment of members and supporters like you, demonstrated public support for scenic preservation. We were at the table for almost three years, voicing your concerns on sign blight.
Diligently opposing state legislation that opened the door to digital billboards on federally controlled highways, such as interstates 80 and 580. Unfortunately, the proposal advanced by billboard company lobbyists was enacted, and digital billboards are now defined in state law. Scenic Nevada was present at public hearings and workshops for two years, advocating for the best regulations to continue the fight against proliferation of digital billboards.
Added to the community dialogue for thoughtful environmental protections along the Southeast Connector. Proposed for the east side of the Truckee Meadows, the six-lane road was eventually approved and now traverses a floodplain, open space and wetlands. Scenic Nevada filed a public comment with the Army Corps of Engineers, requesting an Environmental Impact Statement be conducted to help assure adequate environmental protections are in place.
Participating in stakeholder meetings held by Sparks, Reno and Washoe County to update their respective sign codes. Scenic Nevada is at the table advocating for strong sign control to prevent clutter and the inevitable blight and "geography of nowhere" that comes with too many, too bright out-of-controls signs.
Taking on a project to educate public officials, business leaders and residents on the benefits of a scenic community. The effort, funded through a generous contribution from the John Ben Snow Memorial Trust, outlines the economic impacts and the improved quality of life for us all when we protect and preserve our scenic heritage.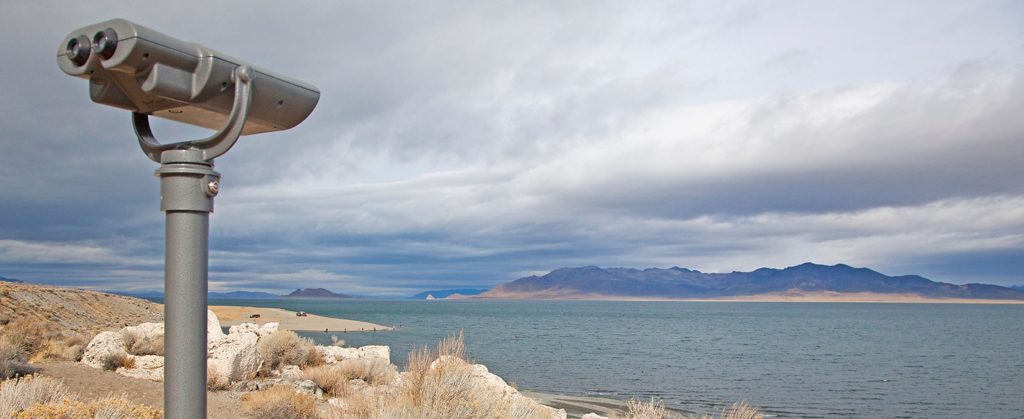 With your donation, we can continue our advocacy work and educational efforts to protect this beautiful state of ours from senseless assaults on scenic views and community character. Please mail in your tax-deductible donation, or click here to donate now.