The Lewis and Clark Parkway I-70
Two proposals were put forward by Scenic Missouri — one in 2004 and one in 2008 — which addressed opportunities presented by the urgent practical need to rebuild a deteriorating I-70 and to increase vehicle capacity across mid-Missouri.
Scenic Missouri, an organization devoted to improving the visual/scenic qualities of Missouri roadways, saw this as a great opportunity to remake one of the worst interstate highways in America into a rewarding aesthetic experience, exploiting this State's great natural beauty, working with the topography, and integrating cultural, historic, and tourist attractions.
The first proposal, 2004; the Lewis and Clark Parkway (Parkway Proposal I), responded to a MODOT proposal to simply rebuild and widen I-70 to six lanes. Scenic Missouri's countered that proposal with a parallel divided autos-only parkway built to freeway standards. Tolls were essential to make this feasible. The original proposal recommended that the parkway be a toll road; on reconsideration it was thought the tolls should be on l-70.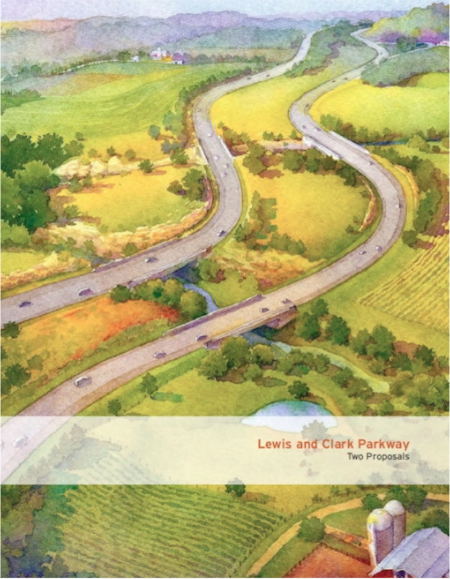 In 2008, MODOT floated a new scheme; widening I-70 to eight lanes — two lanes in each direction for cars, two in each direction for trucks. Scenic Missouri proposed that the auto lanes be periodically disengaged from I-70, in ten to twelve-mile segments to traverse Missouri's scenic countryside, offering relief from the billboard-blighted, dead- straight monotonous I-70 alignment — again, integrating cultural and tourist-oriented attractions. This scheme was labeled the I-70 Rebuilding Alternative, or "Segmented Parkway" (Parkway Proposal II). It was calculated that, due to relative land acquisition costs, this proposal would be financially competitive with the MODOT scheme.
In any case, the inevitable I-70 rebuilding represents a unique opportunity to enhance and improve that highway. In all respects, including the aesthetic experience. It is an opportunity to celebrate Missouri's scenic beauty and historic/cultural heritage. These proposals represent an urgent request to include these considerations in any scheme to rebuild I-70.
Learn more here.
Ozark Run Scenic Byway
The vision for the Ozark Run Scenic Byway is to provide a designated route through the scenic heart of the region. The route will stretch nearly 650 miles from Atoka, Oklahoma, through west and north Arkansas, to St. Louis, Missouri.
The Byway will link together many of the key natural highlights in each state, including mountain peaks, pristine rivers, state parks, national forests, caverns, trails, some of the largest springs on earth, and countless other recreational and cultural attractions.
Most importantly, the idea of a regional scenic byway will help to unite communities and organizations around a common mission: bringing the world's attention to the Ozarks – a supremely beautiful, yet largely overlooked territory in the heart of our nation.
Learn more here.