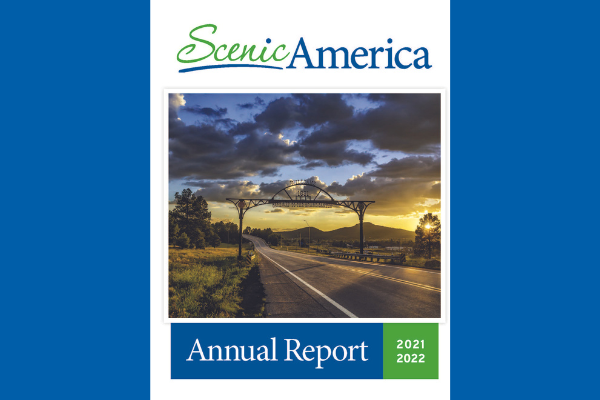 Scenic America's 2021-22 Annual Report outlines the year's most significant accomplishments, including:
We successfully advocated for scenic concerns in the Infrastructure Investment and Jobs Act. Billions of dollars are now available to support utility undergrounding projects. Notably, we worked with Congress to secure an amendment to the Stafford Act allowing FEMA disaster relief funds to be put towards utility undergrounding, improving the resiliency of our power grid and creating more scenic communities. The legislation also includes support for programs in the gateway communities that welcome visitors to our national parks and public lands.


We took on the billboard industry in the U.S. Supreme Court in collaboration with our partners in Texas and other like-minded organizations—and we won. The Court's 6-3 decision fends off another attack on the Highway Beautification Act by affirming the constitutionality of the billboard restrictions that are currently in communities across the country.


We landed an additional $6 million in funding for the National Scenic Byways Program during a very challenging budget environment. We also pushed back when the FHWA announced an aggressive timeline for byways grants applications, ensuring a more equitable process to award a total of $22 million in National Scenic Byways Program grants.


We developed new research tools, communications platforms, educational programs, and advocacy campaigns to reach more people and grow our impact. For this work, we took home prestigious awards, including a Gold Circle Award from the American Society of Association Executives.


We updated Taking the Long View, our strategic white paper, to better reflect our recent accomplishments and evolving challenges.


We launched our inaugural photo contest and doubled our website traffic.

Learn more about us: