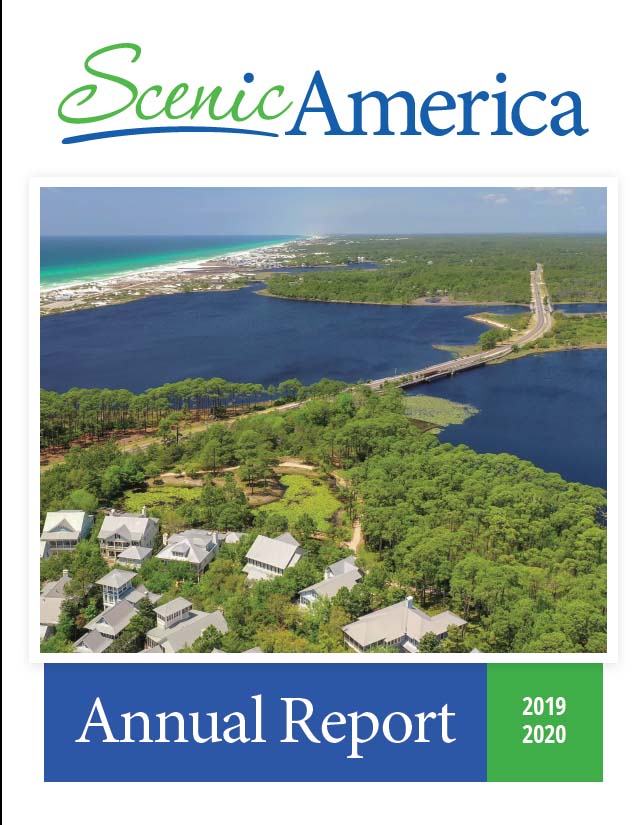 The 2019-20 fiscal year was filled with milestone moments for Scenic America:
In September 2019, the Reviving America's Scenic Byways Act was signed into law by the president. This is the first time in our history that Scenic America authored legislation that was passed into law by Congress.

In August 2020, the president signed the Great American Outdoors Act into law, which will both fully fund the Land and Water Conservation Fund and help our National Parks and other federal lands by reducing their deferred maintenance backlog.

Our work in the Moving Forward Act, which passed the House of Representatives in June 2020, thus far has been a smashing success. We secured $325 million in authorized funding for the National Scenic Byways Program. Thanks to our efforts, the $25 billion-per-year National Highway Performance Program now lists the placement of overhead wires underground as an eligible expense. There will be nonprofit representation on the federal Dig Once Task Force that we pushed to get established.

We beat the billboard industry in a straight-up fight in Congress, killing an amendment that would have completely gutted Lady Bird Johnson's Highway Beautification Act and fueled massive billboard proliferation across the country.

Working with Scenic Walton, we hosted the best-attended and most successful Scenic Symposium in our history.
Download our 2019-20 Annual Report to learn more about the year's successes.
Learn more about us: