2022 Marks the 200th Anniversary of the Birth of the Father of American Landscape Architecture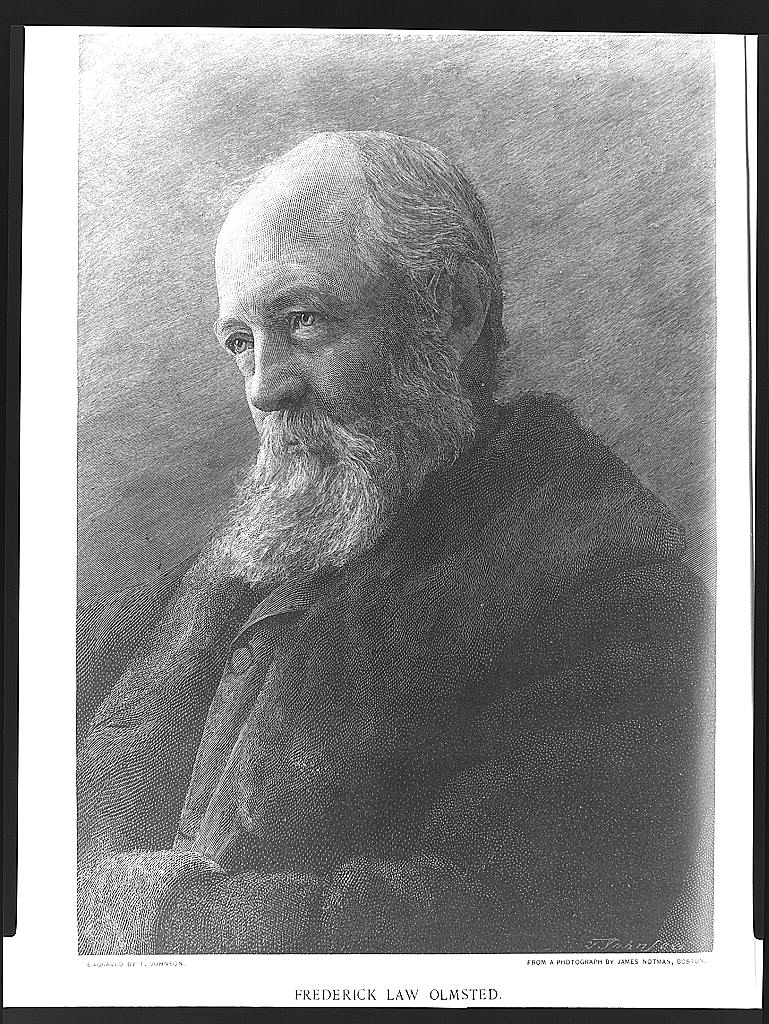 April 26, 2022, will mark the 200th anniversary of the birth of Frederick Law Olmsted, one of the leading founders of American landscape architecture. Olmsted was a landscape architect, conservationist, and author dedicated to defeating environmental injustices such as inequality, racism, disease, and other societal divides during the 19th century. The spaces he created greatly diminished the effects of environmental inequality, through the establishment of parks accessible to all people, community building, and public health resources.
Olmsted was born in Hartford, Connecticut, where he developed a lifelong love of travel as his father, a merchant, frequently took him on trips to the countryside. Surprisingly, Olmsted was not a fan of school and instead gained his expertise through experiences in a variety of different jobs throughout 20 years, which helped shape his path to becoming one of the world's most known landscape architects.
Olmsted took a six-month-long walking tour in Liverpool's Birkenhead Park in 1850, where his ideas of open and available park access came to fruition. He wrote, "that in democratic America there was nothing to be thought of as comparable to this People's Garden."
In 1852, while working as an undercover reporter for The New York Daily Times, Olmsted visited the South on assignment for a story to assess the system of slavery, the expansion of which he condemned. He traveled from Mississippi to west Texas, recording his observations of the social context of the South at the time. On the heels of this assignment, he continued to write sporadically for several newspapers—work that helped him to make the important connections that would fuel his later landscape architecture pursuits.
In 1857, Olmsted landed a job as the superintendent of New York City's Central Park when the park itself was not yet fully constructed and open to the public. A few months after receiving this position, Calvert Vaux, an architect from England, proposed that Olmsted join him in preparing an idea for the Central Park design competition that was happening at the time.
Olmsted agreed to team up with Vaux, which led to the birth of his namesake landscape architecture practice, the Olmsted Firm. Olmsted and Vaux won first place in the competition for their 'Greensward Plan', which afforded them the opportunity to not only complete the Central Park project but to participate in several other environmentally conscious projects all around New York City. 'The Greensward Plan' called for landscape designs and road configurations that would blend into the scenery. After the firm finished constructing Central Park in 1876, people all around America began to advocate for more accessible public spaces in their own communities.
While Olmsted's most notable accomplishment is the construction of Central and Prospect Parks in New York City, he also designed parkway systems, college campuses, planned communities, recreation areas, arboretums, cemeteries, and urban/suburban areas throughout the country, including the U.S Capitol Grounds and the gardens at the National Cathedral in Washington, D.C. Throughout his career, he designed 100 public parks, stating, "We want a ground to which people may easily go after their day's work is done, and where they may stroll for an hour, seeing, hearing and feeling nothing of the bustle and jar of the streets, where they shall, in effect, find the city put far away from them" (1870).
Olmsted believed that parks should be accessible to all Americans and designed public spaces with that idea in mind. This was an extremely progressive idea for the time, roughly 200 years before the environmental justice movement. Being the visionary he was, Olmsted understood the political and societal implications of parks, thereby advocating in Congress for sufficient funding for the construction and maintenance of public parks.
Olmsted believed that equitable access to public park spaces contributed to better health outcomes, thereby bringing communities of all types closer together. Parks invite diversity, which is why Olmsted's beliefs towards community-based designs, or what he called, 'communitiveness,' were effective in bringing people together and creating healthier societies. He believed that parks were the 'lungs of the city,' manifesting good physical and mental health. As most cities coped with the consequences of industrialization, Olmsted's beliefs reinforced the importance of nature, to the point where even doctors were prescribing walks in the park!
In addition to physical health, Olmsted and his firm pioneered modern principles to establish ecological health, sustainability, and conservation. For example, his design of linear parks- parks that are longer than they are wider- house ample birds and wildlife, and certain landscape designs, such as Boston's Back Bay Fens, convert swamps into natural wetlands. Parks benefit the environment by slowing the process of climate change and addressing issues of lacking biodiversity, all while mitigating stormwaters, extreme temperatures, and creating more livable urban environments.
After Olmsted retired in 1895, his sons John Charles and Frederick Jr., continued his legacy at the Olmsted Firm, which helped create national park legislation in 1916. The firm practiced for more than 100 years, commissioning roughly 6,000 landscapes in America. The Olmsteds were responsible for creating and revolutionizing the field of landscape architecture, inspiring thousands of people to enter the field.
The Olmsted Firm contributed to expanding regional design, which led them to create the 'city planner' profession. Olmsted's work remains highly prevalent to this day in a world that is still greatly flawed with environmental injustices, which is why he should be significantly accounted for and represented in the fight for environmental equity.