Knoxville Adopts New Sign Standards, Establishes Tree Bank

Thanks to the diligent work of Scenic Knoxville, the Knoxville City Council recently unanimously passed an amendment to the sign ordinance calling for standards for the city's "Institutional Districts," which accommodate uses such as healthcare and educational institutions and government facilities. These new standards require that signs erected within this district are appropriate to the uses permitted within the district. They also provide safeguards to prevent developers or property owners from requesting changes in zoning to allow for larger signs.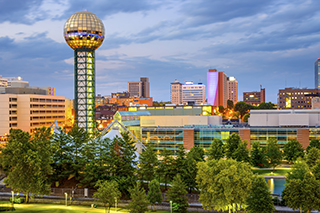 The City Council amendment comes following a lengthy advocacy effort led by Scenic Knoxville, which first took note of the issue after the city updated its zoning ordinances in 2019. The city created a new category for its zoning districts, the Institutional District, but failed to specify signage standards for this area. This omission left the Institutional District subject to the more liberal standards allowed for Commercial and Industrial Districts. 
In its two-year fight to secure the amendment, Scenic Knoxville enjoyed the steadfast support of City Councilmember Andrew Roberto and others who shared concerns about the potential proliferation of inappropriate signage in the city.
Scenic Knoxville's latest scenic victory follows on the heels of its recent success in urging City Council to create a Tree Mitigation Bank—a measure which passed in December 2020. The Tree Bank requires developers who are unable to meet requirements for tree planting and tree retentions to pay the equivalent funds for such activities into a city fund. These resources are then used by the city's urban forester to plant trees elsewhere on public property. Since its founding, the Tree Bank has accrued $13,000, and additional properties are in negotiation.
Learn more at www.scenicknoxville.org.