Tucked in the northeast corner of Rhode Island between Providence and Boston, the town of Cumberland embraces its natural beauty and rich history. With its commitment to smart, responsible growth and design enhancements showcasing historic sites and municipal parklands, Cumberland prides itself in its place-making practices.
Cumberland contains three historically significant mill villages on the Blackstone River, an area known as the birthplace of the American Industrial Revolution. Built in the last half of the nineteenth century by the Lonsdale Company, these mills are being adaptively reused for housing and business use. The Town has enacted a local historic district ordinance to protect these sites.
Ashton Village (1868) is of such historical significance that it is but one of only seven sites referenced by Congress in 2014 federal legislation establishing the Blackstone Valley National Historical Park. The brick mill and village housing are remarkably intact. Remnants of the 45-mile Blackstone Canal (1828) are nearby, as is a 14-mile bike path along the river.
The Ann & Hope Mill (1886) in the village of Lonsdale was reborn after World War II as the home of the Ann & Hope store chain, a pioneer of the discount department store business model later adopted by Walmart and K-Mart. The Town is presently working with the mill's owners to adaptively re-use the 36,000 square foot building as a vibrant residential community and brew pub. Another mill site, now lost, was the Valley Falls Company, which would eventually become Berkshire Hathaway.
Cumberland officials have been initiating measures to improve the quality of life for the town's 36,000 residents, such as enacting a landscape protection ordinance and installing hanging flower baskets on Broad Street. The town is negotiating with EPA to convert a mile-long Blackstone River embankment that is now a Superfund site into a new municipal park.
For Jonathan Stevens, the town's Planning Director, municipal signage has long been an area of focus.
"People don't automatically expect that government is capable of careful design and site locations that optimize visual impacts. However, for a park or historic building, signage is a statement. It communicates how much you value your asset. It is the pedestal on which you present your art," he noted. "Quality signage will draw you in and help you appreciate a site's beauty and functionality."
With a $10,000 grant to create a new site sign for Town Hall, Stevens reunited with designer Andrew Barresi of Cambridge MA, who Stevens had worked with previously to create new "Discover Beautiful Rhode Island" welcome signs, one of which is located on Interstate I-295 in Cumberland. The faded wooden Town Hall sign was replaced by an elegantly engraved granite marker. This new design now serves as a template for subsequent signage projects at the town's parks.
The Planning Department also has drafted a number of Conservation and Management plans for the town's most important parks and historic sites. These plans are an important tool for building consensus toward a vision and direction of allocating resources.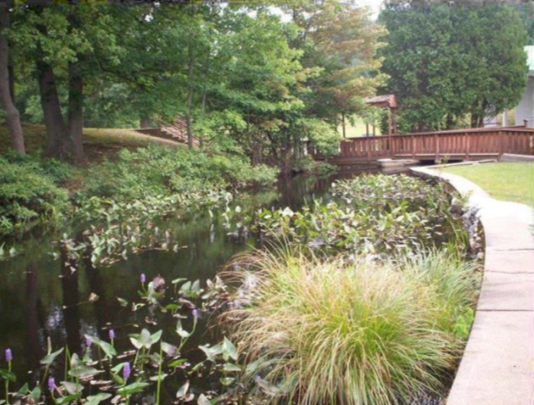 Once a ski area constructed by the Civilian Conservation Corps in the 1930's, the Town acquired 132-acre Diamond Hill Park from the state in 1998. An extensive hiking trail network, three ballfields, and open areas ideal for outdoor events draw thousands each year. A phased redevelopment plan calls for converting the 60-year old cinder block ski lodge into a pavilion with an overlook deck. The Conservation and Management plan also calls for ADA accessibility improvements, new trailhead facility (with composting toilets) and landscaping. A new entrance monument sign will match the design of the sign at Town Hall. The Plan has been instrumental in securing $300,000 in state funding.
Another example of the value of a conservation and management plan was used in the acquisition of the 229-acre Mercy Woods park. The plan was written for land the Town did not yet own, but it spelled out the terms by which the funders would participate and specified a long-term management partnership which would protect natural resources and create an opportunity to develop up to 17 acres of new ballfields. Again, the plan was critical in securing funding for the purchase: of the $1.5M total, the town's share was only $405,000. The trail system is managed by the local land trust, and an elegant campus signage program has been agreed upon by all the partners.
The third area of focus is the Monastery, Cumberland's largest park. It was settled by French-Canadian Trappist monks around 1910. The 500-acre Monastery is comprised of the remnants of the 30-acre Trappist "campus", including the Town's library, senior center and a cultural/education facility. The surrounding parkland has an extensive trail network and wildlife refuges. Improvements underway include a rehabilitation of the senior center and strategically installing context-sensitive campus signage.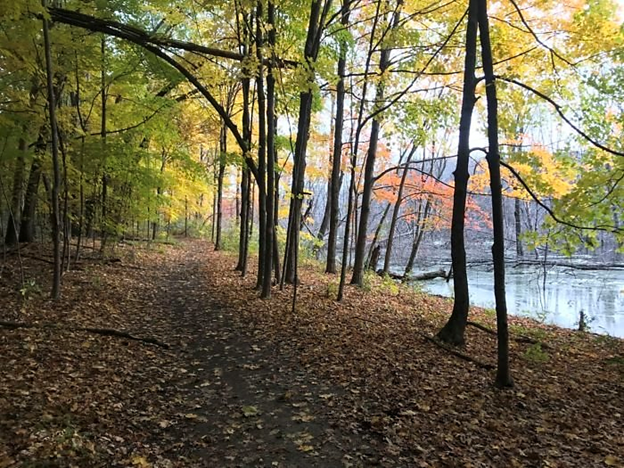 Places like Cumberland– cities and towns that are rich in history, natural beauty, and scenic characteristics– are the focus of the Place-Making Institute, a program that brings together city planners and preservationists to develop strategies for smart development that celebrates the unique aspects of each locality. Learn more about the Place-Making Institute at www.placemakinginstitute.org.