Insurance industry expresses concern over digital billboard risks
A.M. Best, the leading rating agency focused on the insurance industry, has produced a video focusing on potential risks to insurers posed by digital billboards.
"Any distraction is going to be of concern to the insurance industry," said Loretta Worters, Vice President of the
Insurance Information Institute
. "When you turn away from your driving it's going to be a concern and it can cause accidents. [Billboard-related distraction] is something we're concerned about."
Click here to watch the A.M. Best video.
It should be noted that the state safety studies referred to in the video by host John Weber are from a 2001 Federal Highway Administration review of research that examined earlier generations of electronic signs.
Ask Congress to support the National Scenic Byways Program
Scenic America is a big supporter of the National Scenic Byways Program. In fact we were one of the groups instrumental in securing the program's creation by Congress as part of the Intermodal Surface Transportation Efficiency Act of 1991.
Click here to ask Congress to support the National Scenic Byways Program.
For over 20 years all transportation legislation included dedicated funding for a competitive Scenic Byways grants program which allowed byways organizations to apply for money to fund: corridor management planning, construction of interpretive facilities, improvements to access at recreation areas, natural resource protection and byways marketing, among other projects.
As you may know, 2012's MAP-21 legislation ended funding for the America's Byways Resource Center and suspended funding for the competitive grants program.
As Congress considers a new transportation bill in 2014, Scenic America, together with our allies at the National Scenic Byway Foundation, requests that you contact your members of Congress to express your support for scenic byways and ask that they clarify language in the new transportation bill, making it clear that many byway-related projects are eligible for funding under the Transportation Alternatives (TA) program.
Our National Scenic Byways are not only economic engines but sources of pride for the communities they connect. Let's ensure that these special roads stay at the forefront of conversations in Congress during debate over the next transportation bill.
Click here to ask Congress to support the National Scenic Byways Program.
Thousands sign petition against digital billboards in Santa Clarita, Calif.
The Santa Clarita City Council is set to respond to a citizen petition effort that garnered more than 18,000 signatures opposing a city plan to allow digital billboards along key gateway roads into the area.
The City Council had previously approved a development agreement with the county Metropolitan Transportation Authority for the removal of 62 off-site billboard advertising structures from the Metro railroad right-of-way in exchange for six large digital billboard faces along key gateway roads into the city -- two adjacent to Highway 14, and one next to Interstate 5.
Many citizens have spoken up in opposition to this proposal, like Steve Petzold does
in this editorial
.
Scenic America supports the citizens of Santa Clarita in their desire to protect community character and quality of life. We call on the Santa Clarita City Council to listen to the overwhelming desire of residents and repeal the ordinance allowing for the construction of digital billboards. By doing so they will not only be representing the wishes of citizens, but setting a valuable precedent for communities all over the country looking to protect themselves from the visual pollution of digital billboards.
Film of Scenic America's 2014 Conference now available online
Recordings of Scenic America's entire 2014 Conference in Houston are now available for viewing online.
More than a dozen accomplished professionals addressed the conference at the Magnolia Hotel in downtown Houston on April 11, 2014. Speakers from the wold of planning, development, law and academia came together to spotlight the benefits of incorporating scenic beauty into our communities.
Scenic America would like to thank
Hines
and
Scenic Houston
for underwriting the costs of video production.
Click here to view the videos.
Study shows billboards linked to increase in crashes
A study on one of Israel's busiest highways found that the removal of roadside billboards significantly reduced the number of crashes along the roadway, including a more than two-thirds reduction in fatal or injury crashes.
The analysis on the Ayalon Highway in Tel Aviv compared the number and types of crashes at treatment sections, where billboards were present along the roadway, with crashes within a control group of road sections where billboards had been removed or covered.
Statistics on crashes from 2006 and and 2007, when the billboards were visible, and 2008, when they were removed or covered.In 2007, before the billboards were removed or covered, there were a total of 95 crashes within the treatment sections. In 2008, after the billboardswere removed or covered, there were 65 crashes, a decrease of more than one-third. The decrease in injury or fatal crashes was even more compelling: from 55 in the 'before' period of 2007 down to 17 in the 'after' period of 2008, a more than two-thirds reduction.
Click here to learn more and download the English abstract.
Billboard Fact Sheet available
Nearly every day Scenic America gets calls from citizens desperately seeking help dealing with the visual pollution caused by billboards. In fact it's the most common call we receive!
In response we have created the Billboard Fact Sheet, a handy 4-page reference guide to basic facts and figures about roadside billboards, and we're making it available free as a PDF download:

Download the Billboard Fact Sheet
In addition, we have a limited number of professionally-printed fact sheets available for purchase in our bookstore. These glossy versions are ideal for handing out at neighborhood gatherings, city council meetings and anywhere else that decisions are being made about how your community looks.
The Billboard Fact Sheet is not intended to be comprehensive, but rather to answer some of the more commonly asked questions about billboards and to help stimulate conversation and debate among citizens, public officials and business owners. For more in-depth information about battling billboard blight visit the billboard issue area of our website.
We hope you will find the Billboard Fact Sheet a useful tool in your efforts to combat visual pollution and make your community more scenic!
Seaside road in south Jersey benefits from local couple's efforts
A digital billboard that kept neighbors awake and blighted a southern New Jersey seaside roadway has been taken down thanks to the determination of one local couple.
As part of the settlement of the lengthy and expensive legal battle, the company that put up the Margate Causeway billboard has agreed to never operate a digital billboard along the bayside strip again. In addition, the owner of the property where the billboard stood has signed a deed covenant that will permanently ban any new billboard from being built at the site, and no existing billboards along the causeway can be enlarged or converted to digital.
In exchange, Richard and Deborah Levitt, the couple who successfully sued to take down the sign, won't seek to make the company pay their outstanding legal bill, which exceeds $200,000.
"The Levitts are to be comendended for their courage and determination in seeing that this digital blight went away," said Mary Tracy, president of Scenic America and a part-time resident of the Jersey Shore. "All of us in the area are thankful for the Levitt's willingness to take on this issue and emerging victorious."
The $4.3 million billboard: A case study in condemnation costs
Documents reveal that the Minnesota Department of Transportation agreed to spend over $4.3 million in public funds for the removal of a digital billboard as part of a bridge reconstruction project. The billboard's removal was necessitated by a project currently underway to replace the Lafayette Bridge, which carries state highway 52 over the Mississippi River near downtown St. Paul. The state paid the billboard's owner, Clear Channel Outdoor, $4,321,000 for the condemnation of a single digital billboard. Clear Channel retained ownership of the billboard and is believed to have relocated the sign to Minneapolis soon after its removal.
Click here to learn more.
Billboards come down on Florida's A1A Scenic Byway
There was great rejoicing among the many people present for the tearing down of the first of 10 billboards along the A1A Scenic and Historic Coastal Byway in northeast Florida in January 2014.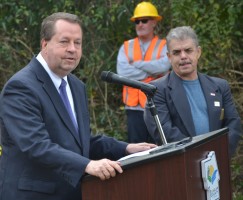 Bill Brinton speaking with Commission Chairman George Hanns nearby. (© FlaglerLive)
Flagler County bought the 10 billboards, spread out along four scenic miles of Oceanshore Boulevard, to get rid of them and restore the views along the scenic byway.
"We have achieved a milestone here today, and it's over two decades in the making," said County Commission Chairman George Hanns. "We need to do everything we can to restore the natural scenery of the area."


Bill Brinton of Scenic Florida gave an award to Flagler County leaders on behalf of Scenic America and quoted from
a speech Charles Kuralt gave
to a national Scenic America conference in 1997. Remarking on the need to restore natural and scenic beauty all across our country, he said: "The way it's going to have to be done is place by place, and one place after another, by the people who live there."


For more coverage:
Scenic America Board Chair talks aesthetic regulations in NYC
Scenic America Board Chair Ronald Lee Fleming was a featured speaker during a recent public symposium on aesthetic regulations at the historic Arsenal building in Central Park.
The event was inspired by the 100th anniversary of the
1913 report
by the Mayor's Billboard Advertising Commission of the City of New York. Panelists discussed the origins of aesthetic regulation in New York, delved into present day situations where policy has fallen short in protecting historic and scenic views, and discussed potential tools to solve these shortcomings.
Anthony C. Wood, author of
Preserving New York: Winning the Right to Protect a City's Landmarks
, gave a presentation on the history of the city's scenic regulations and moderated a panel that in addition to Mr. Fleming included Matthew Goebel, author of Aesthetics, Community Character, and the Law, and Carol Clark, Adjunct Associate Professor at Columbia University's Graduate School of Architecture Planning and Preservation.
The event was co-sponsored by the
New York Preservation Archive Project
, Scenic America, the
Historic Districts Council
, the
Neighborhood Preservation Center
, the
Historic Landmarks Preservation Center
, and the
Historic House Trust of New York City
.
Watch video of the event below: